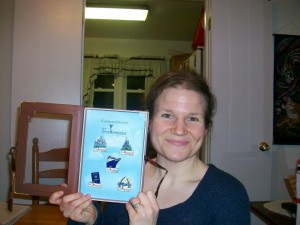 Today's post is by my friend Rebecca Kelly – blogger, independent Disney travel specialist and all around fantastic person.  Let's all welcome Rebecca with a big round of applause!
Disney Listening – Hearing the Magic at Home
If you are a Disney travel fan, there will inevitably come a time in your year – no matter how often you take vacations to your favourite Disney location – when you miss your home away from home.  Maybe that next vacation just isn't soon enough, or maybe there's no vacation on the horizon just yet… Or maybe you just got back and you've got the widely-hated Disney Withdrawal.
What do you do when you feel like you've got to be there NOW?  Well, I can tell you what I do:  I immerse myself in park music.  Well, in park ATMOSPHERE.  Music, sounds, ride soundtracks – anything is fair game!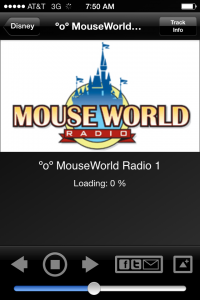 Here are a few of my favourite places to go to and get my fix of pretending I'm in the parks at WDW:
1.) Mouseworld Radio (www.mouseworldradio.com) Plenty of streaming music – 6 channels worth!  Some require a VIP membership at Live365.com in order to have a listen, but some are wide-open free.  The hour of opening music from Main Street, USA every morning is enough to make me happy. 🙂
2.)  StudiosCentral Radio – also found on mouseworldradio.com is actually my favourite of these channels.  Not everyone is as heavy a fan of Hollywood Studios as I am, I know, but it's my First-Day park and listening to the park sounds REALLY creates the experience for me and lets me feel like I'm heading there soon.  The loop of music from HS goes most of the day, without too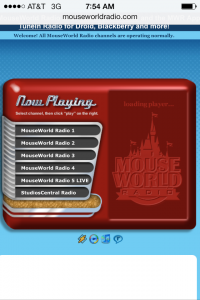 many repeats, and includes not only show and ride soundtracks, but also a bunch of TV themes from the ABC Commissary, and a selection of Aerosmith tracks!
3.)  Reedy Creek Radio (www.reedycreekradio.com) is among my favourite streaming stations, period.  The variety of different kinds of music they play is enviable – I know, I just talked about how I will happily listen to an all-Studios channel for hours, but I DO like variety, honest – and some of the tracks are really pretty rare, from my sampling of the streaming stations out there.  They also just have a site design that I find cute, so hey, there's that!
4.)  YouTube, Part 1:  Oh, the things available on YouTube.  The days I have spent compiling playlists!  I can't tell you how refreshing it is to know that I can go onto YouTube and find whatever specific piece of park or ride music I feel like putting on.  (Though I DO like the streaming stations because I don't have to look anything up myself!)  There are entire channels of Park Sounds out there and playlists of park music loops.  My current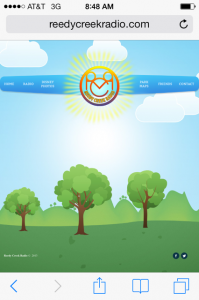 favourite is Frontierland's loop (find it here).
5.)  YouTube, Part 2:  If for some reason you're not feeling the passive Disney Music to satisfy your itch, YouTube has another side that might do it:  videos.  Trip videos, vlogs, vidcasts, all kinds of things… In my spare time I LOVE looking up trip reports made by other people.  Even complete strangers!
So, if you're lucky, listening to the park music will quiet your nerves and help you feel like you're either there, or at least on your way to Disney.  Unfortunately, they also have been known to just INCREASE the need to go, so tread carefully…And good luck!
You can find (and follow) Rebecca in these places: