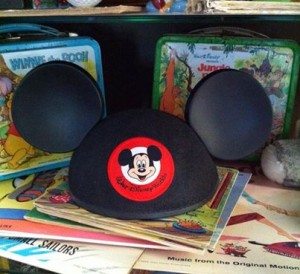 If you're a Disney park guest, you've seen hundreds (perhaps thousands) of them – the most quintessential of all Disney souvenirs – the Mickey Mouse Ear Hat.  What about a Mickey Mouse t-shirt?  Or a Mickey watch?  You can buy those everywhere in stores around the world.  The Ear Hat?  Only at a Disney store.
When did it begin?  How long have Americans been sporting these rodent-eared beanies?  Oh, I'm so glad you asked!  Mouseketeers wore them first.  Back on the 1950's television series The Mickey Mouse Club, an original adult Mouseketeer named Roy Williams invented the unique headwear that became a staple of the Mouseke-uniform.  It's said he was inspired by an early Mickey Mouse short in which Mickey tips his ears to Minnie.  Once the American television watching public fell in love with The Mickey Mouse Club and the Mouseketeers, everyone wanted an Ear Hat.  More than half-a-century later, this wearable evidence of our love for Mickey Mouse endures.  For many Americans, the first pair of Mickey Ears is an important childhood milestone.
For $13.95, Disney shoppers can purchase the classic black Ear Hat in sizes ranging from baby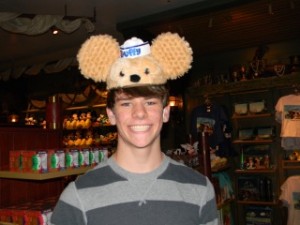 to adult.  Made of felt and plastic, with a red Mickey Mouse patch on the front – having one's name embroidered on the back of the hat is optional (and adds to the price) – the hat's simple design makes it a lightweight and comfortable accessory – even if it doesn't offer much protection from the elements.  The classic look not your style?  Ear Hats are available in a staggering number of styles, colors, and themes – there's an Ear Hat for everyone.
O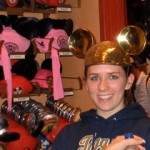 n Main Street USA in Walt Disney World's Magic Kingdom is a store called Le Chapeau.  Of all the places Ear Hats can be purchased in Disney parks – Le Chapeau is my favorite.  The store's location seems to make it more magical.  When our son, Joseph, got his very first Ear Hat, it was from Le Chapeau.  Soon, I'll be headed back to Walt Disney World and am determined to buy my own Ear Hat – my first – at Le Chapeau.  I'm pretty sure I'll be choosing a style other than the classic black – not sure what it'll be, but the possibilities are virtually endless and I'm sure I'll find a hat that's perfect for me.
Do you have a Mickey Mouse Ear Hat?  I'd love to hear about it!  Better yet – head on over to Living a Disney Life's Facebook page and share a picture.