Great location, perfect for families and groups of all sizes, wonderful variety of buffet foods, AND fantastic Disney characters! What a perfect way to start the day in Disney's Animal Kingdom!
Disney Dining – Tusker House Breakfast
Once upon a time, our family made character dining experiences a must-do on every Walt Disney World visit.  Just because we may have outgrown that tradition (for now), doesn't mean we can't make room in our touring plans for a Disney vacation meal that still includes some character interaction from time to time – especially if the menu is great.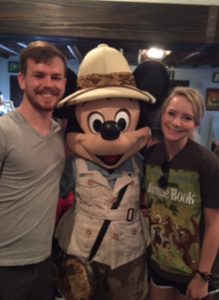 I'd heard great things about the menu at Tusker House and realized that an early breakfast there would give us a jump on our full day of action-packed Animal Kingdom plans.  Our group of seven consisted of a wide variety of food preferences and varying degrees of pickiness – what could be easier than a buffet packed with both traditional breakfast fare and several more exotic, African-inspired flavors?  I chose an 8:35 reservation & we arrived extra early…better to beat the crowds and be first in line for Kilimanjaro Safaris after breakfast.
At the park entrance we were directed to a specific Tusker House waiting area where a very kind Cast Member told us how to find the restaurant. After a short wait, we were on our way.
Once inside, our excellent server, Kat, showed us around the food stations on our way to our table. She explained that the foods were arranged to make it as if guests were shopping in a marketplace. There were no lines…simply move from station to station and fill your plate as you desire.  We arrived at our table, Kat left to get coffee and juice, we headed for the market/buffet.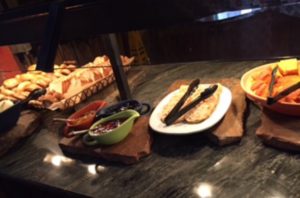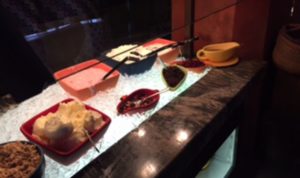 So many options! It was hard to decide where to begin. Along with bacon, eggs, ham, Mickey waffles and the other usual crowd-pleasers were more unique choices from salads to curry, bobotie, and a carving station.  I took small portions of a few things, intending to go back for more after round one.  I'm wary of buffets sometime and want them to be super clean and well-stocked.  These food stations were beautifully maintained.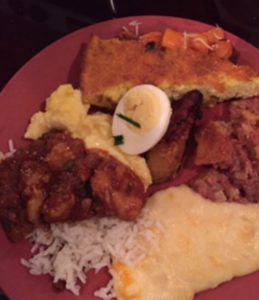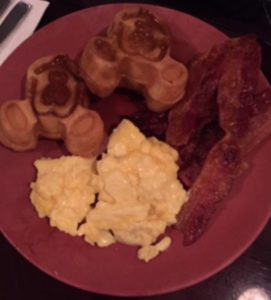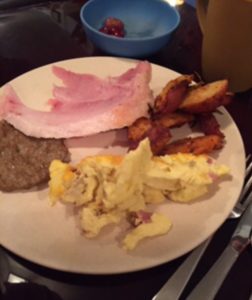 Kat had let us know to expect characters to come by our table, one at a time. Sure enough, the well-paced arrival of Mickey, Minnie, Donald, Daisy, and Goofy allowed us plenty of time to eat while pausing for photos. I thought they were all terrific, but Goofy was extra fun.  The characters are all dressed for safari with their own individual styles.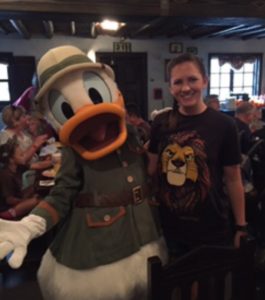 Just before Daisy made her entrance, I stepped back over to the buffet intending to take a few pictures and maybe grab a couple more foods to sample. Unfortunately, the reason Kat had made an effort to explain how the buffet is supposed to work became clear – a huge, long line had formed! This was no marketplace, this was a slow-moving nightmare. I decided I was finished eating, but made an effort to take a few pictures for you by squeezing in between people here and there. (Find menu details here.)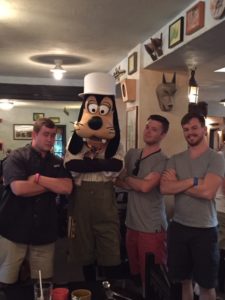 Our breakfast was over moments before the scheduled park opening & we were on the first Kilimanjaro Safari of the day. We had a great time in Tusker House and would recommend it to small families and large groups alike. The food's plentiful and tasty, the characters charming and fun, the atmosphere and setting are well-themed and highly detailed.  Just as we'd hoped, Tusker House was the perfect way to kick off the day at Animal Kingdom.
Do you enjoy character dining at Disney World?  Have you tried Tusker House?  What did you think?