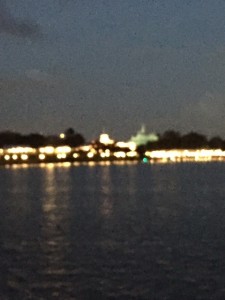 With so many restaurants to choose from at Walt Disney World it can take quite a while sometimes to make a repeat visit to one.  In the case of Narcoossee's at Disney's Grand Floridian Resort and Spa, it took us 26 years to dine there for a second time.  Certainly this wasn't because we didn't enjoy our first dinner there.  We really did have a great experience.  It's just that on the next several Disney vacations, we had children with us and chose more kid-friendly options.
Disney Dining Review – Narcoossee's
A few weeks ago we finally made our way back to Narcoossee's and were pleasantly surprised that the experience was even better than we remembered!  Excellent menu, delicious food, top notch service, and a couple of seasonal extra-special surprises made the evening absolutely wonderful.  Narcoossee's is a signature dining location, so it takes two table service credits if you're on the Disney Dining Plan…is it worth it?  We think so.  (See current menu here.)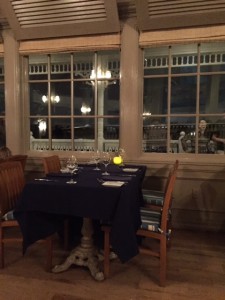 Narcoossee's is located on the shore of the Seven Seas Lagoon.  The décor is beautiful and, on the night we dined there, we were mostly among other adults with a few families that had mostly older children.  The tables offer great views (even if you're not sitting right next to a window) and the open kitchen is entertaining in its own way.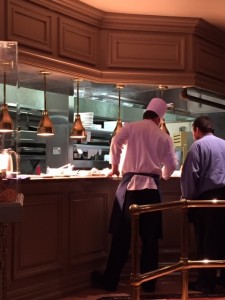 One thing we noticed right away was that our server, Tom, was a professional – he knew how to pace our meal and how to add the extra touches that made what we thought would be a nice dinner into an extra special one.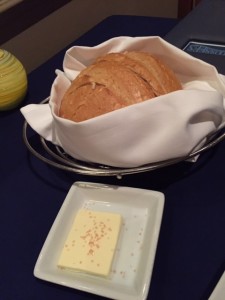 Of course, bread came first and we ordered appetizers and a bottle of wine.  The menu offered so many tempting items, we actually passed up an artisanal cheese offering (so unlike us!) in favor of the Maine Lobster Bisque for Raymond and the Prince Edward Island Mussels to share.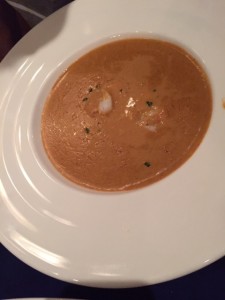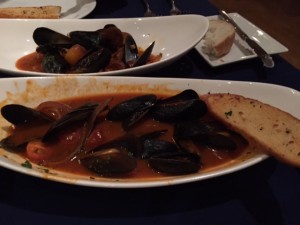 We were very pleased with our selections.  When we finished, Tom brought us warm towels for hand-washing and suggested we take our wine out onto the deck to watch the Magic Kingdom fireworks.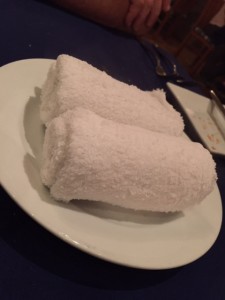 Tom promised to hold our entrees until we returned and encouraged us to enjoy the show.  How great was this??!!  We stepped outside and spent the next little while sipping wine and taking in the view.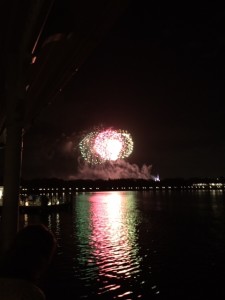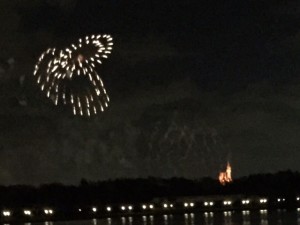 As promised, when we returned to our table, our entrees were delivered and they were delicious!  Raymond opted for the Key West Shrimp and Garganelli Pasta ("Wild Florida Shrimp, Spinach, Oven-roasted Tomatoes, Basil Pistou, Comté Cheese, and Chardonnay-Garlic Cream")
while I chose the Coriander and Shichimi-spiced Seared Ahi Tuna ("Charred Beans, Gai-lan, Green Papaya, and Sesame Sticky Rice with Ginger-Kaffir Lime Broth"), which sounds fussy and complicated, but was actually pretty straight forward in both presentation and flavor.  The seared tuna was the star of the show and the rest was a perfect supporting cast.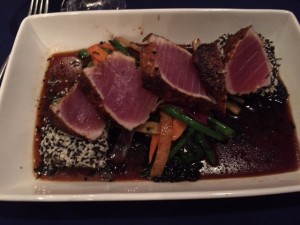 Generally, we're huge fans of spicy, well seasoned foods and these entrees fit the bill perfectly.  Completely satisfied, we decided to catch the little boat from the Grand Floridian back to the Polynesian, then use the stroll from the boat dock to the Moorea building to digest a bit before calling it a night.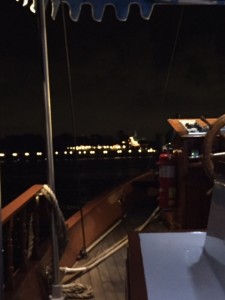 We noticed the outdoor movie had drawn a small crowd and appreciated again how those great Disney touches can make vacations so magical.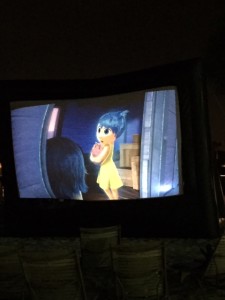 We gave Narcoossee's a definite thumbs-up!  Have you enjoyed Narcoossee's?  Was your experience similar to ours?  If you haven't eaten there before, has this restaurant even made it onto your dining wish list?