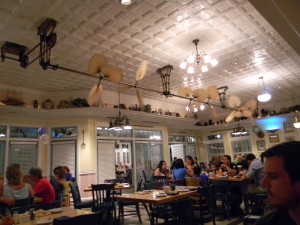 "All in all, we found Olivia's Café an unexpected, hidden treasure.  Our experience there seemed pixie-dusted since it was a spur-of-the-moment restaurant choice and the evening turned out to be one of the loveliest of our trip." – Me, once again channeling my inner restaurant critic.
While Staying at Old Key West, we found ourselves with an open evening – no reservations booked, no major plans.  Our vacation was winding down and we returned to the resort after a long day that had started at Disney's Hollywood Studios and ended in the Magic Kingdom.  We had intentions of making sure our transportation on the Magical Express to the airport the next morning had been arranged, scheduling someone to collect our luggage from our room then returning to the parks for a last night out at Walt Disney World.
We'd just gotten off the bus at Old Key West's Hospitality House to check on our morning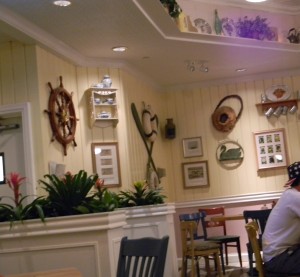 departure schedule (sad, so sad) and we realized we were starving!  That's when I remembered having heard good things about Olivia's Café and suggested we stop in and see if any tables were available.  We checked, a table was immediately available, and we had a fantastic dinner with delicious food and terrific service!
The atmosphere in Olivia's is laid-back and very old-fashioned-Florida-Keys.  It's open and airy as one would expect, yet homey and comfortable – very welcoming.  You can dress very casually here and be yourself.
One thing you can count on at Olivia's (I've read this over and over and our own experience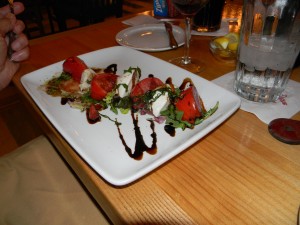 confirms it) is outstanding service.  It felt to us as if, knowing they're a bit out of the way for many Walt Disney World guests, the staff at Olivia's goes above and beyond normal Disney service.  They seemed genuinely appreciative of having us there.  Our server was Moe – super friendly and attentive (without hovering).  Moe started us off by bringing us some bread and butter.  Fans of 'Ohana over at the Polynesian will recognize Olivia's delicious pineapple-coconut bread.  SO unexpectedly scrumptious!  Even the super-picky one among us enjoyed it.
Olivia's menu is made up of "home-style American cuisine with a Caribbean twist" (as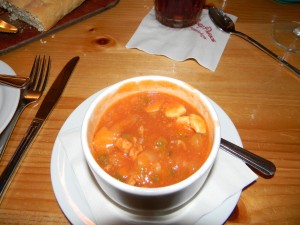 described by Disney World's web site) and is full of abundant choices sure to satisfy any diner (view the entire dinner menu here).  Raymond started off with the tomato-mozzarella (with mixed greens and balsamic syrup) while I had the Conch Chowder (reminded me of Manhattan-style clam chowder) which was hearty and delicious.  I don't recall if either of our children had an appetizer – I believe I may have been too busy enjoying the bread and the chowder!
Main courses for the four of us were:  Raymond and Megan both had Shrimp and Grits ("Sautéed Shrimp with Vegetables, Tasso Ham, and fresh Herbs served over Olivia's Famous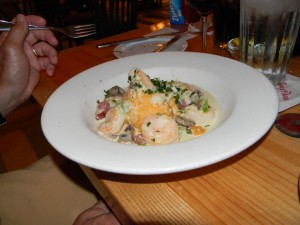 Grits") while Joseph and I both ordered burgers.  His was plain, mine…not so much.  I ordered what has to be one of the most delicious, extravagant, decadent burgers in all the World – The Duval Street Burger.  This behemoth burger described as being "topped with Grilled Shrimp, Pepper Jack Cheese, Avocado, and Pico de Gallo on our Pineapple-Coconut Roll" was unbelievable and I'm sorry to say I could not do it justice – I managed to finish about half.  The burgers were served with fries, coleslaw, or chips.  Joseph and I both chose the fries which were nicely crisp on the outside.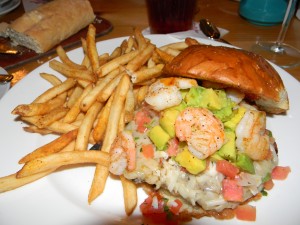 Full as we could be, we excused Megan and Joseph so they could hit the parks for their last night of vacation.  Raymond and I lingered a while over coffees (mine of the "Irish" variety) and were a little bit sad that we had no room for dessert.  The Banana Bread Pudding Sundae and Mascarpone Cheesecake sure looked tempting.  For our last meal at Walt Disney World, we couldn't have asked for a more enjoyable one.
Olivia's accepts the Tables in Wonderland discount card and is one table service credit on the Disney Dining Plan.
Have you eaten at Olivia's?  What was your favorite part of the meal?