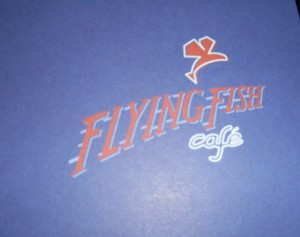 I'd heard great things about Disney's Boardwalk (especially the Flying Fish Cafe) for a long time.  I can't believe it took me so long to finally get there!  The Boardwalk is fantastic!  And the Flying Fish is on par with (or better than) any signature dining experience we've had at Walt Disney World.
We took a bus to the Boardwalk from (I think) Magic Kingdom – Old Key West to Magic Kingdom, Magic Kingdom to Boardwalk.  I know we could have actually taken a bus to Epcot, walked through Epcot, exited through the International Gateway and walked on to the Boardwalk – we wanted to be…uhm….fresher than we would have been had we walked all that way.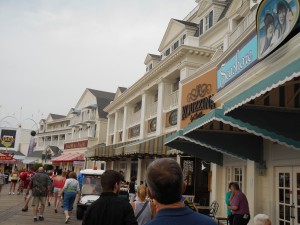 We dressed a little nicer for the Flying Fish having heard it was similar to places like Jiko or California Grill.  Arriving early enough to check out the Boardwalk area, we were delighted!  Street performers, shops, refreshment stands – there was a lot to enjoy.  We had time to watch a juggling mime and explore a couple of shops before checking in at Flying Fish.  After inquiring about waiting in the bar, we were directed to another place entirely, ensured our flashing buzzer would work at a distance.  We found the Belle Vue Lounge i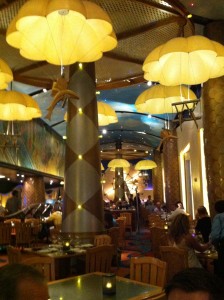 nside a different entrance at the top of a staircase – laid back, relaxed, cool and comfortable…the perfect place to enjoy a pre-dinner beer.  We had just enough time to order and pay the tab – we took the beers with us back downstairs and down the walkway to the Flying Fish when our buzzer went off.
We were seated by a very friendly hostess who informed us that our server would be Bob.  Bob sounds like such a regular name…he is, however, an extraordinary server.  Bob was fantastic from the first moment he arrived at our table to the moment we left the building…he made our dinner at the Flying Fish into something amazing!
Bob explained that the menu is customized weekly based on the freshest ingredients available –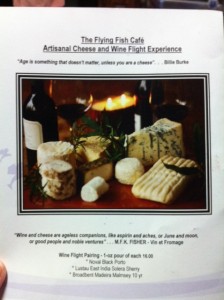 he made recommendations and described various options and daily specials in a way that made us certain of one fact:  If an old boot were on the menu, Bob would make you want to order it!  We started with appetizers.  Having heard great things about the Artisanal Cheeses, we ordered that to share.  This consisted of five tasting portions of cheeses and accompaniments – cheeses included "Cowgirl Creamery's Red Hawk", "Beehive Cheese Creamery 'SeaHive'", "Lamb Chopper", "Midnight Moon Goat Cheese", and "Flora Nelle".  Accompaniments included Fig and Almond Torta, Raisins on the Vine, Honeycomb, and a Spiced Spring Melon, Sweet Onion, Golden Raisin and Mandarinquat Chutney.  If you like cheeses and trying new flavor combinations, we highly recommend this delicious and exotic plate of goodness!  Soups, salads,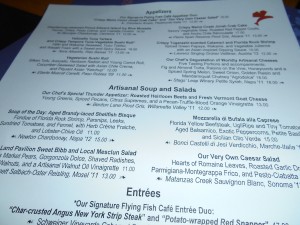 and other appetizers like calamari, crab cakes, mussels, and vegetarian sushi were also available.
For entrees, Joseph and I decided the Chef's Special – Thunder Fish (delicious!).  Raymond ordered the Idaho Potato-wrapped Red Snapper and Megan had the Oak-grilled Maine Sea Scallops.  We are a family of seafood lovers, but if your family is not, there are other (non-seafood) options.  When we were there, the menu included Lamb Chops and New York Strip.  Salmon, tuna, and pasta with shrimp were also on the menu.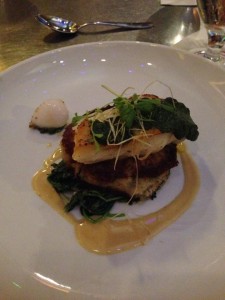 Normally, we skip dessert in favor of appetizers (we end up too full!) and occasionally pick up something sweet later in the evening.  We were having such an exceptionally good time at the Flying Fish Café, that we lingered as long as we could.  We ordered hot tea and coffee after our meal and Raymond and I split a dessert called "Sinful Dark Chocolate Delice Creation" which had a description so unique we felt we had to try it – "Amaretto-laced Chocolate Mousse, Brownie Torta, Thai Chili-laced Caramel Sauce, Candied Bacon and Dark Chocolate Sorbet".  Sounds like a LOT going on there, but the flavors blended SO well together and the bacon, welllll – who doesn't like bacon?  Megan and Joseph had spotted a shop on the Boardwalk earlier that had a
huge candy selection and opted for something there for dessert.
Waddling happily to catch a bus for the return trip to Old Key West, Raymond and I made plans to visit the Flying Fish again.  Megan and Joseph headed back out to the parks to enjoy some more rides.  It was a GREAT evening.
Have you eaten at the Flying Fish Café?  If a meal there is in your plans – ask for Bob!