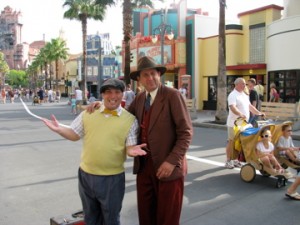 If you need a reason to slow down and take in the sights at Disney's Hollywood Studios, I've got a great one for you.  Instead of running (you know you do!) from Toy Story Midway Mania to Rock'n' Roller Coaster to the Twilight Zone Tower of Terror to Star Tours, next time you find yourself in the Studios, take some time to stroll down Hollywood and Sunset Boulevards or stop altogether for a few minutes to take a look around…I did that one day not that long ago and the most amazing thing happened!
Cue Flashback Sequence Now…..
I was shopping (big surprise, that) in the stores that line Sunset Boulevard.  Raymond had gone off on an errand and was due back at anytime, so when I stepped out of the store, I looked down the street towards the Tower of Terror to see if I could spot him.  As I stood there, intently gazing off into the distance and searching the crowd, I heard a voice from the street right in front of me say, "Nice gams!  You ought to be in pictures!" – I'm sure I looked surprised.  The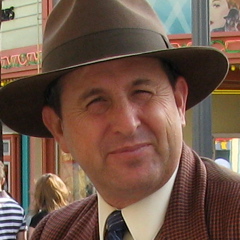 accented words were vintage 1940's dialog and I wasn't sure at first if they were addressed to me.  Nobody has EVER complimented me on my legs!  (Truth be told, I'm rather low to the ground due to unfortunately short limbs which are unremarkable at best.)  So, I turned my gaze to the two gentlemen standing in front of me – the more mature, taller of the two was, indeed, speaking directly to me.  Once he knew he'd gained my complete attention, he introduced himself and his companion.  They were, as they began to explain, a big-time Hollywood talent scout (Jack Diamond) and his protégé, a young actor (Bucky Greenhorn) trying to break into pictures.
They were charming and funny and had randomly chosen me to be at the center of their performance.  They made me smile and laugh – and feel very special as they told me their stories – this talent scout and would-be movie star.  Finally, after several minutes, they asked me who I was waiting for and I told them it was my husband, Raymond.  "Do you see him?" They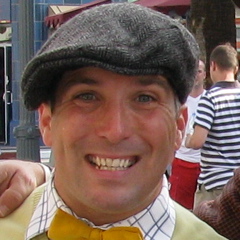 asked and yes, in fact – Raymond was headed our direction.  They wanted to know if he was the tall man with a mustache and was he a tennis player – laughing I said yes and no, golf.  Then they began to wave enthusiastically, calling out, "Raymond!  Yoo Hoo! Raymond!  Over here!"
There's this look Raymond gets – I know it well after all these years.  It's the look that says many things at once and reminds me of a look that Desi Arnaz used to give Lucy from time to time.  With a small, tight grin and a rueful shake of his head, Raymond gave me "the look" that day that wordlessly said, "What have you gotten yourself into now?  I can't leave you alone for a minute!  Look at this – it's hilarious!"  I get that look a lot and it always makes me laugh.  On that day, I'd landed right in the middle of one of the best, most magical, unexpected surprises in all of Walt Disney World – Streetmosphere a.k.a. Citizens of Hollywood.
The Citizens of Hollywood are a group of wandering street performers in Disney's Hollywood Studios – their sole purpose is to entertain guests with impromptu skits and bits of fun.  Characters include stars/starlets, actors-in-training, talent agents/scouts, directors, gossip columnists and more.  This is Disney at its finest.  If these entertainers weren't there, you'd never notice them missing, but oh, what a special touch of whimsy and unexpected charm they bring to the day for random strangers on the streets of Hollywood!
Have you ever experienced the Streetmosphere in Disney's Hollywood Studios?  Who did you see?