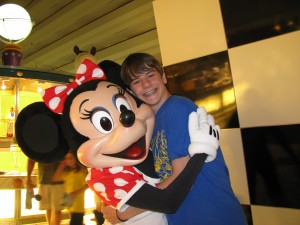 I don't know about you, but when I go to Disney World, I still want to see Disney characters.  I do know how old I am (parts of me are reminding me of it all the time)…I can still be a kid at heart, right?  I love Donald!!!  In this post, I suggested some ways to meet characters on a Disney vacation.  One of them, probably the one I like the best, is character dining – our favorite of which is at Chef Mickey's.  Why we love it?  It gives children (and adults like me) the chance to meet Disney's Fab Five:  Mickey, Minnie, Pluto, Donald, and Goofy – while enjoying a meal just a short monorail ride away from the Magic Kingdom.  Let me add:  This is a Princess-Free dining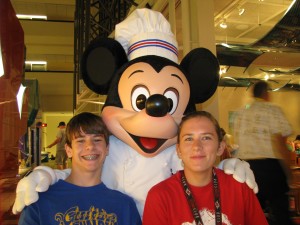 experience which appeals to many families – especially ones with boys! 
Located inside Disney's Contemporary Resort, Chef Mickey's is a buffet serving Breakfast, Lunch (certain times of the year only) and Dinner.  The food, while certainly not of the fancy gourmet variety, is go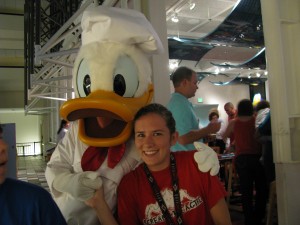 od and offers a large selection of basic, American fare to appeal to just about everyone – including picky eaters.
A bit about the food:  At breakfast you can expect eggs, potatoes, sausage, bacon, fruit, danish, pancakes, French toast, cereal and the ever popular Mickey waffles.  Dinner items include things like soups, salads, a carving station, pasta, roasted chicken, ribs, mashed potatoes, veggies, chicken tenders, mac & cheese, and several desserts including all the fixin's for ice cream sundaes and yummy bread pudding.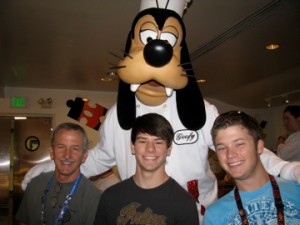 During your meal, the characters come around to your table for a little one-on-one time.  Not a long time, mind you (the whole no talking thing kinda rules out idle chit-chat), but long enough for some great pictures and memory making.  It's good to see The Fab Five without waiting in line outside in the hot Florida sun!  It also seems to me that the characters tend to be a bit more playful here than they are in the parks.  There's a little routine to get everyone excited where guests are encouraged to wave their napkins over their heads to music.  Just go with it, you won't be alone.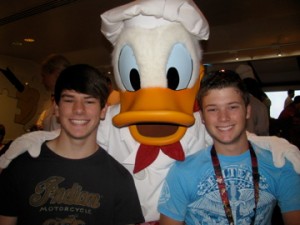 As you arrive at the restaurant (reservations strongly recommended), you're given the opportunity for a family photograph before being seated (photo package prices vary).  Have we done that?  Yes, but if I had it to do over, I would have saved the money.  I don't like those pictures nearly as much as the ones taken table-side by my own camera.  You can decide what's right for you, but do have your camera ready at all times and I promise you'll get some excellent photo ops!  Good food, good company – who could ask for more than that?
What's your favorite Character meal at Disney World?