Ask any good source of Disney travel advice and they will all tell you NOT to visit Walt Disney World during certain weeks of the year – if you want to have a great visit, avoid Spring Break, Easter week, Thanksgiving week, and the week between Christmas and the New Year.  We're ignoring this most important cardinal rule of Disney vacationing and bucking the system!  Raymond and I are headed to Walt Disney World on December 26th!
Busiest Time to Visit Walt Disney World – Into the Fray!
Why?  Why would we do this?  Glad you asked!  We could both get off work!  It's as simple as that.  I get more flexible vacation days than Raymond does, but he's always off (his work shuts down) from Christmas Eve through New Years Day.  We're going to Walt Disney World because those days were available for us to be off at the same time and we couldn't think of a better way to spend them together than at our favorite vacation spot!
We know this will not be without challenges!  We know we'll need to keep a few things in mind to make this trip fun, relaxing, and worth the effort – oh, and it will take some effort to navigate the insanely crowded conditions we'll be facing.  Here are the top five strategies we plan to employ: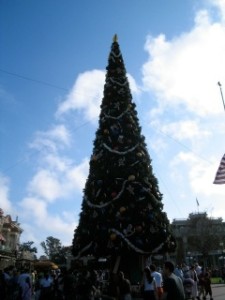 Patience – Lines will be long, pathways congested, attraction wait times ridiculous!  Knowing this going in will help us have realistic expectations and make it easier to practice patience – Raymond has always been much better at going with the flow than I have – it'll be time to show that, after 26 years of marriage, he's finally taught me a thing or two.  Maybe.  I hope.
Flexibility – This is something we're normally very good at in our day-to-day lives.  At Disney World during the Christmas season, it's going to be imperative that we embrace spontaneity and be willing to abandon FastPasses in favor of not being late for our dining reservations (see #4).
Fewer "must-do's" and More "off-the-beaten-path" Plans – The only must-do we're counting on is seeing the Osborne Family Spectacle of Dancing Lights one last time.  We have booked 3 FastPasses per day, but know that it may not be possible to actually reach them all during the allotted time period.  I promise to try not to be disappointed.  I'll gladly resort-hop to see all the wonderful holiday decorations if the park crowds become unbearable.
Plenty of Time for Dining (outside the parks) – We are booked solid dining-wise.  After we booked all our dinner reservations, we went back and added a couple of lunches.  The only in-park dining we have planned is at 50's Prime Time Café in the Studios – all other restaurant reservations are in the resorts or at Disney Springs.
Finding the Magic – We'll focus on being in the moment, soaking up those awesome Disney details, appreciating the Cast Members and the challenges they face when the crowds are über crazy, enjoying being together and ending the year in a place that holds such incredible memories for us!
Stay tuned to Facebook, Twitter, and Periscope – We'll keep you posted on how we do with The Plan!  Do you have any words of wisdom for us?