In the same way I've developed a peculiar mental routine on Space Ship Earth, my enjoyment of The Carousel of Progress has now also become based on certain habits I've developed over the years.  Raymond is included as part of my amusement on this attraction.  Here's how it goes.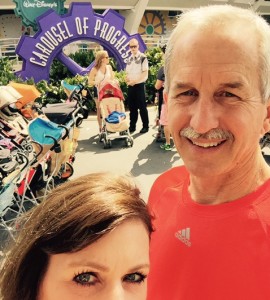 Thoughts on Walt Disney's Carousel of Progress
We'll be in Tomorrowland and will have either just gotten off of Space Mountain or the PeopleMover and I'll look longingly towards Carousel of Progress then make eye contact with Raymond.  No words necessary, he will either heave a sigh of resignation or raise an eyebrow while motioning me with one hand to lead the way.  As we enter the theater, I'll look back to be sure he's still with me and, grinning madly, beeline for the front row.  Raymond and I both know why I'm doing this – so there's nobody in front of me that will be subjected to my enthusiastic singing along with the show.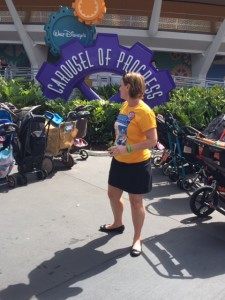 Promptly after the Cast Member spiel, I will sneak my phone out of my pocket so I can take pictures even though I've got dozens already and there's nothing new to see.  Raymond will nudge me, I will show him that the flash is off and we'll settle in to watch.  (And sing.)
Valentines Day!  I love this scene and I this is Dad's best outfit.  Hey…when this show was first shown at the 1964 World's Fair, my mom was THERE!  Aaaaand expecting me!  So, the Carousel and I are totally connected!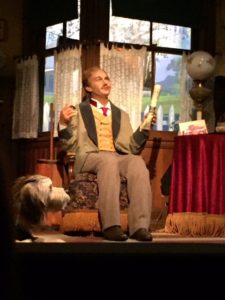 Oh, LOOK!  Rover is so cute!  (Awww…I wonder what Junior's doing now.)  Wait!  I totally get the theme of this show, but now I remember how the mysterious automatic appliance demonstrations are scary!  Singing along with this show is the BEST!
The 4th of July!  Ohhhh, no, I don't like this part…the appliances become possessed and the neighbors unfriendly after the fuse-blowing part.  Patricia's going to dress up as the Statue of Liberty and be whiny before Dad makes THE best pun about carrying a torch.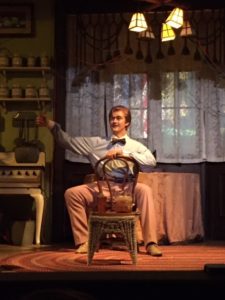 Uncle Orville!  Yes!  Voiced by Mel Blanc (do I detect a hint of Bugs Bunny in there somewhere?)  Can we please just go back to singing the song now!
Halloween!  This would be awesome if only the terms "rat race" and "commuting" weren't mentioned.  Those two words alone have the ability to pierce the Disney Bubble!  Cool! We had a cuckoo clock just like that one when I was a kid!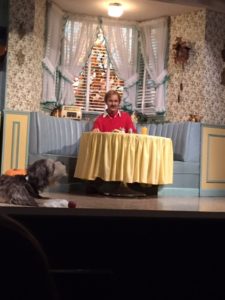 Focus, Lisa, Patricia and Babs, dating Wilfred (the slug) and Howard (the clodhopper),  are going to the Halloween party.  Yep, got it.  Patricia's trying to lose inches with that ancient exercise machine!  Some things never change.  Dad, you need to get up off your patootie and help Sarah with the wallpapering.  Singing!!!!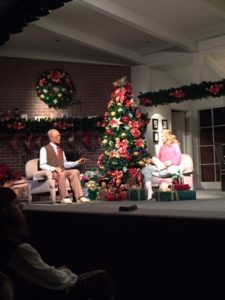 Christmas!  Memo to me: the grandma and her virtual reality game acumen are going to freak me out, so I should focus on cool details like the Christmas tree and how adorable the dog looks in this scene.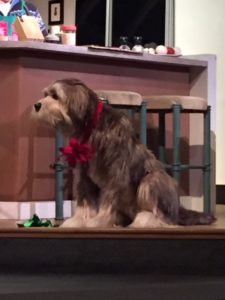 Stop with the voice-activated oven before you burn the turkey! Never mind.  Quick!  Check for Mickey Mouse under the tree.  YES!  Still there.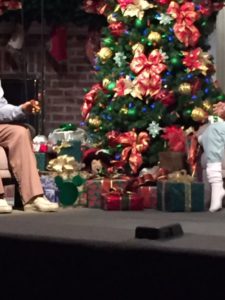 Y'all sing along with me now!
There's a Great Big Beautiful Tomorrow
There's a great, big, beautiful tomorrow
Shining at the end of every day
There's a great, big, beautiful tomorrow
And tomorrow's just a dream away
Man has a dream and that's the start
He follows his dream with mind and heart
And when it becomes a reality
It's a dream come true for you and me
So there's a great, big, beautiful tomorrow
Shining at the end of every day
There's a great, big, beautiful tomorrow
Just a dream away
Songwriters: RICHARD M. SHERMAN, ROBERT B. SHERMAN
Carousel of Progress!  Are you a fan?  What's your favorite scene?