Ugh!  I think my countdown calendar is broken.  I'm so excited about our upcoming trip to Walt Disney World in October for Epcot's International Food & Wine Festival, the days are passing unbelievably slowly and vacation seems much too far away.  We've been looking forward to this particular trip since we started planning it in 2014.  Remember when Raymond and I went to Disney World during Food & Wine to celebrate our 25th anniversary?  That was our first experience visiting during the festival and we not only had an amazing time, we knew it was something Joseph would absolutely love…once he turned 21.  Well this is the year – Joseph and the Food & Wine Festival both celebrate the same milestone in 2016.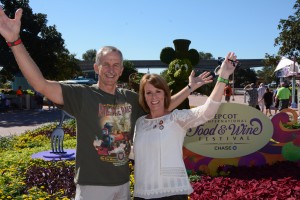 Epcot's Food & Wine Festival Turns 21
62 days long this year, Food & Wine is a great place to sample new flavors and enjoy World Showcase in a different way.  The fall weather in Orlando is incredible with less humidity and rain than during the summer months.  We'll be visiting for 7 days and as is my habit, I've been obsessed with planning just the right amount of activities, time in each park, free time, special meals…you get the idea.  I may have gone overboard with the ADRs (advance dining reservations), but I have plenty of time to tweak the plan when we make our FastPass selections 60 days from our trip.  I'm anxiously awaiting more festival details so I can better plan our time in Epcot.  In 2014 Raymond and I found that scattering our Epcot visits liberally throughout our vacation allowed us to sample plenty of flavors and take in a couple of special events.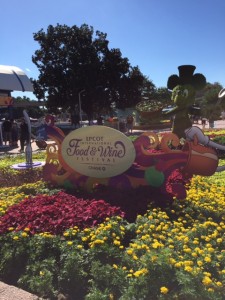 I'll tell you what I've got planned now.  I know you're going to be shocked that we're passing on Mickey's Not So Scary Halloween Party, but four of the seven in our travel party have attended the party fairly recently and the other three are not all that excited about going.  Best to use that time and money elsewhere on this visit, I think.  Here are the plans – if you'd be so kind, please leave me a comment and let me know what you'd change (add, delete, move, etc.).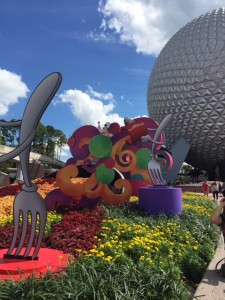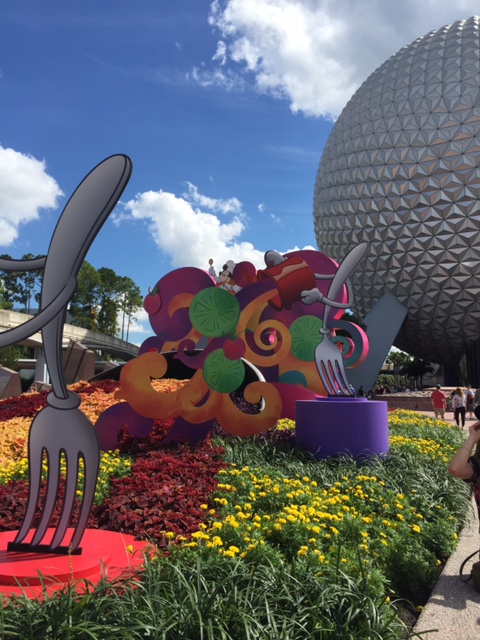 Saturday – Arrival Day at Epcot – All veteran Food & Wine visitors will tell you to keep away from the festival on the weekend, but I'm bucking common sense here because I want everyone to see what a crazy Saturday night looks like in Epcot during this most unusual time of the year.  The only time that surpasses a Saturday night in Epcot during Food & Wine is World Showcase on New Year's Eve (and we've seen that too!).  So basically, we'll hit Epcot by early afternoon with whatever FastPasses I can score 60 days out, make our way slowly through the masses in World Showcase and arrive at 8:00 pm for our Via Napoli ADR.  I took suggestions from my friends on Twitter and Via Napoli was highly recommended as a crowd pleaser that won't cost too much.  We plan to share appetizers and pizzas and call it a day.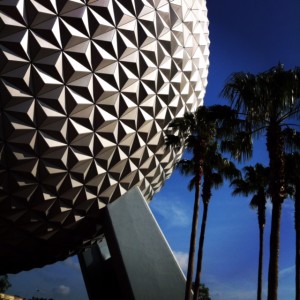 Sunday – Magic Kingdom all day.  We'll want to get an early start and fit in as many attractions as possible.  We do have a late lunch reservation at the Skipper Canteen, but depending on FastPass availability, it's probably the most likely ADR to be cancelled.  Since the park closes early for Mickey's Not So Scary, I thought this would be a great day to visit the Polynesian for drinks and dinner.  Hopefully, Trader Sam's won't be too crowded.  We have a dinner reservation for 'Ohana and I'm looking forward to a relaxing evening where we can turn in early and get a jump start on Monday!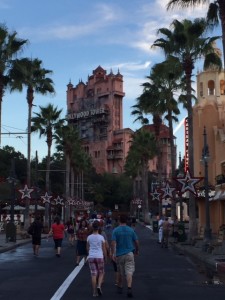 Monday – Disney's Hollywood Studios through lunch, Epcot in the afternoon.  Megan and Grant had a great experience at the Sci-Fi Dine-In Theater on their honeymoon last year, so we thought we'd give it whirl!  I can't believe we've never tried it before and am excited about the experience.  After lunch, it's on to Epcot with absolutely no other plans for the day.  The rationale here is that Epcot will be uncrowded and we can take it easy and soak up all that the Food & Wine Festival has to offer.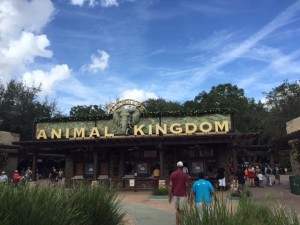 Tuesday – Animal Kingdom all day.  I'm disappointed that Animal Kingdom's posted park hours show a closing time of 5:00 pm and sincerely hope this changes!  We have an early breakfast at Tusker House (a first for us) and another reservation for very early dinner at the brand new Tiffins (4:30 pm).  If the park hours change and evening activities are a go, I plan to try to call and change our breakfast to a dining package for whatever show (Jungle Book or Rivers of Light) might be showing.  If you've heard anything about fall hours or evening events, please let me know.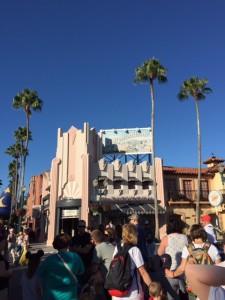 Wednesday – Disney's Hollywood Studios early and briefly then Epcot for lunch before Disney Springs for the late afternoon/evening.  This sounds like a lot of hopping, but I'm thinking that if we rope-drop the Studios and hit four attractions (Tower of Terror, Rock'n' Roller Coaster, Toy Story Midway Mania, and Star Tours), we'll be finished in two hours or less.  The food booths in Epcot will make a great lunch activity and we can take our time getting to Disney Springs by around 4:00 pm.  We have a reservation at Raglan Road for 7:00 and would like to shop a little and visit Jock Lindsey's before dinner.  After dinner, we may even have time to hit Magic Kingdom for a couple of hours.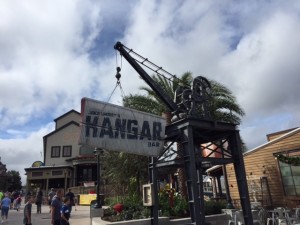 Thursday – Magic Kingdom until lunch then to Epcot for the afternoon.  I'm excited about our lunch reservation at Whispering Canyon Café!  That nice little boat ride from Magic Kingdom to Wilderness Lodge for some great food is a wonderful break from park touring.  Dinner will be at Shula's Steak House (at the Dolphin) that evening and we can easily walk there from Epcot.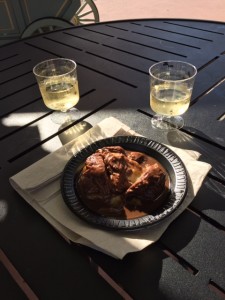 Friday – Animal Kingdom in the morning before hopping to Epcot for more food booth action.  If I can, I'll book Epcot fastpasses for late afternoon.  We can walk from Epcot to our farewell dinner at Il Mulino in the Swan.  I'm exhausted already and all I've done is type these plans!
Okay – I need you!  What would you change?  Have I allowed enough time at Epcot?  What about the other parks?  If I need to cancel some ADRs, which should be the first to go?
On a side note:  Today is actually Joseph's 21st birthday.  I'd like to say…Happy Birthday to my favorite son – I admire your thirst for knowledge and your love of puns.  I am amazed every single day at the incredible man you've become and I adore the way you're true to yourself always.  I love your gentlemanly manners and your love of everything old…especially your parents.  I love you, Sonny Boy.  Don't ever change.