Happy Saturday, Everyone! Here's a honey of a flea market find for all you Pooh fans! While I've always been more of a Piglet fan, myself, I can't deny the cuteness factor of this set of tea-time accessories. If Nick might ever be inclined to share, I'm ready!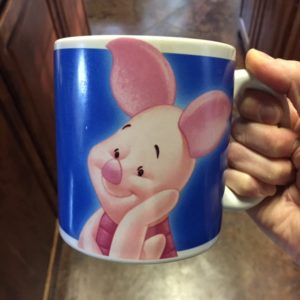 Winnie the Pooh Breakfast Tea – Flea Market Treasures
By Nick
I picked this Winnie the Pooh honey and tea set up at the Columbus Flea Market recently for $5.
My wife is a honey lover, and I thought she'd love this, especially the honey pot.
I mean "Hunny Pot".
I'm not sure what "honey syrup" is, and neither my wife or I have been adventurous enough to find out. The tea is pretty good, though.
The real star of this show is the Hunny Pot though.
So cute!
So, who's up for a spot of tea?
Want to see more fantastic flea market finds? You can follow Nick, his wife Barbie, and friends on all their many Disney adventures:  Disney Musings Blog, on Twitter, on Facebook, On Instagram, On Pinterest.  You can listen to Nick, our friend Dave and me on The Disney Exchange Podcast where we talk about all things Disney.