Our list of "must-do's" for every visit to Walt Disney World is pretty long and seems to get longer all the time.  Sometimes I think we may need to shorten that list or stay longer on vacation, otherwise we may never have enough time to try some of the items on my Walt Disney World Wish List.  (I'm humming that song from Tangled, "I've got a Dream" as I type.)
This is not the pie-in-the-sky list of things I'd do if money were no object (that's a list for another day).  I'm not talking about extravagant or expensive add-ons here, I'm talking about things I know about and have always wanted to experience, but have never made the time.  This list, if I gave it enough thought, would actually be pretty long – so I'm narrowing it down to 5 completely random items.
1. Spend more time on the Boardwalk.  I'd like to stay there someday because I love the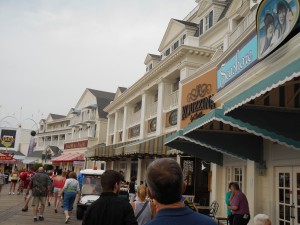 resort's proximity to Epcot, but I'd be happy just visiting again at a leisurely pace.  I've only been there once, to eat at the Flying Fish (delicious with great service), and didn't have time to fully explore and experience all the area has to offer.  Maybe I'll get a chance to eat at the Trattoria al Forno – the restaurant replacing Kouzzina.  We love Italian food!
2. Spend Christmas at Walt Disney World.  We've visited Walt Disney World at Christmastime on more than one occasion, but we've never been away from home for Christmas Day.  A time in our lives – a window of opportunity – will open in the future that will allow us to take some of our most beloved holiday traditions on the road.  When that time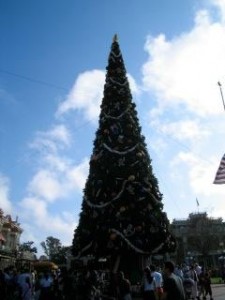 comes, I've got a list of things I want to see and do.  For example – I love doing the resort loop to see all the gorgeous Christmas decorations at the resorts, but I've never seen the Wilderness Lodge at Christmas and I hear it's spectacular!
3. Bowl at Splitsville.  We're not avid bowlers, mostly because the closest lanes are 30 miles from home and are pretty rundown (a little sketchy, to be honest).  We'd bowl more if we had a better facility – bowling's fun!  The thing about Splitsville is that I've heard so many great things about the food!  So bowling would be a treat, I think, and if it were combined with great food and beverages, it would be an experience!  The next time we find ourselves at Disney World on a rainy day, I'm going to suggest we make our way to Downtown Disney/Disney Springs for some bowling action!
4. Rent a watercraft.  I want to cruise around in a little boat and see the Walt Disney World property from a different perspective.  I'd rent my boat at the Contemporary Resort's marina so I could explore Bay Lake.  Zipping around on the water and seeing the sights sounds both fun and relaxing to me.
5. Skip a day in the parks to go exploring.  Except for the days we arrive and leave, we're always gung-ho for park action.  The luxury of skipping a day has never been mine.  We usually spend between 5 and 7 days on a Disney vacation.  I want an 8th day.  Stuck right in the middle of the week to go out and see what's at all the resorts I've never visited before.  If staying at Bay Lake Tower (our home resort), I could walk over to Magic Kingdom and catch a bus to a resort I'm curious about, then return to Magic Kingdom and do it again.  For sure if I had the time and I was at Disney World at anytime during the last four months of the year, I'd love to see the guests' decorations for Halloween or Christmas at Fort Wilderness – I hear they are a fantastic sight to see.
That's it!  Those are the first five things that came to mind.  Have you done any of these?  What's on your Walt Disney World Wish List?