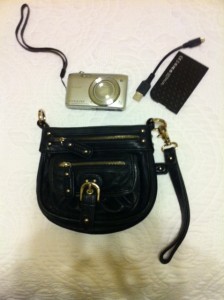 When I'm packing for a Disney vacation, I never worry about forgetting clothes, shoes, or shampoo and the like.  If I forget hairspray or sunscreen – I'm okay with just buying a replacement at Disney World (I'm going to do the resort loop shop tour anyway, right?).  I'm a big picture kind of person and for me, the devil really IS in the details.  It's the little, but super important things I'm most likely to forget.  Now that a Disney vacation has become a little bit more complex than it used to be, I rely heavily on what I call a Vacation Day Checklist.  This is the list I use at the very last minute before I leave home to make sure that when the plane lands and my sandals hit the ground, I am completely ready to get right down to vacationing.
Since I'm going to use this list tomorrow (woohoo!!!), I've been tweaking it here and there.  I thought maybe if I shared it with you, you might find it useful for your own future Disney vacation or (let's make this all about me for a sec, okay?) YOU might offer me some suggestions on how you organize all the listed items.  If you think I've forgotten anything, shout it out immediately!  Time is of the essence!
THE Vacation Day Checklist: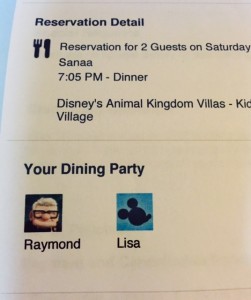 1. Printed proof of all resort reservation numbers, Advance Dining Reservations (ADRs), and FastPass+ selections.  I've heard horror stories about relying solely on the MyDisneyExperience app for this.  I'm not willing to chance it….are you?
2. Airline boarding passes (if flying) – Raymond is really great about remembering to do online check-in at the earliest available moment.  And he keeps up with the boarding passes.  I'm in charge of worrying about it.
3. Magical Express Luggage Tags in PLACE – I wait until I'm completely packed (in theory) before placing the Magical Express tag on my suitcase…I also then weigh my bag to make sure I'm not over the weight limit.  I don't mean to brag, but on more than one occasion I've been complimented by the airline's skycaps at curbside check-in for my packing skills when my bag weighed in with a full one-half-pound to spare.
4. Magic Bands in carryon.  At least one band will need to be scanned for boarding the Magical Express motor coach.  ALL Magic Bands will need to be available for resort check-in if adding charging privileges to each band (and selecting a PIN for charging).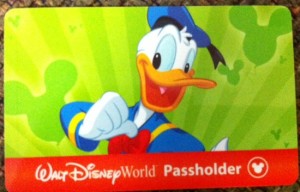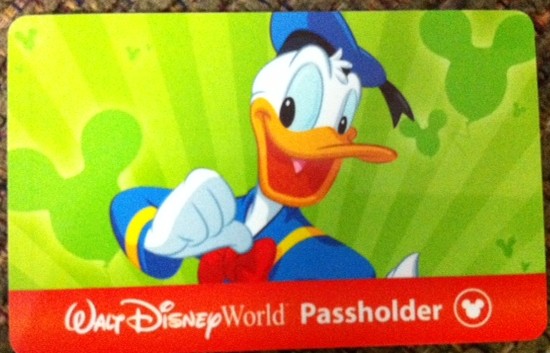 5. CARDS!  This may include any/all of the following:  Drivers' License, Credit card for resort charges, Annual Pass (or voucher) to be linked to Magic Bands at the first park after arrival, Tables in Wonderland (dining discount card), DVC membership.  NOTE:  If you purchased a special event ticket you will be picking up at the will-call window, you will need to have the credit card with you that was used to purchase the tickets.
6. Chargers, cords, batteries.  I take three digital cameras, a GoPro video camera, my cell phone, and my laptop with me.  I'd be pretty sad if I forgot their associated charging cords and extra batteries.
7. Rain Prep – I check that 10 day forecast up until the last minute.  If there's a significant chance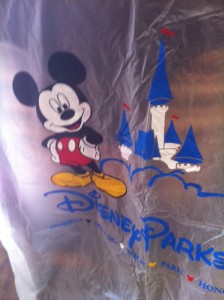 of rain on arrival day, I'm wearing my rain-friendly shoes and carrying my rain ponchos with me.  Rain will not keep me from enjoying my arrival day!
8. Park Bag – We always head straight to a park!  It may not always be the same park every time, but once we've checked in at the resort, we are off!  I make sure I have my cameras, charger, small medical kit, rain gear, pins to trade…whatever we'll need.  In a bag, ready to go.  Need suggestions for bags?  Check here.
9. Empty Zip Lock Bags – Part rain gear, part miscellaneous supplies.  If it rains, I can quickly stow electronics in a bag for protection.  Gallon-sized bags are always good for separating dirty socks and underwear from everything else in the suitcases.  Toiletries that might potentially leak can be sealed up tight inside their own bags.  Wet rain ponchos can be stored in a zip lock, inside a park bag without shedding water on everything.
10.  Snacks.  I tend to think of food only when I'm hungry.  Traveling is dicey – might not get to eat at regular times.  After one horrible food-poisoning incident on our way to Walt Disney World in 2012, I'm not inclined to trust airport food all that much anymore.  Trouble is, when I'm TOO hungry, I tend to get pretty cranky.  I actually have to remind myself on this list to bring along some nibbles – just in case.
Okay – My Earhat-wearing friends – what did I miss????  This is my last minute checklist….what's on yours?