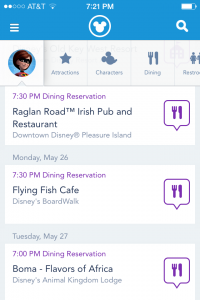 A while back, I posted five resources you can use online to help you plan for a Walt Disney World vacation.  I also posted about a few of my favorite Disney books.  Now let's talk about apps you can use not just for planning, but some of these can even make your trip more fun!
My Disney Experience – This is a must have for Walt Disney World travelers.  This is Disney's app – a one-stop-resource for making the most of MyMagic+, FastPass+, Advance Dining Reservations, park tickets, Memory Maker (pictures), group member linking and more.  All of the plans, confirmation numbers FastPass+ ride times, etc. – portable and easy to access.  Additionally, you can make changes on the fly without having to wait in line at the park kiosks! – Unless you want that 4th or 5th FastPass – then you'll have to wait at a kiosk.  But that's another story for another day.
The DISBoards app – WDWInfo.com's discussion boards at your fingertips!  Say I'm watching a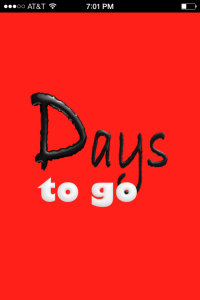 particular thread for news, or waiting for the next installment of a trip report – I can subscribe to discussions via smartphone!  Email notifications make sure I don't miss new posts.  If you're involved with a cruise-meets page or watching for late-breaking news like the release of free dining and such, this is extremely convenient!
Days to Go – Yes, there are a number of countdown apps to choose from and 99-cents is the going rate, but I like Days to Go the best!  The app icon itself is RED and easy to spot.  Eight gorgeous photos are framed by nice, large letters/numbers which can be personalized for your enjoyment – What a way to get excited about vacation!!!
Beers and Ears – the WDW Beers app provides users with a comprehensive, alphabetized list of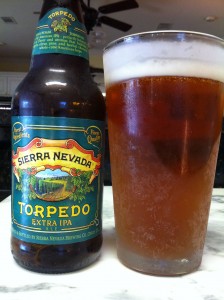 all the suds available in the World.  What's not to love about that?  It's invaluable information.  I'll be checking this app for any and all available brewed refreshments as I travel around Epcot's World Showcase, the Monorail Loop, the resorts and restaurants everywhere!  Decisions, decisions.
Disney Trivia – Take your pic – Mouse Trivia or Parks Trivia – They're unofficial, but if you need something to fill hours of waiting, you can't go wrong with some good old fashioned battle to the death family fun.  Waiting at the airport, riding in the car, waiting for luggage, or, my personal favorite, waiting for a table at a Disney restaurant – see who among you has the keenest knowledge of all things Disney!
What about you?  Which are your favorite apps for Disney lovers?