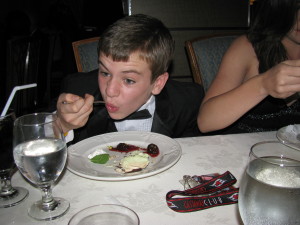 Our family is fortunate in that we don't have special dietary needs or a single food allergy among us.  We're highly gluten-tolerant omnivores and can (not that we should) munch on pretty much anything.  One among us, though, has always been an extremely picky eater.  World class picky.  Joseph has, from birth, been the most discriminating consumer-of-nearly-nothing we've ever met.  Green foods of any kind? Nope. Squash, cauliflower, gravy, most cheeses, jelly, mayonnaise, mustard, tomatoes, and all pickles are also inedible to our boy.  Casseroles of nearly every variety were once shunned due to being unable to identify every ingredient.  Even bacon!  Yes, bacon, as a breakfast food would not be tolerated.  It will, however, gladly be consumed on a certain fast food chain's hamburger, but only if that burger also has cheese and ketchup.  Our son is was the child who would order "peanut butter and jelly, hold the jelly" in a restaurant.  The struggle is real, friends.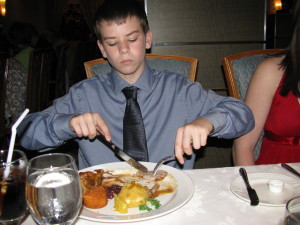 I once believed that picky eaters were the result of poor parenting. Children offered a variety of healthy, delicious foods and encouraged to try new flavors will not be picky – HA! Clearly, I'd never met the champion of non-eaters. I even resorted to a white lie on occasion when sitting down to dinner…if the food looked even remotely foreign, Joseph would ask, "Have I ever had this before?" and I would say (no matter what) YES!!! And you really liked it!!!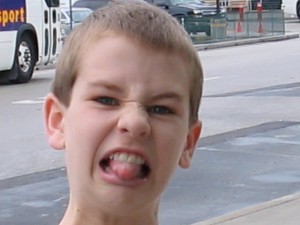 Walt Disney World – Picky Eater Survival Tips
What did this make Disney vacations like?  When Joseph was little, we decided we'd deal with the eating thing (I suppose I should say the NOT-eating thing) with one basic strategy – we'd make sure he got something he would eat (and enjoy) at every meal, but would not allow his food quirks to keep us from eating where we wanted to eat.  That incredible Disney service and kid-friendly food expertise meant that we'd have help with our plight, including assistance with the "no food must touch" quirk that went along with the picky food choices.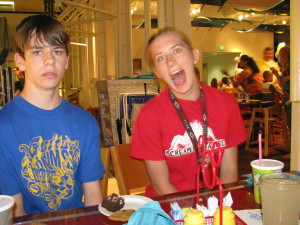 Important:  Picky is NOT the same as a life-threatening food allergy. Allergies mean meals must be prepared in a very specific, careful way. While I've seen Joseph gag over an accidental bite of pickle hidden in a sandwich, I would never misrepresent it as an allergy to a restaurant server.  Allergies are extremely serious and it would be wrong to claim one that doesn't medically exist.
What worked for us:
Buffets were our friends! Chef Mickey's (Contemporary Resort) and Boma (Animal Kingdom Lodge) in particular were safe bets.  Disney Cruise Line's buffets are awesome!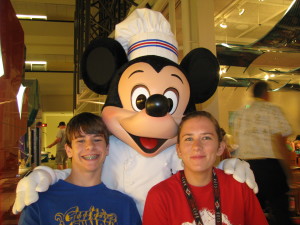 We asked for plain (without sauce or gravy) rice, noodles, or potatoes when possible.  Almost every table service restaurant would easily help us put together plain fish (odd to me that fish was always a favorite food, go figure) or grilled chicken, a starch and either fruit or one of the short list of Joseph-approved veggies.  Disney Cruise Line took it to a completely new level.  Those servers do NOT want children to go away hungry – they'll go above and beyond to make sure even the pickiest diners are happy.
Breakfast was the biggest meal of the day sometimes – and that was okay with us.  The Florida heat is an appetite killer, so if Joseph filled up on scrambled eggs and fruit (and maybe a Mickey waffle or two) in the morning and didn't feel like eating much later, we didn't stress out about it.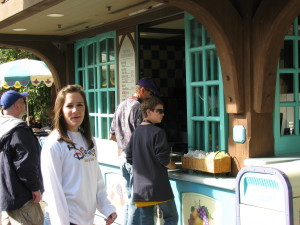 We lighted up because we were on vacation.  I carried granola bars and pop tarts with me and didn't mind buying an ice cream treat each day.  We did our best to make sure Joseph had healthy options that he liked, but didn't sweat it if he didn't want to eat much – we could go back to arguing about food when we got home.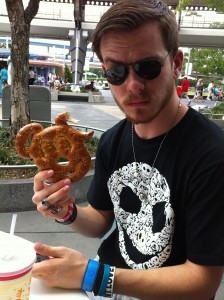 Now that he's 20, Joseph eats lots of foods he wouldn't have eaten when he was little.  He's an accomplished cook and enjoys trying new recipes.  He's healthy, tall and slender and looking forward to trying all the food booths at the Epcot International Food and Wine Festival in 2016 (after he turns 21).  If you have a picky eater, I feel your pain!  Keep offering new foods and hang in there!  It does get better and you are NOT a bad parent.
Are you the parent of a picky child?  What works best for you on vacation?