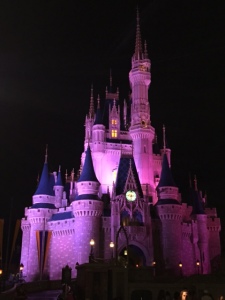 With just a couple of days left to enjoy this week at Walt Disney World, I thought I'd post a quick update about how it's been going…
What a GREAT time we're having!  Everyday has been packed with fun – even though, by our usual vacation standards, we've been really taking it easy and going with the flow.  We're trying a lot of things for the first time and revisiting some old favorites.  Mostly, we've been staying in the moment, stopping to smell the roses, so to speak.  This is what has certainly made our first trip as a couple in 25 years extremely special!
Here are 5 things that we've learned so far:
1. Animal Kingdom is experiencing some major growing pains and construction walls are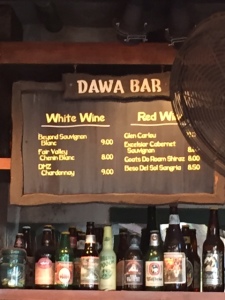 everywhere.  Even so, we had a wonderful afternoon there on Saturday – saw some amazing things even – like BOTH of the new baby gorillas and a cast member feeding the Meerkats by hand.  We enjoyed Kilimanjaro Safari in the late afternoon nearly as much as we usually do first thing in the morning.  We also spent a delightful and relaxing few minutes enjoying a cocktail at the Dawa Bar.
2. The road from Jambo House to Kidani Village is paved with….lizards.  We counted 31 along and on the walkway on our way to Sanaa.  Every great thing we've heard about Sanaa was true!  We had a great dinner and the bread service?  Just amazing!!!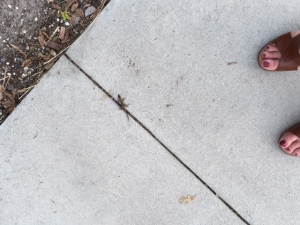 3. Excitement is in the air at the Studios.  You can feel changes coming and while it'll be a little sad to see original attractions make way for new ones, the park needs some TLC and we will welcome the changes with open arms.  We saw the Indiana Jones Epic Stunt Spectacular just in case it's next on the chopping block and you know what?  I loved it as much as I did the first time I ever saw it.
4. Citrico's (table service, Grand Floridian) has got to be one of the most underrated dining experiences on Disney property.  Everything from the atmosphere to the service to the fantastic food was perfect.  We can't wait to go back.
5. The Food and Wine Festival at Epcot is a big bunch of fun.  We made friends everywhere we stopped.  We haven't disliked a single thing we've tried so far and I can't wait to rank everything when we're finished.  Brazil's Crispy Pork Belly – To. Die. For.  We started off sharing everything we tried, but by the time we reached the Brazil kiosk, we knew better than to try to share that porcine delicacy!  You don't stayed married for 25 years without perfecting certain strategies.  We strongly recommend at least one serving per person to keep the peace.
Well…I hate to cut this short, but our ADR at California Grill is in about 40 minutes and that's barely enough time for me to get gussied up a bit.  I'll be back home in a few days with reviews, tips and tricks, loads of pictures, and much more about our trip.  I'll leave you with this picture of me…well, technically not me, but certainly how I felt I must have looked after our first afternoon in World Showcase sampling all the tasty offerings at the Food & Wine Festival.  If most of the pictures in this post appear sideways to you, my sincerest apologies – taken with my new iPhone 6, I'm having a super hard time getting them to appear correctly.  I'll be working on that!