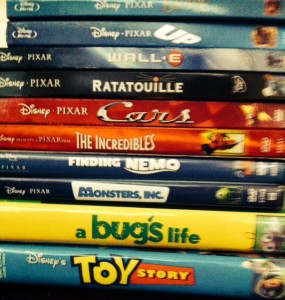 Every time I watch a Disney-Pixar movie and I hear John Ratzenberger's voice, I still think, "Hey!  Cliff Clavin!".  I was an avid Cheers fan during the show's 11-season run on TV (1982-1993) and the show just wouldn't have been the same without Cliff Clavin – the fact-obsessed, lovably-irritating-know-it-all postal worker.  While the character of Cliff Clavin is how I became a huge fan, John Ratzenberger's distinctive voice has been adding fun to Disney-Pixar movies from the first.
Since today is John Ratzenberger's birthday (born April 6, 1947), it's the perfect opportunity to offer a salute to Mr. Ratzenberger's contribution to some of the very best, most entertaining movies of all time.
Thank you, John Ratzenberger for these memorable characters:
Toy Story – all three movies:  the voice of Hamm the Piggy Bank.  "Pardon me. I hate to break up the staff meeting, but… they're here! Birthday guests at three o'clock!" – Hamm, Toy Story
A Bug's Life – P. T. Flea – the harried, stressed out circus leader.  " [singing] I'm gonna be rich, rich, rich I'm gonna be rich, rich, rich I'm gonna be the richest flea in the land, ka-ching! The streets will be paved with golden retrievers..." – P. T. Flea
Monsters, Inc. – The Abominable Snowman / Yeti.  "Wasteland? I think you mean "Wonderland"! I mean, how about all this fabulous snow, huh? Oh, and wait until you see the local village, cutest thing in the world. I haven't mentioned all the free yak's milk."
Finding Nemo – The School of Moonfish – that school of fish that stops to help Dory with directions and forms shapes in answer to her questions.  "Hey, hey! You like impressions?" – School of fish
The Incredibles – The Underminer (villain that arrives from underground at the very end of the movie).  "Behold, the Underminer! I'm always beneath you, but nothing is beneath me! I hereby declare war on peace and happiness! Soon, all will tremble before me!" – The Underminer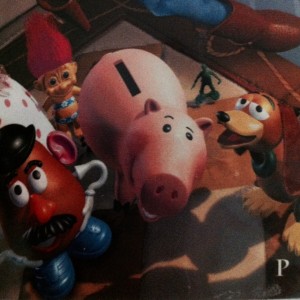 Cars (both) – Mack the Truck – Lightning McQueen's transportation.  "California, here we come!" – Mac
Ratatouille – Mustafa the waiter –  "It was not a customer. It was a critic…  …She likes the soup." – Mustafa
WALL-E – John – "Hey… I know that guy! It's uh, uh… WALL-E! That's it! Hey – WALL-E! It's your buddy John!"
Up – Tom the construction worker – "Well just to let you know, my boss would be happy to take this old place off your hands, and for double his last offer. Whaddya say to that?" – Construction Foreman Tom
Brave – Gordon the Guard – I'm sorry I have not quote for this character, but a trivia tidbit instead:  Many people had a hard time finding John Ratzenberger in Brave because the character spoke with a Scottish accent!
Happy Birthday, Mr. Ratzenberger – I can't wait to see what you surprise us with next!
What's your favorite Disney-Pixar character voiced by John Ratzenberger?