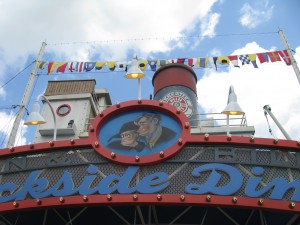 Today I'm launching a new type of review – the Unfair and Unbalanced Review.  I have found that for a generally (very) opinionated person like myself, one of the best things about having my own blog is that I can talk about whatever I like and express my opinion honestly.  You want a fair and balanced review of something Disney-related?  This may not be the place for you – you're entitled to an opinion of your own here, too.
Today I offer you my Unfair and Unbalanced Review of Counter Service Dining Options at Disney's Hollywood Studios.  When I'm finished, I'd love to hear your thoughts and opinions as well – please be as unfair and unbalanced as you like.
Here are the choices:
ABC Commissary – The last time we ate here was on the Dining Plan.  I remember nothing – means it wasn't horrible, but wasn't delicious either.  Currently there are not a lot of choices on the menu – burgers, seafood platter, or salad.
Backlot Express – More choices than the Commissary (and more ambiance, if you care about such).  Dogs, burgers, nuggets, and a couple of salads and grilled sandwich options.  Just okay.
Catalina Eddie's, Rosie's All Star Café, and Fairfax Fare – I'm lumping these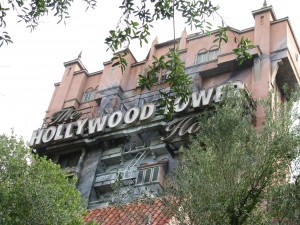 three together, but don't get the wrong idea.  It's not because they're poor choices for counter service – just the opposite, if fact.  They are all in the same area (Eddie's and Rosie's are side by side, Fairfax just a few steps away) and if The Fam and I want lunch in the Studios, this is where we head nearly every time.  Here's why:  At rope drop, we make a beeline for Toy Story Midway Mania, then go straight to Rock'n' Roller Coaster and Tower of Terror.  At that point, depending on the Fast Pass situation, it may be close to lunch.  If not, we'll visit the shops on Sunset Blvd. until we're ready to eat.  These eateries are in the Sunset Ranch Market on Sunset near the exits for RnRC and TOT and each, on their own, has pretty slim menu options… Combined there's good variety.  With a great outdoor seating area and pretty tasty food – everyone can find something they like.  Raymond and I like the hot Italian deli sandwiches (over the pizza) from Catalina Eddie's and the BBQ pork sandwich from Fairfax Fare (ribs and chicken are also on the menu there).  They're good!  Rosie's has burgers and nuggets (good for picky eaters).
Min and Bill's Dockside Diner – This is where we go for beer.  I've heard the Italian sausage is good here too, but since it became tradition – I've only had the beer.
Pizza Planet – if you like pizza (or food) do not eat here.  Please, just trust me.  They call it pizza, but I'd rather just put a piece of cheese and some ketchup on a slice of Wonder bread and eat that.  If you like this restaurant, please don't tell me.  I actually might think less of you.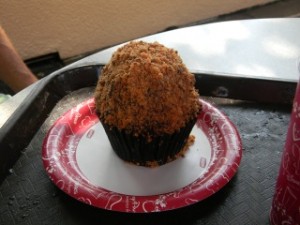 Starring Rolls – THE choice for a mid-morning snack.  Perfect location as you start down Sunset Blvd, on the left next to The Hollywood Brown Derby.  Delicious, delightful treats can be found here.  If you've heard rumor of a Butterfinger cupcake – this is the place.
Studio Catering Company – This sandwich shop actually has some pretty decent choices of the pressed, wrapped, and grilled variety.  The downside for us is the location – it's near nothing we care all that much about.  Near the entrances to Lights, Motor, Action and Backlot Tour (oh, how we used to love you) on one side and the Honey I Shrunk the Kids play area on the other.  On a crowded day at the park, this place would be a good bet as it's out of the way and there's lots of seating.
Toluca Legs Turkey Company – Yes, home of the gigantic smoked turkey leg.  Hot, greasy, meaty goodness.  Joseph eats one here almost every visit.  I ate one once.  Then I found out the fat gram and calorie count.  Seriously – I'm pushing 50 and my metabolism's shot.  I must never eat one again.  You go right ahead though.
So – bottom line.  Our favorite choices for counter service at the Studios is over at the Sunset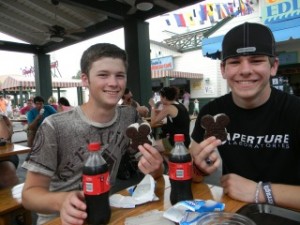 Ranch Market area near the end of Sunset Blvd.  You'll find reasonably priced, tasty fare in a great location.  Toluca Legs is over there, too, if you just have to have one – don't blame me if you go home heavier – I did try to warn you.
Weigh in!  (Hahahaha – I kill me!) What are your favorite counter service places at Disney's Hollywood Studios?