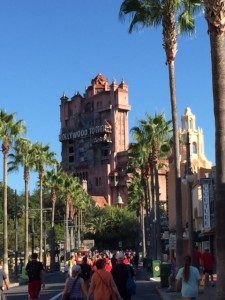 There's a lot to be said for a sit-down lunch on a Disney World vacation.  Especially during the hot summer months – a table service meal provides an excellent break from the scorching sun and high humidity.  It gives you time to rest, re-hydrate, cool off, and re-energize so you can get back to park touring action!  Sometimes a restaurant's lunch menu is less expensive than their dinner menu, making this strategy a money-saving one as well.  While there are many (MANY!) restaurants on our favorites list, today I'd like to recommend a few we particularly love for a mid-day break…
Disney World Dining – 5 Great Lunch Spots
Magic Kingdom Area – When it's hot, I want to eat outside the park.  A short (and wonderfully cool and scenic) boat ride away is the Wilderness Lodge's Whispering Canyon Café.  What we like about this restaurant is the no-frills but tasty menu and the casual, relaxing atmosphere.  Keep the fun going with an eatery that's packed with great Disney service and a few hilarious antics.  Check out the menu here.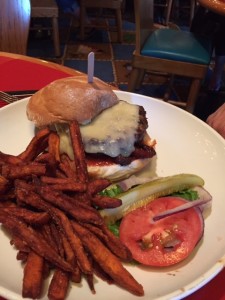 Disney's Hollywood Studios – The Hollywood Brown Derby is right in the middle of the action, but makes you feel miles away.  The inside dining room provides a beautiful, old-Hollywood setting, but the outdoor patio lounge is our favorite (menu).  With shaded tables and an interesting menu (offering plenty of light options on a hot day) – we love grabbing a late lunch or happy hour snack here.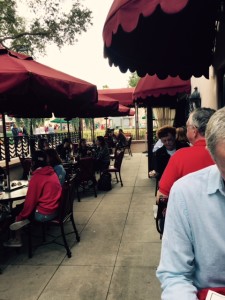 Animal Kingdom – I'm a big fan of lunch on the go in this park during the not-so-summery months of the year, but when the weather is at its hottest, I want to escape the heat inside the Yak & Yeti's dining room.  Like everything and everywhere else in Animal Kingdom, Yak & Yeti is elaborately themed.  The menu is great and it's easy to find something refreshing and not too heavy on a hot day.
Epcot – The choices are overwhelming!  I would love to say it's an easy decision, but I'd be lying.  My absolute favorite thing about needing to eat lunch in Epcot is the opportunity to dine around the World (Showcase).  Most of the time, we opt for sharing counter-service meals so we try food from several different countries.  When we want a light lunch on a hot day, though, it's hard to beat Tutto Gusto Wine Cellar in the Italy Pavilion.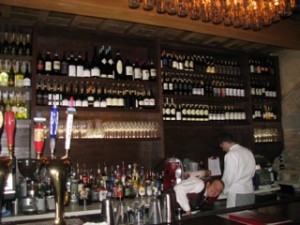 The high top tables and wine cellar atmosphere are great and the food and beverage options even better!  We like to share a couple of small plates of Italian meats and cheeses then enjoy an entrée of pasta or a panini.  The servers are always happy to help with wine selection if you aren't up on your Italian labels.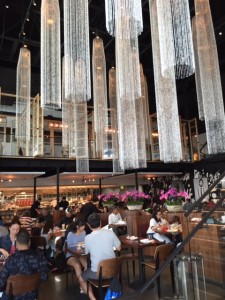 Disney Springs – Now this is a great place for a cool, relaxing mid-day break…and the choices are awesome!  I could recommend several excellent options for a fabulous dining experience, but I'll narrow it down to one great restaurant – Morimoto Asia.  What we love about Morimoto's is the perfect combination of tranquil atmosphere and excellent food (share some spareribs – they're amazing!).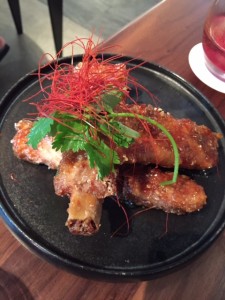 This place may be a little pricier than the other options I've listed, but the experience and service are worth a bit extra to me.  The menu is extensive and a meal here is the kind of experience that can't be rushed, so set aside a couple of hours and just relax!
Do you like a sit-down lunch at Walt Disney World?  What's your favorite place to eat on a hot day?