If you're staying on the monorail resort loop, you can't go wrong with breakfast at Kona Café!  Best know for the World famous Tonga Toast, this awesome eatery in Disney's Polynesian Village Resort is a great place to enjoy the most important meal of the day!  (Note:  Kona Café serves breakfast, lunch, and dinner and if you're using the Disney Dining Plan, requires one table service credit per meal.)
Disney's Kona Café Breakfast
We're not normally the kind of Disney vacationers to waste time on a sit-down breakfast.  Usually, we like to get a jump on the day by arriving at our chosen park destination at opening (or shortly thereafter).  During our post-Christmas WDW visit, though, you may recall we'd decided to do things a bit differently and booked a ton of dining reservations…including breakfast!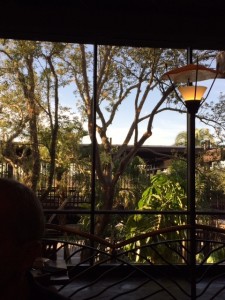 We'd only been to Kona Café for dinner once prior to our first breakfast there.  I was looking forward to trying Tonga Toast (even though I prefer savory over sweet most of the time at breakfast).  Our breakfast experience was wonderful!  So much so, Raymond specifically asked to go back one morning a few weeks ago.  Now that we have TWO breakfasts at Kona under our belts (LOL!  I crack me up!), I'll tell you specifically why we love this place so much.
Convenient location from Magic Kingdom and any monorail resort.  Hit Kona early before heading to Magic Kingdom or rope-drop Magic Kingdom for an Extra Magic Hour then catch the monorail over to the Polynesian for breakfast.  Maybe you'd rather have a leisurely breakfast and relax.  If you're staying at the Contemporary or Grand Floridian resorts, Kona Café is just a short ride away.
Very tasty menu options – sure to please everyone.  Yes, the Tonga Toast is famous, but we absolutely love the egg-white omelet with goat cheese which comes with a humongous bowl of fresh, gorgeous, delicious berries.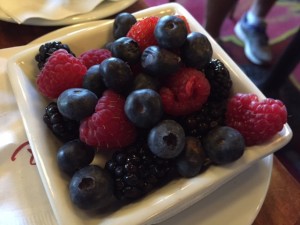 Not enough?  Try the grits!  Seriously, if you're a fan, these are without a doubt the best grits at Walt Disney World.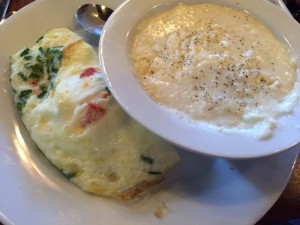 The Coffee!  It's fantastic.  Of course, it's Kona coffee!  Absolutely wonderful and the very best part?  Your server will be happy to prepare a to-go cup for you to take with you when you leave.  We enjoyed our coffee while waiting at the bus stop – we were still very sleepy!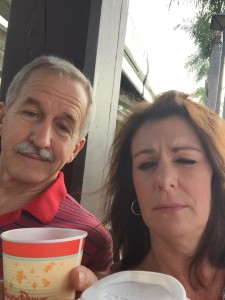 Top notch service.  Sure, it's "only" breakfast, but the service is noteworthy.  The servers we had were kind, friendly, and very professional.  We thought it added a certain special-ness to the experience that started our day off with extra Disney magic.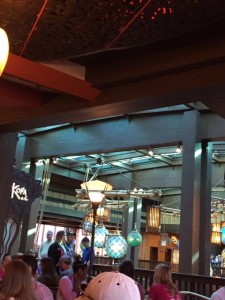 Have you tried breakfast at the Kona Café?  Are you a Tonga Toast fan?