Honestly, the newest Italian eatery at Disney's Boardwalk, Trattoria al Forno, was never on our radar.  We love the Boardwalk to be sure, but we usually visit for dinner at Flying Fish or as I'm running down the actual boardwalk during a runDisney event.  Even when the Trattoria was Kouzzina, it never occurred to us to eat there.  Too many dining choices, too little time!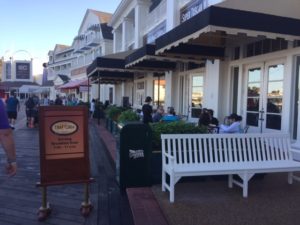 All of that changed when I was making plans for our most recent visit to Disney World (last December).  I wanted to see the Candlelight Processional and I didn't want to wait in a long, LONG line only to find out that all the seats were taken.  We needed a dining package!  I was surprised to find that Trattoria al Forno was a choice for the dining package and that breakfast was an option.  SCORE!  We could sleep in, head to the Boardwalk, try out this previously unnoticed restaurant, spend most of the day in Disney Springs and arrive in Epcot just ahead of the Candlelight Processional.  To me, breakfast wasn't a risk and not a substantial investment to get preferred seating for the Processional during Christmas week.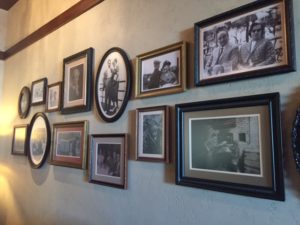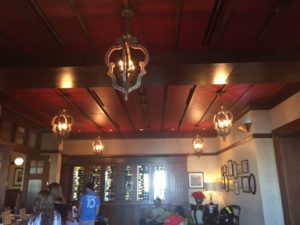 We were very pleased with the entire experience!  The atmosphere and décor are fantastic.  The breakfast menu is unique and the service was fine.  Shorthanded on the morning we were there, the restaurant's manager jumped in to serve coffee and chat up the patrons.  Clearly out of his element, we appreciated his willingness to pitch in.  We were in no hurry and didn't mind sipping Mimosas (I ate the orange slice before I took a picture…oops) while we waited for our food.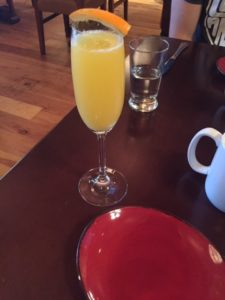 This ended up being a welcome respite from rushing around, dealing with Christmas crowds.  Raymond had the Breakfast Calzones, I had the Poached Eggs (with sausage over polenta) and Joseph had the Scrambled Eggs (with sausage and potatoes) we shared a  big bowl of fresh fruit.  We were all satisfied and thought the Italian-inspired menu items combined with traditional picky-eater-pleasing choices meant there was something for everyone.  We would definitely return again!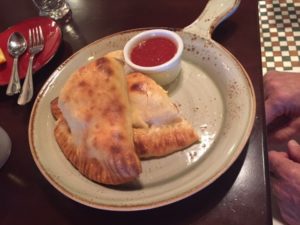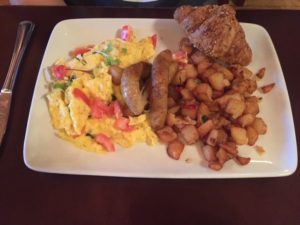 In early February, Disney World announced that a Trattoria al Forno character dining experience will soon be available!  This sounds like a wonderful option and excellent alternative to Akershus in Norway (a popular Disney Princess meal).  This new offering will allow guests to meet their favorite Disney couples!  Different from other character dining options and convenient to Epcot, this new experience will definitely put Trattoria al Forno on many people's to-try lists.  If it has fixed pricing and takes only one table service credit on the Disney Dining Plan, all the better – this should be a big success!
Rumor Alert!  I heard that today (February 23, 2017) is the first day to make ADRs for this experience, so if you're headed to Walt Disney World this summer and are interested in dining with beloved Disney couples (Like Rapunzel and Flynn & Ariel and Eric), you might want to get busy on the reservations.  If you are able to book this new Character Dining Experience, please let me know the details!