Ever wondered where you can find the best views at Walt Disney World?  Want to take in the most scenery?  See the big picture?  Here are a few of our favorite spots:
WDW – Best Top of the World Views!
Expedition Everest (Animal Kingdom) – Hands down (or hands up, if you prefer), this attraction offers the very best (in my opinion) view of any other Disney World attraction.  As my little tea train sets off on an amazing Himalayan adventure, I look forward to so many special moments along the way.  Among these is the spectacular view offered on the way up the Forbidden Mountain.  The going is slow enough for guests to take in the breathtaking, really spectacular scenery.  There's so much to love about this attraction, this view is often overlooked (hahaha) and underappreciated.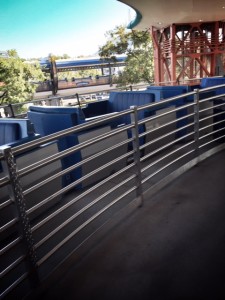 The PeopleMover – If you have not taken a spin on this Tomorrowland attraction (Magic Kingdom), you do not know what you're missing.  It's a tour of Tomorrowland and a tunnel of love all in one.  You'll go inside for some fantastic behind-the-scenes looks at Tomorrowland attractions and outside for a bird's-eye view of others.  A smooth, relaxing ride, exceptional scenery, and a couple of kiss-stealing opportunities – what more could anyone ask for?  Some of you may remember the old Skyway gondola ride in Magic Kingdom (1971 – 1999) , it was (to me) once the very best way to see the World.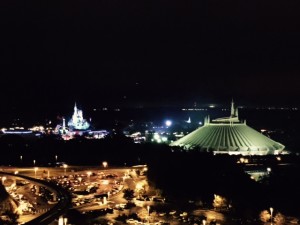 Top of the World Lounge – This little corner of the World is especially reserved for Disney Vacation Club members and guests.  Like the next location on this list, it offers exceptional Magic Kingdom views and is a fantastic place to end the evening at Walt Disney World.  The interior is a tribute to the monorail offers a unique and different atmosphere.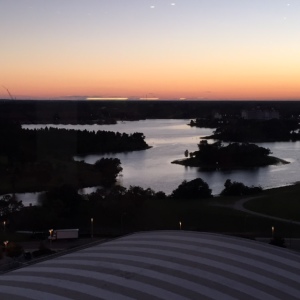 California Grill – Yes, you can see Wishes from the balcony of this signature dining restaurant atop Disney's Contemporary Resort.  The views from the windows that surround the dining room are always awesome – with or without Magic Kingdom fireworks.  I particularly love sunset while enjoying the Cali Grill's excellent food and service. (Full review here.)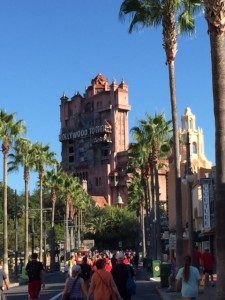 Twilight Zone Tower of Terror – It's a fleeting view, but whoa!  It's a haunted hotel, you're in a crazy service elevator with a mind of its own and there – for a mere moment at a time, your elevator allows you a glimpse outside from high atop the tower!  Scream all you want to, but do try to keep your eyes open so you won't miss the view!
Cinderella's Royal Table – The one and only time we went, our table was in the middle of the room and it was dark outside.  My friend Heather and her family LOVE this Magic Kingdom dining experience, though, and find the views to be particularly enchanting.  Catch all the details here.
Where are your favorite views at Walt Disney World?  Your resort room balcony?  Swiss Family Robinson Treehouse?  Characters in Flight?  Tell me what I've missed.