Right now they're big, white, and generic-looking.  Disney World's newest pricey specialty offering has a lot of tongues wagging.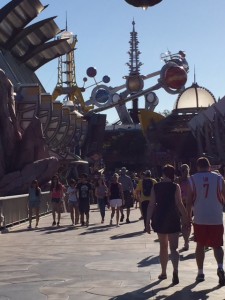 About Those $649 Cabanas in Tomorrowland
If you missed this latest Disney news tidbit, Magic Kingdom guests may now rent a "cabana" for the day near Space Mountain in Tomorrowland.  The amenities and details included in the $649 price can be found here.  The cabanas are, for now, actually large, windowed tents like the ones people rent for outdoor events.  Inside, guests will find some tables and seating along with the charging station and lockable storage trunk.  At face value, critics see yet another money grab at an exorbitant price for wealthy vacationers (even if it does include customized Earhats).
I can see a different side to this…
I feel certain this is the first of several tests and, if successful, will result in actual cabana-like structures in keeping with the Tomorrowland (or other) surroundings and they'll come with air conditioning.  If you've listened to the latest episode (#116) of The Unofficial Guide's Disney Dish with Jim Hill, you'll find that these test cabanas may be the tip of the iceberg for in-park getaways.  If Jim and Len are right, cabanas will be in several (if not all) parks and may be elevated to allow guests unobstructed, prime viewing for parades and fireworks.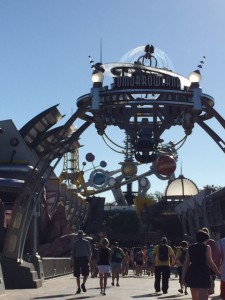 I see a certain appeal for this concept with a particular sub-set of Disney vacationers.  And it may not be such a bad or outrageous idea.  Imagine for a minute that your vacation includes multi-generations.  You may be headed to Magic Kingdom with grandparents or infants or both!  Suppose you're staying off property and want everyone to get a full day of park touring, plus have a place to rest, nurse a baby, take a nap, or take turns babysitting or simply hanging out.
There would always be a shaded, cool, private spot at your disposal.  No need to pack up and leave for nap time or meltdowns.  You'd have a secluded place, all your own, to regroup, relax, and recharge (literally and figuratively) without having to waste time returning to your resort.  Grandma and Grandpa could comfortably enjoy the Festival of Fantasy parade without sitting on a curb in the burning sun.  Mom and Dad could tend to the needs of little ones away from public view and know that nap time will be in a cool and comfortable place.
While I'm not in a stage of my life where I could justify forking over $649 for the luxury of a Disney park cabana, I'll never say never.  I can easily imagine a time when having the convenience and amenities that come with booking a little personal space in Walt Disney World could be a worthwhile and time-saving investment.
Your turn!  Are these cabanas an extravagant ripoff or a legitimate in-park convenience?