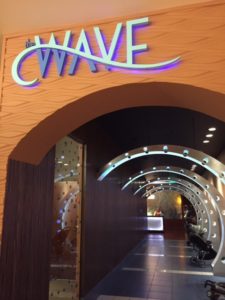 Part of (I should really say much of) our Disney vacation happiness is about the food.  Favorite restaurants, favorite dishes, trying new places – oh, boy, do we love to eat at Walt Disney World!  What's best about all this dining is when a particular dish really surprises us.
Disney at Home – Duplicating Recipes
Last December when Raymond and I were on our post-Christmas R&R, I booked dinner at The Wave (Contemporary Resort) for our last night.  I knew we'd be tired and want to be close to our room at Bay Lake Tower.  We'd never eaten in The Wave before, but had enjoyed snacks and cocktails in the lounge more than once.  We knew the food would be good and were looking forward to the relaxing atmosphere.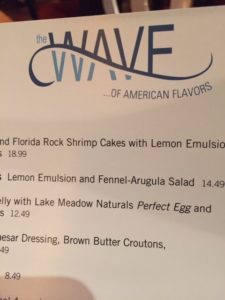 As expected, we were exhausted, but had been having a fantastic trip.  We arrived for our last dinner practically sleeping on our feet.  If you've never been to The Wave before, it's a lot like being in a cellar – no windows, cozy if a bit dark.  The service is absolutely top notch.  We ordered soup for an appetizer and, if I remember correctly, we both ordered fish for our entrees.  I'm positive we ordered a bottle of wine from the cocktail menu.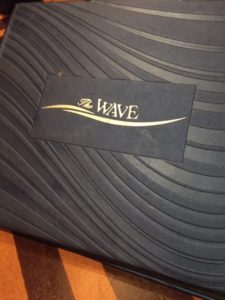 The soup was a most pleasant surprise and made the entire meal for us.  In fact, it was one of the most delicious soups we'd ever had.  The ultimate comfort food – creamy soup full of sausage, gnocchi, and spinach.  As we were exchanging Mmmmmm's, I made the offhanded comment that I could probably recreate this amazing deliciousness at home.  We enjoyed the rest of our dinner, made the short walk back to Bay Lake Tower and crashed.  The next morning we headed for home.
Fast forward about at week and Raymond says, "Hey!  Weren't you going to try to make that soup?".  Yes!  I had planned on that and I made my grocery list right then and there.  I've cooked Disney dishes at home before, but always found a recipe online to use.  This time I didn't even search for a recipe, I made it up as I went.  How hard could it be?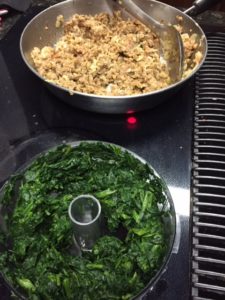 Turns out not really hard at all.  I stared by browning spicy Italian sausage which I drained and set aside.  While the sausage was browning (I added red pepper flakes to make it spicier), I defrosted, squeezed dry, and food-processed a package of frozen spinach (the food processing part was a total waste of time).  After that I whipped up a simple roux of butter and flour.  Then I stirred in a healthy amount of both chicken broth and real live honest to goodness cream.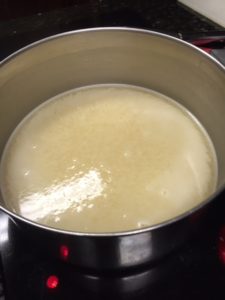 I added the spinach and sausage and one store-bought package of gnocchi to the pot and let it all cook together for about half an hour.  This gave the gnocchi time to become soft and all the flavors to blend together.  While all that was going on, I toasted up some garlic bread as an accompaniment.  The original version from The Wave had a crunchy toasted cheese topping which I'll try to recreate in the future.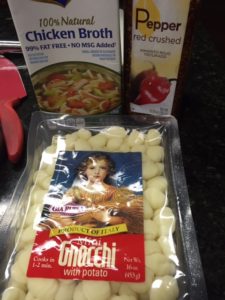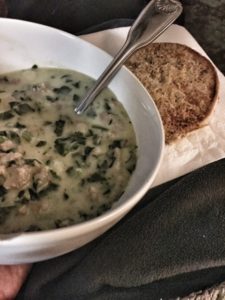 While the soups didn't look exactly the same, the flavors were nearly identical.  I was very proud of my soup!  I will most definitely be making it again as soon as the weather starts to cool off a little in the fall.
Have you made a Disney dish at home?  What's your favorite Disney recipe?