Given the choice between appetizer and dessert, I'm choosing the appetizer every time.  That may be hard to imagine for those of you will a sweet tooth, but I'm all about the starter!  Be it soup, salad, cheese plate, or something more exotic, the way I kick off a Disney table service dinner makes all the difference to my meal enjoyment.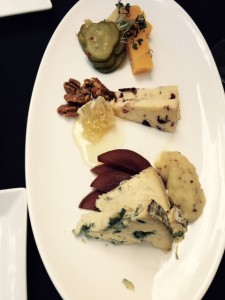 Disney World Dining – I Love Appetizers!
It doesn't much matter where we go.  My eyes are drawn to the top of the menu and the appetizer section.  I tend to avoid heavy-sounding, fried items and favor more unusual choices.  I want to kick off a good meal while not completely ruining my appetite.  Sometimes Raymond and I order and appetizer or salad (or both) to share.  In cooler months, I'm a sucker for a soup or bisque.  The perfect appetizer takes the edge off my hunger while leaving me wanting more (and I'll have room for my entrée!).
Here are some of my favorites…
The Wave (Disney's Contemporary Resort) – Seasonal Soup.  When I last had the soup, it was a heavenly sausage, gnocchi, and spinach concoction with a cheese crust on top.  I reproduced it at home and have enjoyed it many times since.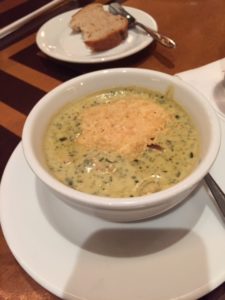 My friend Gaylin recently told me about another Wave appetizer called "Bacon and Eggs" ("Maple-lacquered Pork Belly with Perfect Egg and Tillamook Smoked Cheddar Grits") and now it's on the top of my must-try list.  I hope it stays on the menu long enough for me to get there!
Shula's Steak House (Walt Disney World Dolphin Resort) – Sure, everyone goes to Shula's for the beef, but before I slice into that perfectly cooked filet, I'm opting for the "Barbequed Shrimp Stuffed with Basil" ("Stuffed with Basil, wrapped in Applewood Smoked Bacon tossed in a Tangy BBQ Sauce").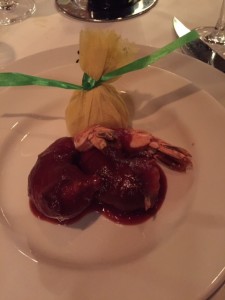 It's the perfect combination of flavors and the sauce is fantastic.  Share it with a friend so you have room for that steak.  Check out the full menu here.
Jiko (Animal Kingdom Lodge) – Everything's been delicious, but the soup is my favorite.  It's currently "Curried Butternut Squash Bisque" with Duck Confit and Quince Marmalade and I know it's 500-degress outside right now, but you should run try it before the menu changes.  It's SO good!!!  And the presentation is fancy too.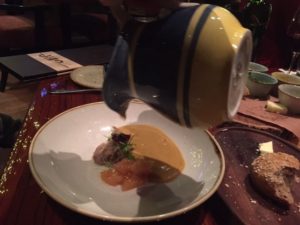 So much to eat, so little time…
Kona Café (Polynesian Village Resort) – There are a couple of things we really like to kick off dinner at Kona.  The Sticky Wings and the Pot Stickers.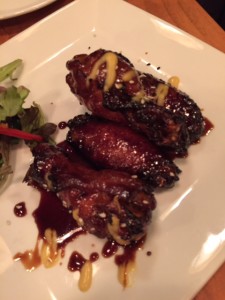 Both are tasty options, good for sharing, and not too filling.  If you love sushi, the menu offers a nice variety.  We generally enjoy sushi as a meal versus appetizer and I'm guessing that's why we rarely order it at Kona.
Sanaa (Kidani Village) – The famous Indian-Style Bread Service!  It's several different flavors of naan bread served with a variety of dipping sauces that range from savory to sweet to spicy.  Fresh, exotic, and delicious.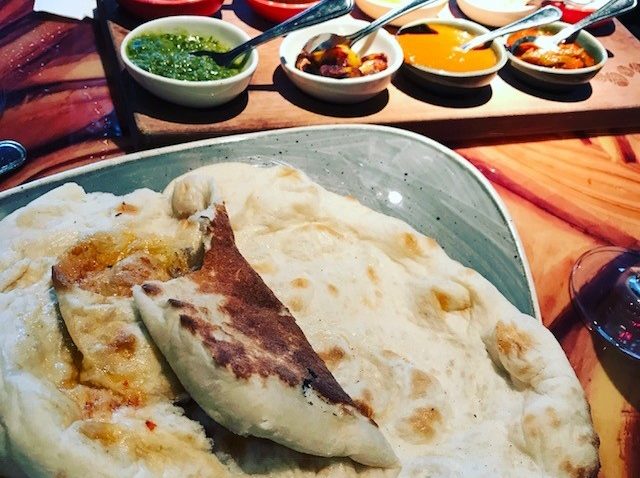 I can totally see why lots of folks make a reservation just to enjoy the bread service as a snack or light meal all by itself.
Il Mulino (Walt Disney World Swan Resort) – My favorite restaurant for pre-runDisney event carbs!  Starters on the menu come in a huge variety from cheeses and meats to salads, clams and heavier fare.  The most delicious item to me is the Arancini, which is "Italian Rice Balls over Spicy Marinara Sauce".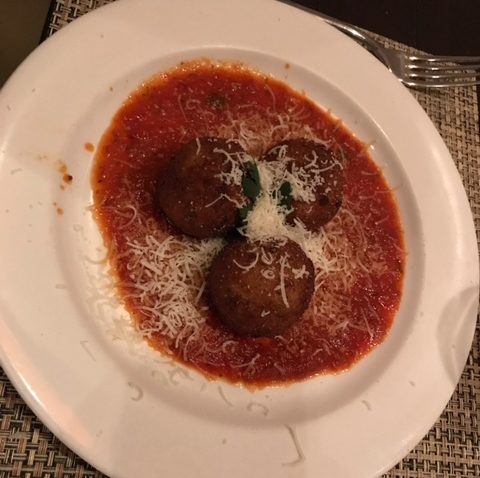 I never order it for myself because it's a lot for an appetizer.  Those delicious servings of rice are fried and very filling.  However, if someone at my table is kind enough to share a bite or two with me, whoa momma!  Deeeelish!
Raglan Road (Disney Springs) – Considered by many to be overrated, Raglan Road has been the source of many a delicious family meal for us throughout the years.  Their menu has a ton of appetizer options.  I've tried several appetizers including the dicey-sounding Crock o' Pate (cold chicken liver spread), which wasn't bad, actually.  The best thing (to me) by far is the "Rack of Heaven" – "Slow roasted Guinness glazed full rack of baby back ribs." (Plenty to share.)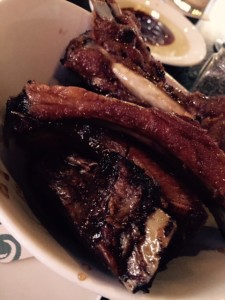 THOSE babies are fantastic.  Even if I'm just in Raglan Road for a drink at the amazing bar, I'll order those ribs.  They make me happy.
Boma (Animal Kingdom Lodge) – Don't laugh, but there's one simple salad on Boma's extensive buffet that stays on my mind long after I've eaten there.  It's the Watermelon Rind Salad.  Sounds potentially boring and awful, doesn't it?  It's bright, sweet and tangy, and absolutely perfect to start off a meal full of unusual flavors.  Fear not if you or anyone in your travel party is a picky eater, Boma has plenty of dishes to satisfy everyone.
Are YOU an appetizer or a dessert fan?  Both?  Neither?  What's your favorite part of Disney dining?  What's your favorite dish?