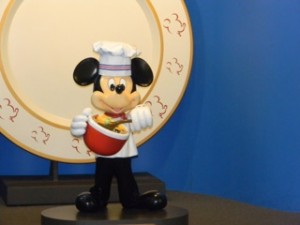 Yesterday in Part 1 we talked about some ways to save on dining at Disney World by bringing food, budgeting, and planning ahead.  Today let's talk about what Disney has to offer with regard to savings on dining.
Potential Money Saving Purchases:  Disney Dining Plans / Tables in Wonderland.
Dining Plans come in different flavors, but all are pre-paid meal plan options which offer Disney guests the opportunity to select a plan that works for both their dining style and budget.  Per Disney's website, "Disney dining plans are options available exclusively to Guests of select Walt Disney World Resort hotels with Magic Your Way Vacation Packages."
Pros of the dining plans:  Meals are mostly paid for – makes budgeting easier and minimizes unexpected surprises with regard to food expense.  Sometimes, Disney runs specials where the dining plan is INCLUDED in the Magic Your Way Vacation Package at no extra charge – aka Free Dining!  These plans can be a pretty good deal IF you're careful with your dining credits and you don't generally want adult beverages with your meals.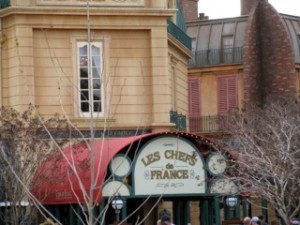 Cons:  May be too expensive and/or no single plan matches the way you like to dine on vacation.  Years ago, the regular dining plan included an appetizer and also included gratuities (if I'm not mistaken).  We loved that!  But things have changed and now the basic plan only includes dessert (which is perfect for a lot of people) – plus you must pay out-of-pocket for gratuities (and alcoholic beverages always).  The regular dining plan is supposed to save 15% per adult on dining, but many people end up spending (and eating) more than they think they will…read on.
Your plan choices look like this:
Disney Dining Plan (Basic):  One table service meal, one quick service meal, and one snack per night of stay – also includes one resort refillable mug for the duration of each guests stay.  Price is $58.66 per night per adult (10 and over), $18.88 per night per child (3-9).  Many of our favorite restaurants require TWO table service credits to dine there – this means many more meals out of pocket!  To make this work for saving money, you've got to avoid all those double-credit-required places.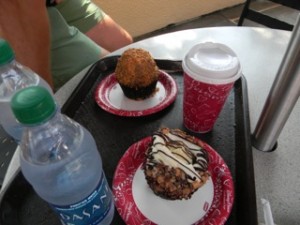 Deluxe Dining Plan:  Three meals of the type of your choice (table or quick service) and two snacks per night of stay, plus the refillable mug per person – this is a LOT of food to consume!  Price is  $104.94 per night per adult and $29.51 per night per child.  We have never purchased this plan – I could not make the numbers work out where any money would be saved for us.  Tables in Wonderland is a much better option (in my opinion) – see below.
Quick Service Plan: Two quick service meals, one snack per day.  Also includes the refillable mug.  Price for adults is $39.64 for adults and $15.75 for children per night of stay.  If you are not into table service meals, this may be perfect for you.  Quick service is usually just that – quick – so you can keep on riding rides and seeing shows.  Many of Disney's quick service restaurants have new delicious and healthy options, so don't be afraid that all you'll be eating is hamburgers and hotdogs.  I can see this being an excellent choice for many families.
For all the details on the 2014 Disney Dining Plan, go here, Deluxe is here and the Quick Service plan is here.  Info on the Premium Plan (included with the Magic Your Way Premium Vacation Package) and takes Disney vacationing to a whole new level is here.
An extremely helpful Disney Dining Plan Calculator can be found here.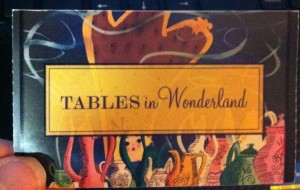 Tables in Wonderland – This is a one-year "membership" that must be purchased and is only available to Florida residents, Annual/Seasonal Passholders, and Disney Vacation Club Members.  If you fall into one of those categories, the TIW card can save you big bucks (except on the blackout weeks which include most major holidays).  We have found this to be our best way to save on meals because of two key things:  1. we eat at least one table service meal each day and 2. we enjoy a bottle of wine with dinner.
From the Tables in Wonderland website, here are the benefits:
A 20% discount offered on food and beverage, including alcohol, at over 100 participating restaurants at the Walt Disney World® Resort (discount is valid for a party of up to 10 Guests including the member)
Complimentary Resort Valet and Theme Park parking for dining purposes
Invitations to special events, such as happy hours, dessert parties, and dinners!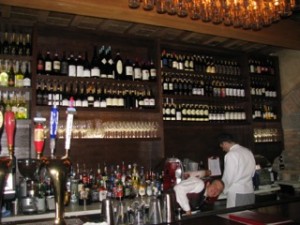 The price of the card is currently $125 for Florida residents and $100 for Annual/Seasonal Passholders and Disney Vacation Club Members.  To make back the investment ($100 for us) and start saving, we'd need to spend $500 at participating restaurants – Easy enough to do in just the first few days at Disney World.
Well, there you have it.  If you've stuck with me here to the end, hopefully I've given you some food for thought (hahaha)!  What type of dining will YOU be doing on your next Disney vacation?