Wheaties may be the "Breakfast OF Champions", but when you need to fuel up mid-morning on a Walt Disney World vacation, there are a few great places we favor.  You may be asking yourself, "Champions", Lisa?  Yes!  When we've rope-dropped and managed 4 or 5 rides before the first meal of the day we ARE champions…hungry ones.
Five Great Disney World Breakfasts FOR Champions
1. Starring Rolls.  Centrally located in Disney's Hollywood Studios, this is one of our all-time favorite must-visit breakfast spots.  It's the convenient location, the ample outdoor seating, and the variety of Danishes, bagels, huge sandwiches, and the latest in magical Disney cupcake-ery.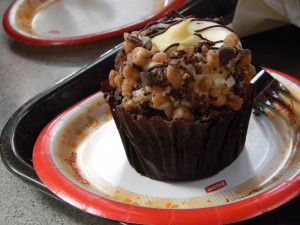 2. Main Street Bakery.  We like Starbucks and while there are some things we miss (about the pre-Starbucks version) at this Main Street USA location in Magic Kingdom, we can very happily pop in for a great morning meal.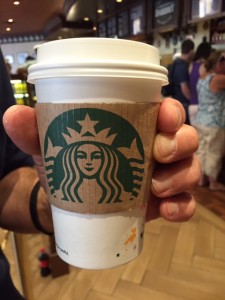 We love the coffee and the wide assortment of baked goods and hot sandwiches.  Seriously, I can even make myself feel like I'm being healthy on vacation with a tasty spinach and feta breakfast wrap.  We're all about the grab and go here so we can get back out there and ride on.
3.  Sunshine Seasons.  This is a great place to relax in Epcot after Soarin' and Living With the Land while waiting for World Showcase to open.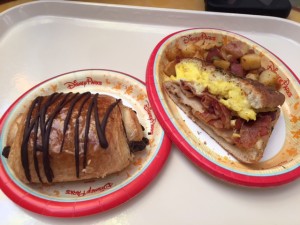 The Chocolate Croissant is a perennial favorite, but Raymond and I also love to share the focaccia breakfast sandwich – it comes with fried potatoes and is very delicious…and filling.  Which is why we share it – saving room for lunch!
4. Gasparilla Island Grill.  We ducked in this tidy little eatery at the Grand Floridian after a massage at the Senses Spa there.  We were famished and couldn't think about continuing on with our day without sustenance.  Our experience (Croissant Sandwich – YUM) made us fans of this underappreciated quick-service location.  While I recommend you do not order the grits here, the rest of our breakfast was delish!
5. Contempo Café (Contemporary Resort).  HERE is where to order grits (best we've found at Disney World), if you're so inclined.  The Contempo offers an impressively wide array of choices for breakfast in a convenient location near Chef Mickey's.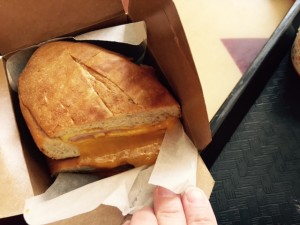 Breakfast sandwiches, platters, Mickey Waffles, even steel cut oatmeal and assorted baked goods – huge menu, certain to please every member of your dining party.
Bonus:  We can and have enjoyed breakfast at the Earl of Sandwich in Downtown Disney – but I recommend waiting for lunch.  Lunch is better there.
Where's your favorite Walt Disney World breakfast location?