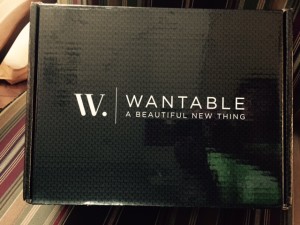 After my first Wantable Style Edit was a disappointment, I went online and gave lots of feedback on why I returned every item.  Then, with much anticipation, I waited for box #2.  And waited.  Finally I received an email on August 12th that explained the delay:
Hi!
I'm writing in regards to your August Style Edit. It's been about 2 weeks since you placed the order so I just wanted to give you a little update 🙂 We don't have enough items that match your preferences at this time so we're simply waiting to add some great new items to our inventory. By taking a little more time to put together a quality edit, we are confident that you'll love what you receive! Sometimes opening up some of your preferences (especially color choices, price ranges, body parts exposed) will allow us to match you with many more options! You'll get an email when your order is shipped out with tracking information. We thank you for your patience & are happy to answer any questions or concerns you may have by reaching out to hello@wantable.com
Best wishes,
Madelyn
Not enough items to match my preferences?  I immediately went online to see what I could change to help the situation.  Here's what I found:
On my profile, here are the things I said I didn't want:  Tight fitting tops and bottoms, pants that are extra long, clothing that exposes my cleavage, legs, or midriff.
I didn't select "dislike" for any particular clothing items – I either chose "like" or "love" for every one listed.
Likewise, I didn't choose "dislike" for a single clothing style listed (classic, rock, boho, casual chic, glam).  I didn't select "very little" for any of the occasions listed (business casual/work, cocktail/special occasion, laidback/casual, date night/night out).
I did opt out for the $150 and up price point in every category.
I liked every color except gold and beige, I liked every pattern choice given, and I declined only wool and fur in the fabric section (impractical where I live).
Overall, the body exposure portion of the survey was the one in which I selected the most restrictions.  Probably, that was the issue.  Which won't change.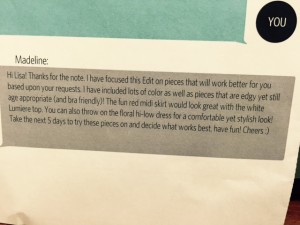 The next email I received was to tell me my August box had shipped.  I was excited when it was delivered Saturday (the 22nd).  Megan and I were spending the day together, so she was with me for the unboxing and gave me her honest feedback.
Wantable Style Edit #2
In the box:  a dress, a skirt, two shirts, and a jacket.  The two tops were both by Lumiere, The jacket and skirt were both by BB Dakota, and the dress was from Kut From the Kloth.  I found it strange that labels were doubled up like that – not a lot of vendor variety.  I'll go into all the details now, but spoiler alert!  I didn't care for a single item, returned everything, and cancelled my subscription.  Two boxes tried, $40 gone, and nothing to show for it.  I'll continue on with Stitch Fix which has a broader appeal and seems more friendly to customers of all ages, styles and figure types.  (Note:  All the pictures look odd because I captured them from video.  In the end, the video was sad, my disappointment too obvious, and I decided not to post it to YouTube.  By the time I decided to just write this post, I couldn't take any clothing pictures because I'd sent everything back already.)
First item out of the box was a floral high-low maxi dress by Kut from the Kloth ($65).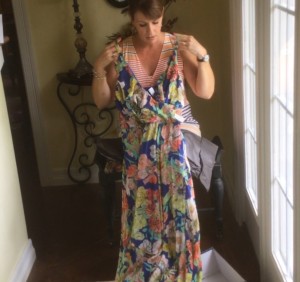 The fabric was lovely – soft and delicate – and the style was very romantic.  I could not imagine going out in public in this dress or where I would wear it.  For someone else (read:  younger), this dress would be lovely.  On me, it looked silly and unflattering.  The straps were wide enough to cover a bra, but the front was too low-cut for me.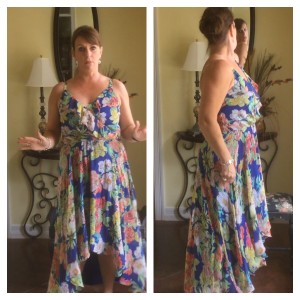 Next up, a red and cream, geo-printed long-sleeved blouse by Lumiere ($59).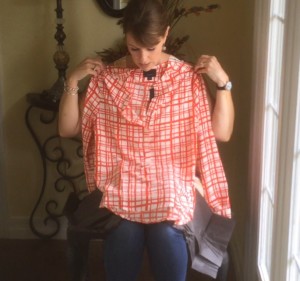 Generally unflattering and ill-fitting, this top had no place in my wardrobe.  The sleeves were super long on me.  There was nothing exciting or interesting about this top.  It didn't open all the way down (more Henley-style) and closed with small snaps.  It was very different from anything else I have in my closet.  For me to wear it to work, it would have to be tucked in – lots of fabric to tuck, which would add un-needed bulk.  To wear it casually…uhm…no.
The third item I unboxed was a thin, dressy white cross-front blouse, also by Lumiere ($59).  The front (ONLY the front) had a draw-string hem.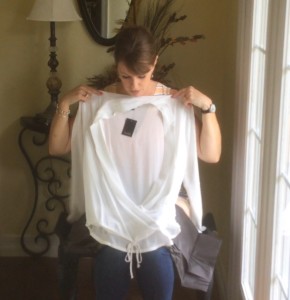 When I tried the top on, one of the strings pulled out from the hem completely – it was not sewn in at all, so I couldn't see what it would look like tied.  The fit was very baggy with wide shoulders and very long sleeves.  The killer, though, was the top's complete lack of any type of closure.  Call me crazy, but I want to be able to move around without flashing anyone.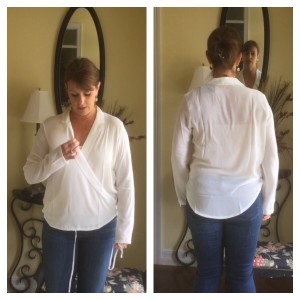 Item number four was a tomato-red gathered midi-skirt by BB Dakota ($54).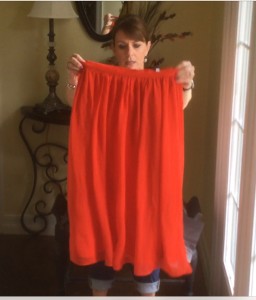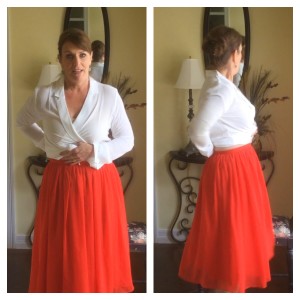 Had this skirt been at all flattering on me, which as you can see, it wasn't, it still would have posed a dilemma.  It was like the floral dress in that I couldn't imagine when and where I would wear it.  On to the last item…
I've been looking for a vegan leather jacket and, upon first glance, this one, by BB Dakota ($95), showed promise.  The fabric was very thin and had a fragile feeling to it as if care would be needed not to accidentally tear it.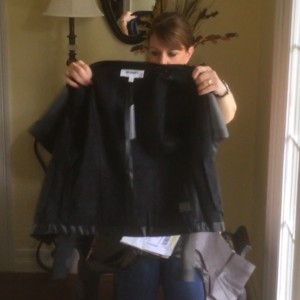 The outside was leather-like and the inside felt like suede.  The sleeves had elastic panels on the undersides that made them fit well, and the draped lapel was pretty and feminine on a black "leather" jacket.  I think it was doomed for me because I tried it on last and had been so disappointed by the first four items.  It didn't feel like $95-worth of quality or versatility to me, so I folded it up with all the other clothes from the box and send them all back.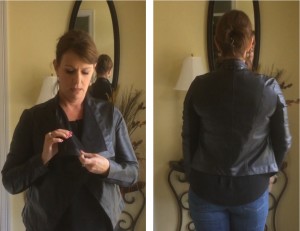 I still feel like a clothing subscription box has potential for me, but not this particular one.  I've searched the internet in general, and YouTube particularly, for recent Wantable Style Edit reviews to see if other folks are having more success, but not a lot of feedback is available out there.  If you subscribe to Wantable and have written (or vlogged) a review, please share a link in the comments.
On the bright side, I just received an email from Stitch Fix that my next box is on the way!