After my third Stitch Fix, I got to thinking – do I just like to shop too much?  Is this whole stranger-selecting-my-clothing thing just not doing it for me?  Is it Stitch Fix?  Is it ME?  Why am I not having more success with this than one or two items per box?  This is way too much drama for something that's supposed to be convenient and fun!
Did I decide to quit?  No, I did not.  I decided to add another clothing subscription box to the mix and see what happened.  Crazy, right?  I thought I might get a better feel for the whole concept, if it could possibly work for me, and if I should keep going or throw in the towel.  Enter Wantable Style Edit.  Wantable has been around for a while in the subscription box business with a fitness wear box, an accessory box, and an intimates box – the Style Edit is new to their lineup.  Same deal as Stitch Fix – it's a $20 gamble.  Keep something and the $20 goes toward the purchase price.  Return it all and lose the $20.  Five clothing items, selected just for me, delivered right to my door with that same very tempting 25% discount for keeping everything in the box.  There's a different style survey to complete online and I added a note that my daughter was getting married soon and I was looking for some dresses to wear to showers, rehearsal dinner, and the like.  I also mentioned that my favorite store is Anthropologie.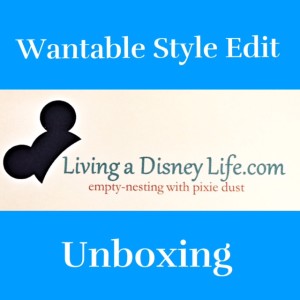 There's no denying that Christmas-morning feeling that accompanies the box's arrival.  It's SO exciting!  When I opened the box – WOW!  Three dresses and two shirts in a variety of colors and all suitable for, in my final assessment (except for one shirt), a much younger woman who's WAY more comfortable (and secure) wearing super-short, spaghetti-strapped clothing.  Yikes.  I DID say my daughter was getting married, which should indicate that I've reached a certain age – without coming right out and saying, HEY! I'm FIFTY years old!  Even if I were statuesque, thin, and gravity had left me alone through the years, I would still not want to dress like my daughter.  The one who's getting married.  Call me crazy, but I think she'd be embarrassed if I showed up for a bridal shower with most of me showing.  I know I'd be mortified.
Even though one of the dresses was only $24 and I could have kept it for an additional $4 above my already-paid styling fee, I returned every item in the box.  NOTE:  I was very careful taking pictures to NOT show my thigh dimples to you as they were peeking out from beneath the bottoms of those very short dresses.  Here are the details:
Twill Tape Belted Sleeveless Dress by Mystree ($65.00) – Had this dress been two inches longer, it was the item I liked the most.  It felt like something I'd find at Anthropologie, which was what the stylist, Madeline, said she was going for in her note.  The colors and pattern were beautiful.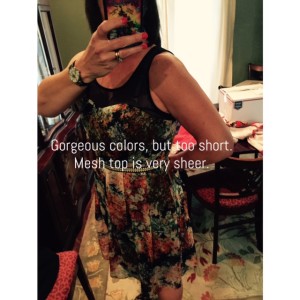 Amelia Dress by BB Dakota ($75) – The horizontal stripes and white/orange combination threw me off at first, but I ended up really liking this dress.  It was just, again, way too short and I'm anti-spaghetti strap (I hate strapless bras!).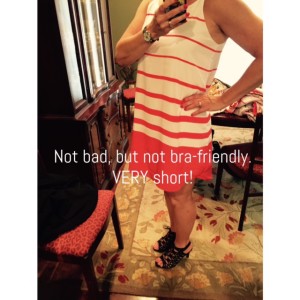 2-Tone Dress by Freeway ($24) – This dress had components I like – bra-friendly top, flattering shape, handkerchief hemline, well-lined in colors that look terrible on me.  The front middle was also super short.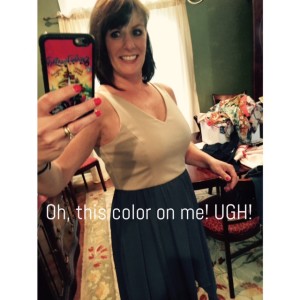 Side Ruffle Tank by BCBGeneration (bonus priced at $34, regularly $68).  Again, I loved a few things about this item – the navy color, the dressy fabric, and the price.  The sides with the ruffles were split and the straps were too thin – I ended up feeling like this top would not be age appropriate for me.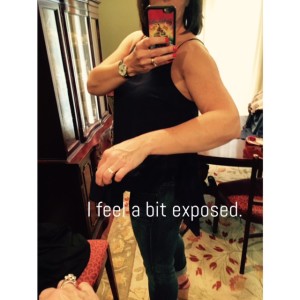 BB Dakota Dasia Top ($68) – Described this way, "Beautiful Fall floral print and easy fit make this lightweight top the perfect choice for your transitional wardrobe!" For me, the print was too loud, the colors unflattering, and the shape, yes, I'm saying this after all of the above – too matronly.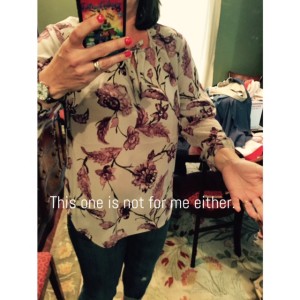 (My Wantable Style Edit unboxing video can be seen here.)
Wantable Style Edit vs Stitch Fix
Enter my fourth Stitch Fix.  Once more, I tweaked my style profile and this time I asked for three specific things:  A white cardigan, dark-washed jeans, and the polka-dot pants from Fix #3, but in a different pattern.  Paige was my stylist (4th different one) and delivered on all three requests.  Also included was a fit-and-flair dress and a knit, A-line skirt.  Here's how these turned out…
The knit skirt was my style – unfortunately it was too small and too short.  It was painful to see, so I'm saving you from the horror.  If the knit skirt had fit, I would have saved it for cooler weather and paired it with tights and booties.  Sigh.  Gilli Kelsey Skirt ($54)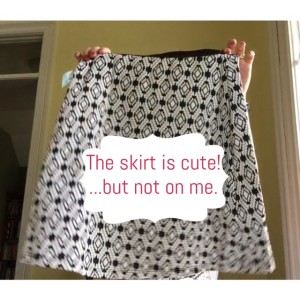 The Ezra Malley Scoop Neck Pleated Fit & Flare Dress ($64) was very bright!  The material had a nice texture, but was very thin and unlined.  Once on me, there was nothing likable about this frock.  Not. One. Thing.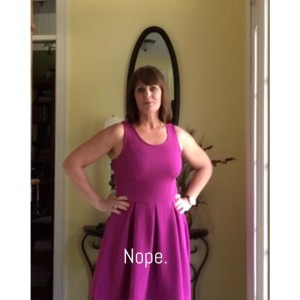 The pants I requested – Margaret M Emer Printed Straight Leg Pant ($98) were in a very cool floral print on a black background.  Unfortunately the print was unfriendly to my curves – I love these pants for comfort and style, but couldn't keep them.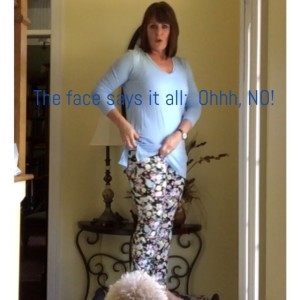 Kut From The Kloth Maribel Straight Leg Jean (a.k.a. Stevie, $88) – I asked for jeans and while I was hoping for a more solid indigo or black, I can not deny that this style fit well, was the perfect length (I almost always wear heels of some type), and felt wonderful.  I hate shopping for jeans and find it every bit as painful and traumatic as buying swimwear.  These dreamy denim britches seemed made just for me.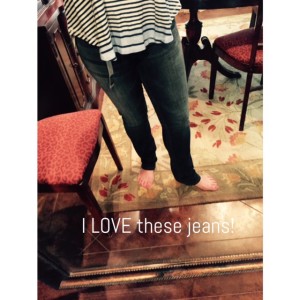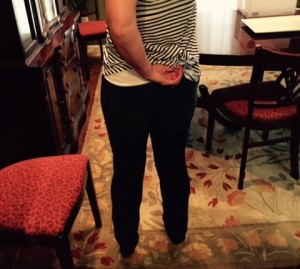 Mak Jaclynn 3/4 Sleeve Button-Up Cardigan ($38) – It's a plain white cardigan.  Like a perfect white tee, you have to treasure a good one when you find it.  It's more substantial than those tissue-thin cardis that are all the rage at JCrew and Banana Republic, and that's exactly what I like about it.   I can wear it to work a million times and I will certainly get my money's worth.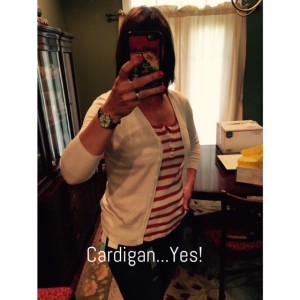 So…100% returned from the Wantable box and another 2-out-of-5 kept from Stitch Fix.  I love the excitement of getting the box and trying on clothes in my own home with the ability to shop my own closet for mixing and matching.  I dislike losing a $20 styling fee.  I'm looking at it this way – my favorite places to shop are about 100 miles from my house.  I'd spend money on gas and lunch and take up the better part of an entire day to visit those stores and still might come home empty handed.  So, my next Wantable Style Edit will arrive in August and my next Stitch Fix is scheduled for September.  I'm optimistic that these next two boxes will help me make up my mind once and for all about my future with clothing subscriptions.  I'll be back.
(Stitch Fix #4 unboxing video can be seen here. and blog post here.)  If YOU are interested in trying Stitch Fix and you use my referral link, I will receive a credit.  My Wantable referral link is here (I'll receive credit there, too, if you use the link to sign up).  If you have any questions, I'll do my best to answer them.
If you're getting a clothing subscription box and are having better luck than I am, I'd love any advice you'd care to offer, please.