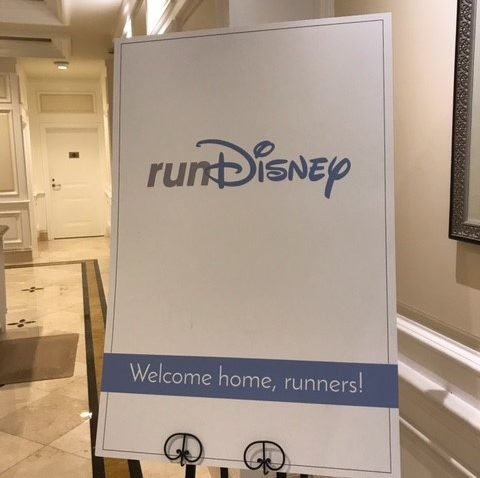 "When you said challenge, I thought you meant running the two races.  I didn't know the actual challenge was lack of sleep." – Joseph Green in the starting corral for the Star Wars Half, 2017
runDisney – Star Wars Dark Side Half 2017
3:15 am.  Mickey Mouse called and said it was time to start the day just as the alarm on my phone (across the room) started to play its tune.  Is there an adjective to describe more-than-exhausted-less-than-dead?  Whatever that word is, Joseph and I were it.  We got ready in silence except for the few moments of panic when we couldn't find Joseph's race bib.  Crisis averted, we practically chugged our coffee as we made our last-minute preparations.  Matching shirts on, Cliff Bars and PowerAde in hand, playlists ready, we were out the door and headed to the bus stop once again by 3:50.  We could have actually walked to the starting area from our resort, but…seriously?  No.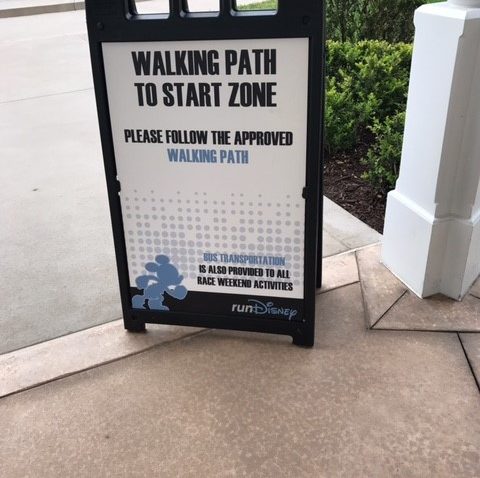 We'd been the recipients of a little extra Disney magic the previous afternoon and had a surprise waiting for us in our room.  Fuel for our fight against the resistance!  Well, being secret rebels, we could not be swayed from our mission by PowerAde and granola bars, but we did appreciate the gesture and that PowerAde came in handy on race morning.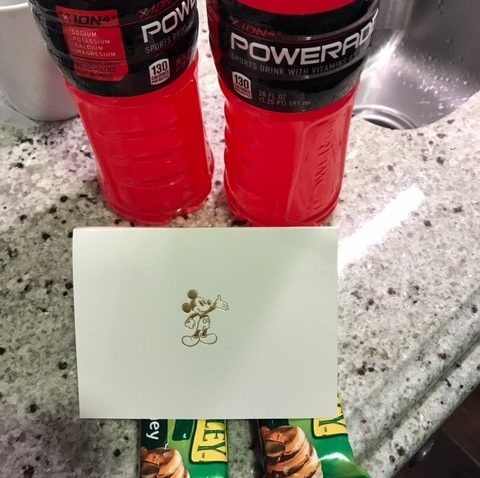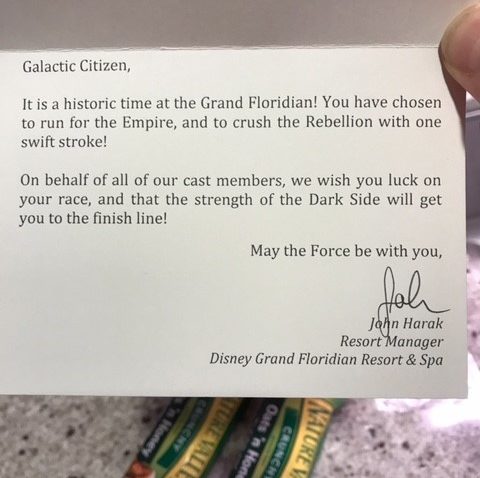 The bus was waiting for us once again and this time it was so crowded that by the time we picked up runners from Shades of Green, the aisle was packed and every seat was full for the short trip to the starting area.  For a few moments there on the dark bus I was asking myself exactly how I though I was going to be able to run 13.1 miles with zero energy, but then we arrived and I put on a happy face determined to use the fake-it-til-you-make-it philosophy.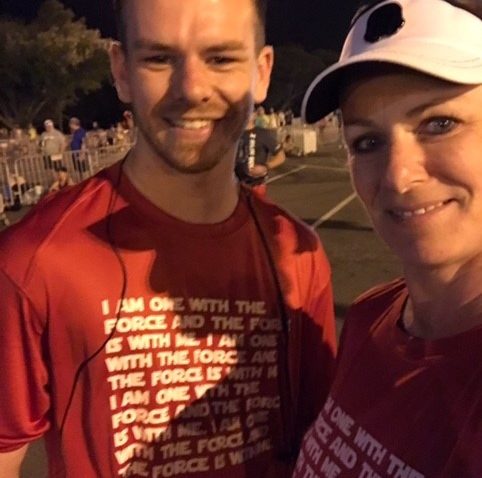 We met up with Dave and Anne at the same spot as the previous morning – all of us a bit less cheerful and we forgot to pose for any pictures together.  Joseph was assigned to corral B and I to corral C for this race, but he moved back to start with me and we settled in to wait our turn to go.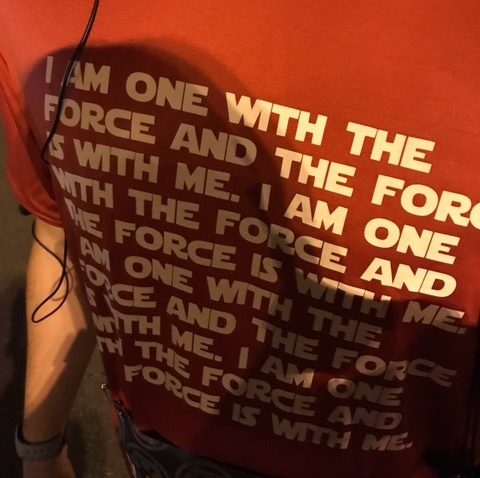 The course this time would take us first to Animal Kingdom, then to Disney's Hollywood Studios, and finally through Epcot to the finish line.  Like the day before, the first few miles alternated between pitch black and flood lights except as an added feature for the half, there were "lasers".  Moving colored lights that, when they hit you, were instantly and completely blinding.  Luckily, we made our way without serious incident and started to notice signs we were nearing Animal Kingdom.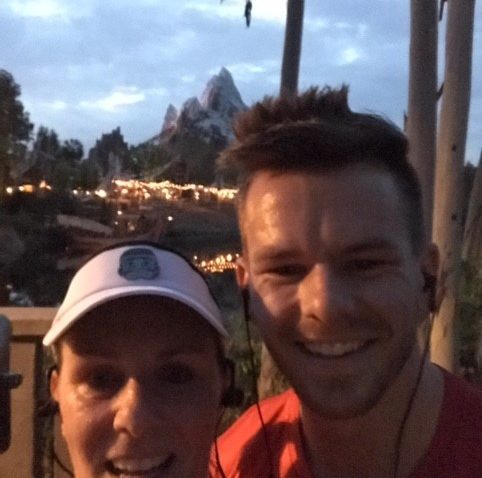 We entered the park near Kali River Rapids and made our way uphill towards Expedition Everest, passing monkeys and cheerful Cast Members as we went.  We barely had time to stop for a few quick selfies before we passed up DinoLand USA and were out on the road again.  At mile 8, volunteers were offering GU packets and, being a little picky about what I eat while running, I grabbed water and passed on the GU…I should not have done that.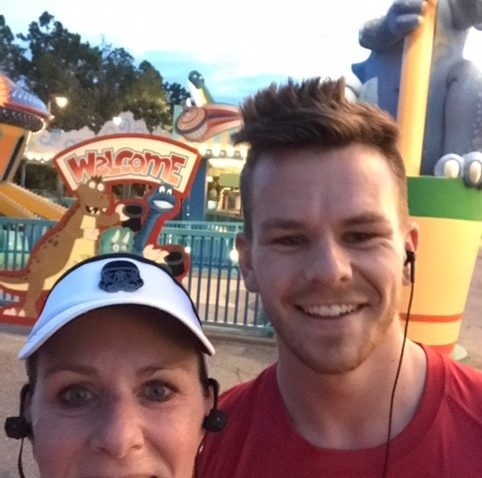 Around mile 10 we arrived at the Studios and took the same route in and out, but there were more characters to see than there were for the 10K.  The Storm Troopers had a short line, so we waited for a picture with them.  One said, "Greeting Citizens", we posed for the picture, and the other one said, "Move along".  So we did.  Once again taking the walkway along the water towards the Boardwalk.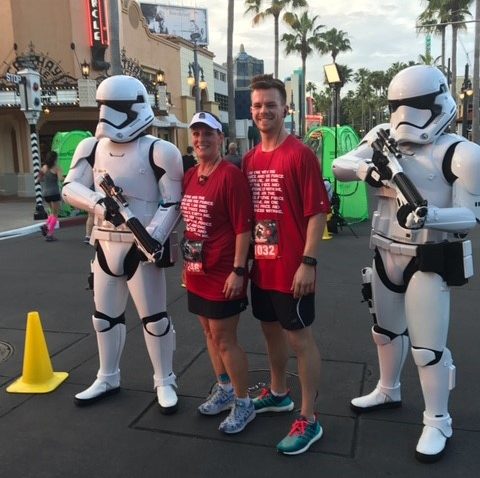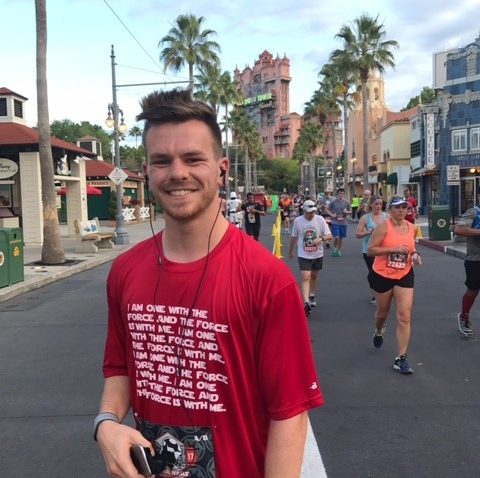 We got to run around the entire Boardwalk and that's extra fun because quite a few people show up to cheer for runners and many of those fans hold funny signs.  Looking at the signs was how I spotted Tim and Bob from The Resort Loop Podcast and I was SO excited to see them, I stopped to speak to them and introduce Joseph, but forgot to take a picture.  Their show is great, you should give it a listen.
Before long, we were headed up the bridge to Epcot. This slight uphill felt monumental!  I was paying the price for not getting some carbs back on mile 8.  We'd taken a couple of short walk breaks between miles 9 and 10 and I knew we only had about a mile to go, but I needed just a minute of rest.  Joseph looked sad and I told him with a joking tone that while I knew I was a disappointment to him, I had 30 years on him and I was out of gas.  The very nice young lady running in front of me, having heard what I said, spun around and insisted, "You're doing GREAT!".  Then she reached into her pocket and handed me a "salted watermelon" flavored GU…which was the most delicious thing in the world to me at that exact moment.  I am still so grateful to this perfect stranger!  Like spinach for Popeye, that GU gave me a burst of energy and we immediately ran right on to the finish line.  Here's a picture of us after I felt better: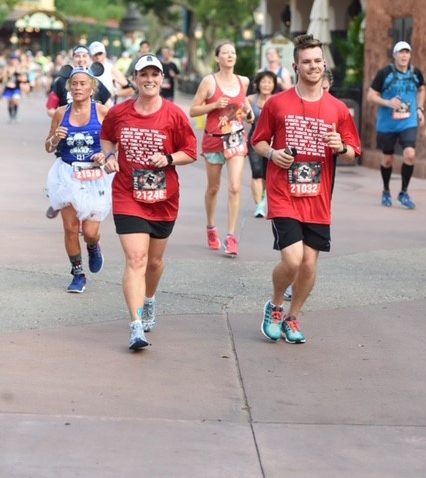 For as tired as we were and as bad as we'd felt waiting for the race to start, we had an amazing time.  We also felt pretty great when we finished.  Overall, it was everything we'd hoped for (except enough sleep!).  We found Raymond and the three of us were enjoying cold recovery beverages (beer) and munching on some snacks when Anne and Dave joined us and we had fun comparing our experiences.  The weather was beautiful and we had the whole day ahead to enjoy being at Walt Disney World.
If I could change anything, we'd have gone to sleep earlier and I would have fueled better during the half.  I must add emphatically that having someone to run with increased my enjoyment of these events immensely!  Thank you, Joe!!!  I love you.
Here are the stats:
Finish Time:  2:35:28
Overall Place (We crossed the finish line exactly at the same time, but clocked 2 places different!)
Lisa: 5,196/16,311
Joseph: 5,194/16,311
Gender Place
Lisa:  1,965/8,800
Joseph:  3,231/7,511
Age Group Place
Lisa:  93/522
Joseph:  173/359