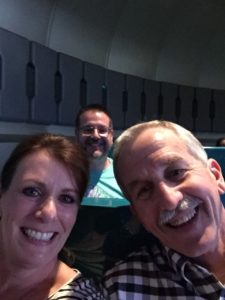 Every fan of Spaceship Earth has their favorite parts of the attraction.  What I want to know is if I'm the only one who has the same pattern of random thoughts every time I journey through the past, present, and future of communication technology.  Seriously – it's like my own little internal dialogue has become tradition for every Disney World vacation.  If I'm alone and this is weird…hmmmm…I'm okay with that.  Surely you've thought at least a couple of these thoughts at least once though, right?
Random Thoughts – Spaceship Earth
 How cool would it be to listen to this thing in a different language!  I'm gonna pick something new.  How about….English.  I might miss my favorite "Thank the Phoenicians" if I don't hear the narration in English.  Would it still be Dame Judy in another language?  If not, I'd miss her too.
 Why are the cavemen and wooly mammoths so dark?  I can barely see them.  I want to see them better.  This part's a disappointment…I wish there were an animatronic mammoth!
Papyrus pounding guy!  I love you!  You are working so hard every time I see you.
Ahhhh….the smell of Rome burning.  Wait.  I should feel bad about liking this smell.  I mean, Rome! Oh, NO!  How devastating!
Garlic hats!  How did that even become a thing?  How much do those weigh?  I wonder what they'd look like with Mickey ears on them?
Painting laying down like that must be really hard!
Why is that paperboy facing away from us?  He's selling papers over there in the corner to nobody.  Why can't we see him?  Has he been disfigured in some way and now hides in the corner?  What is up with that?
That family watching the lunar landing.  Hey, look!  There's Mousetrap!  I love that game.
1970's fashion.  Ohhhhhhh….so unfortunate.
Yay!  The going down backwards part.  This is so relaxing.  Is it hot in here or is it just me?  Look at all those mirrors…you can see forever.
We are such dorks.  Wait, that outfit makes me look super skinny though!
Look we have a dog!  I miss Junior.
Do you have random thoughts on Space Ship Earth?  What's your favorite part?