In theory, the Sci-Fi Dine-In Theater in Disney's Hollywood Studios sounds like a winning place to enjoy a casual lunch or dinner.  A tribute to the drive-in theaters of old along with those cheesy horror movies from the '50's, '60's and '70's and a menu of classic American entrees and sides…it's bound to be great, right?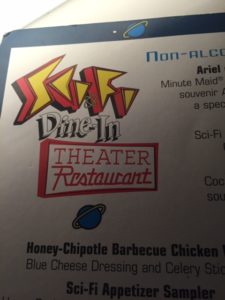 Disney Dining – Sci-Fi Dine-In Theater
We gave this place a try for the first time a couple of weeks ago.  Here's the verdict:
What we liked:  This place is certainly unique.  We thought the theme was fun, the movie clips hilarious, and the menu broad enough for everyone to find something they were happy with.  Our server was good – she was taking the orders of seven people split between two cars and managed to make us all feel like she was sincere and attentive.  The beer was cold and delicious and our meals arrived in a timely manner.  The food was okay.  Better than typical fast-food, which is good because it was a little pricey (and hard to photograph in the dark!).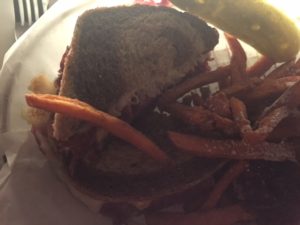 What we didn't like:  The waiting area and the hostess left much to be desired.  Our first impression wasn't a good one.  We didn't wait long afraid ter we checked in, but the area we sat in was disappointing compared to other places like 50's Prime Time Café.  The hostess was so bland and monotone, I thought maybe it was some sort of act.  I'm still not sure, because she never smiled, made little eye contact and spoke in a deep voice devoid of inflection.  She walked us to our car-tables as if she was headed to the gallows.  This made us feel rather like a burden.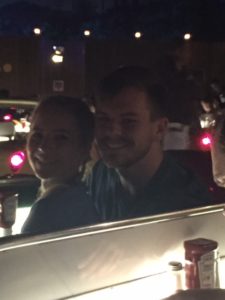 Our tables were split between two cars with Raymond and I in the back of a car with a random family of four – this seemed weird to me and made me wish I'd done more research on how a party of our size would be handled.  The other five in our group were in the car next to us, but far enough away that conversation with them was impossible.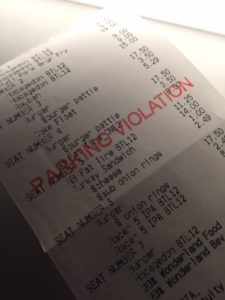 What would get us to eat there again?  We'd go back again if we were with someone who would get a big kick out of the movie clips and drive-in experience.  Ideally, we'd be with an even-numbered party of four or six so we could all eat in one vehicle.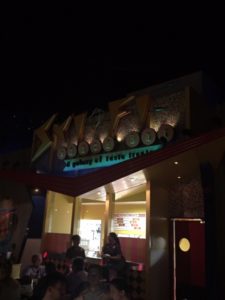 Probably the Sci-Fi Dine-In Theater will now be in our once-and-done category simply because I expect the Star Wars expansion to bring with it new dining experiences for us to try.  And I like the food at 50's Prime Time Café better.
Have you tried Sci-Fi Dine-In?  How was your experience?