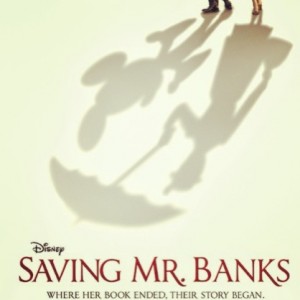 I'd been waiting a long time to see Disney's Saving Mr. Banks.  As I mentioned a couple of days ago, Mary Poppins (the movie) and I are the same age and the movie's songs hold a special place in my heart.  The story behind the story was something I thought too good to miss – the addition of Tom Hanks as Walt Disney and Emma Thompson as P. L. Travers made the movie even more appealing to me.
I tried to avoid reading reviews of any kind before going to see Saving Mr. Banks.  I knew that the film follows Mrs. Travers and Walt Disney over a two-week period leading up to the filming of Mary Poppins.  I also knew the movie would include several flashbacks to P. L. Travers' childhood – presumably dealing with what happened during her formative years that led to the invention of Mary Poppins in P. L. Travers' books.  I'd heard enough to know to expect the near-perfect recreation of 1961 Disneyland – I was excited to see that for myself.
Raymond and I went to a late afternoon matinee yesterday.  After a movie, I always want to chat about it on the way home – the plot, the characters, the best parts, the funniest lines, etc.  When we got in the car to go home, Raymond said enthusiastically that he'd liked Saving Mr. Banks a lot.  I said nothing at all.  This did not go unnoticed – let's face it – anytime I'm quiet is unusual.  After we got home, Raymond again mentioned how much he'd enjoyed the movie and asked me if my lack of response meant I hadn't liked it.
I did like the movie.  Very much, in fact.  I was just unprepared for it.  I suppose the previews made me think it would be mostly lighthearted and fun.  There were happy and funny parts, sure, but for the most part, I found the film unexpectedly intense.  There was a depth to P. L. Travers and her story I hadn't expected (what I get for refusing to read any reviews) and, instead of making me want to talk about the film – that intensity made me want to think about the film, its plot, the characters, the best parts, the funniest lines and so on.  I'm thinking about it still.
If you've planned on seeing Saving Mr. Banks during the holidays – go!  It's genuinely a good movie with an unexpectedly touching story that has nothing and everything to do with Mary Poppins.  Every single character makes their own special contribution to the story's overall success.  When you get back, I'd love to hear your thoughts on it.