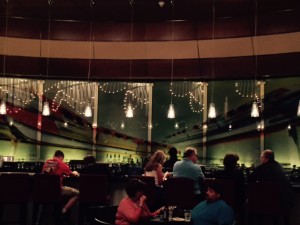 Maybe you've heard of it, maybe not.  On the very top floor of Bay Lake Tower is a cozy little lounge with a heck of a view.  It's a special little corner of the World, reserved for Disney Vacation Club members, and we recently stopped in to see what all the hubbub's about.
The view from the "balcony", which is actually more of an outdoor walled walkway, is absolutely grand – it's what makes this an especially popular spot during the Magic Kingdom's Wishes Nighttime Spectacular.  From the 15th floor, Bay Lake Tower's proximity to Magic Kingdom is breathtaking.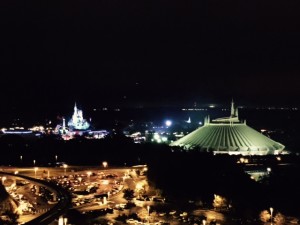 For Disney's Princess Half Marathon Weekend, we found ourselves enjoying studio accommodations at Bay Lake Tower about four doors down from the Top of the World Lounge.  Note:  For guests not staying at Bay Lake Tower, a Cast Member will ask to see a DVC membership card before allowing visitors up to the Lounge.
We'd come straight from a big dinner and only wanted coffee and dessert.  We didn't spend a lot of time pouring over the menu, but there are both sweet and savory snack offerings along with a variety of specialty cocktails, beer, and wine.  Lots of folks only come for the view and a cocktail.  The food is okay, but not the main draw here.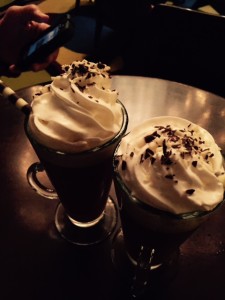 We ordered specialty coffees and a gigantic slice of cake.  The coffees were tasty, but the cake was a little disappointing.  Not horrible, but lacking flavor – the dessert was mainly just very sweet.  (I'm sorry I didn't take a picture of it before we'd tried a couple of bites.)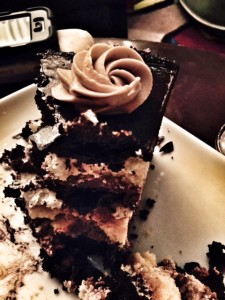 If you're a DVC member and want to visit the Top of the World Lounge for the atmosphere, you won't be disappointed.  You can expect a great view, super décor, mediocre food, decent service, and Disney World prices.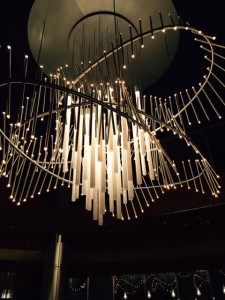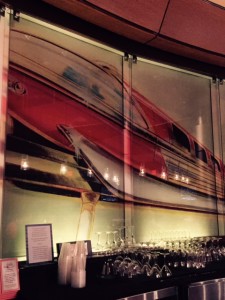 The Lounge has a cool, modern theme and the monorail wall art is amazing!  The Top of the World Lounge would make a fun stop on the Resort Loop Pub Crawl.
Tim Brooks at Dad for Disney wrote this great article about the Contemporary Resort's original Top of the World Lounge.
Are you a DVC member who has visited the Top of the World Lounge?  I'd love to hear about your experience!