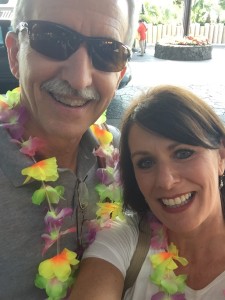 Just back from our most recent visit to Walt Disney World and what a great time we had!  Everything from the weather to the festive holiday atmosphere to the great dining and surprisingly nice accommodations we enjoyed – all of it was magical.  We used our DVC points for a stay in the newly renovated Villas at Disney's Polynesian Village Resort.  We booked later than we normally would and the only DVC room available on the monorail was at the Poly.  A studio was perfect since Raymond and I were taking a 5-night post-Christmas getaway alone.  Our home resorts are Bay Lake Tower and the Villas at Disney's Grand Floridian – this was our first stay at the new Polynesian villas and our first stay at the Poly in about nine years.
DVC Studio Review – Polynesian Villas
We arrived on December 26th around noon.  We hopped off the Magic Express and headed for the front desk (we'd tried online check-in, but hadn't heard anything back).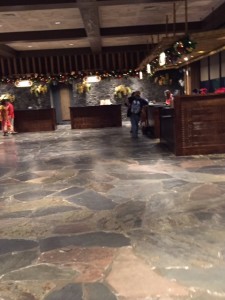 We were greeted by a cheerful Cast Member (their costumes at this resort are gorgeous!) and informed that our room was not yet ready, but this friendly young lady was determined to find a room that was ready now.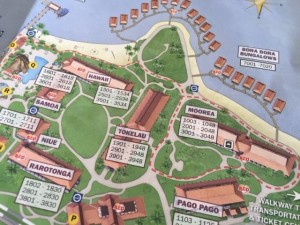 This is where we were pixie-dusted from a standard view original request to a lake-view studio in Moorea.  What a great surprise!  We followed the path from the Great Ceremonial House right to our building and up to the second floor (2023).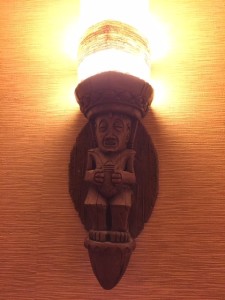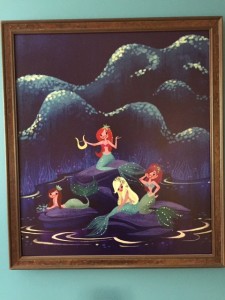 Right away we loved the colors and the theming – those little Disney touches always make everything seem that much more special.  The room was spacious, warm and welcoming.  The slatted doors on the closets and bathrooms (yes, I meant to make that plural) add to the airy, tropical feel.  The dark wood and finishes make the rooms feel luxurious and well-appointed.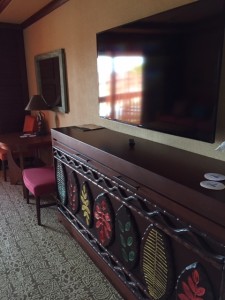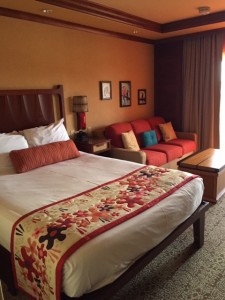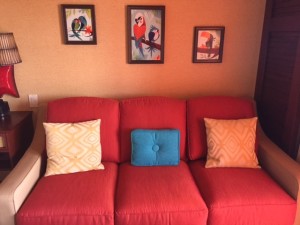 These studios sleep up to five with a queen bed, queen fold-out sofa, a bunk-sized bed that folds down from a cabinet under the TV.  The artwork inside that little bed is an adorable picture of Lelo and Stitch.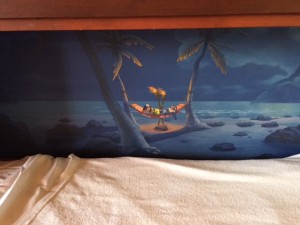 The small kitchenette offers a sink, fridge, microwave, coffee-maker and toaster.  We didn't bring our own coffee since we easily found delicious ground coffee in a resort gift shop last time we were at Disney World – this was a huge mistake!  There was no ground coffee (only beans) to be found anywhere!  After we used up our resort-provided serving on the first morning, we were coffee-less each morning until we struck out for our daily adventures.  We will be sure to be better prepared in the future.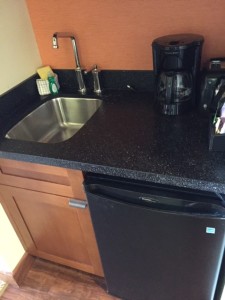 Now, back to the bathrooms.  Yes – there are two! This split-bath setup makes a huge difference when multiple people are trying to get ready at the same time – even the two of us.  One room has a toilet, traditional bathtub/shower and vanity.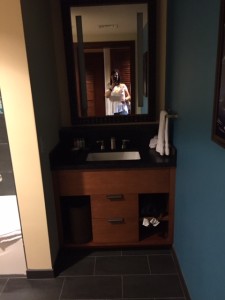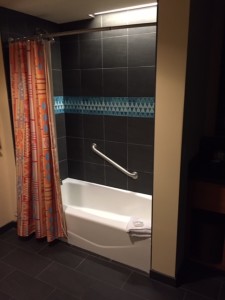 The other has a vanity and a large shower with two showerheads to choose from!  One is a traditional showerhead (detachable) and the other is straight overhead for a rain or waterfall effect -heavenly!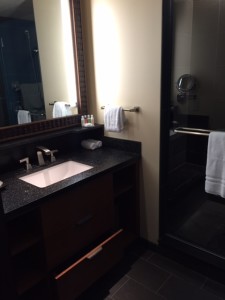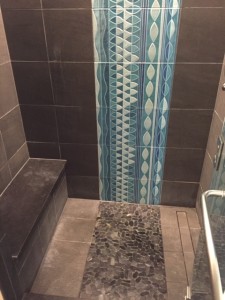 Both bathrooms have motion-sensors that turn on the fan automatically when the room is occupied.
Our balcony overlooked the new DVC Bora Bora Bungalows and Seven Seas Lagoon.  In the distance we had a lovely view of Cinderella Castle and Space Mountain.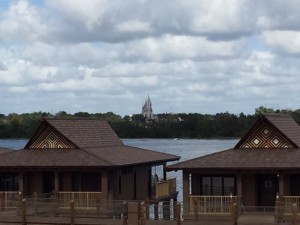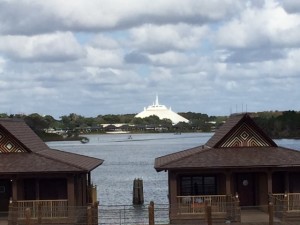 I'd heard that the boat horns were a huge problem for people staying in lake-view rooms and we did notice them on the first night – I think being in a new place had a lot to do with it.  After that, we were so exhausted by our full 15-hours of park touring each day, no sounds bothered us and we slept like babies in our super comfortable bed.  The pillows and linens were fabulous!
Pros of the Polynesian DVC studios:  Roomy with great theming, split bathroom with deluxe shower, easy walk to every building from the Great Ceremonial House, and gorgeous, lush surroundings.  Moorea is a very short walk away from the Ticket and Transportation Center (TTC).
Cons:  Boat noise bothers some people, current resort renovations are underway which means quite a few construction walls mar the beauty of the landscaping and walkways.  There are not as many restaurant choices as at the other monorail/Magic Kingdom resorts.
Are you a fan of the Polynesian?  What would you recommend about it?