Last weekend's trip to Walt Disney World was brief but packed with fun.  I've got so much to tell you, I thought I'd start with this post full of my impressions of the best and not-so-great aspects of our visit.  I'll follow up with posts on the Star Wars 10K and half marathon and a restaurant review or two.  Here's the scoop…
2017 Star Wars Half Marathon Weekend in Review
We arrived mid-day Friday.  Our plan was to get to the Grand Floridian (stayed at the DVC Villas), drop off our luggage, grab a bite at the Gasparilla Island Grill (underrated quick-service), then rush over to Wide World Of Sports so Joseph and I could pick up our race packets for the Dark Side Challenge.  This part went off without a hitch.  I was very excited to see Richard (famous greeter at the Grand Floridian) looking well.  If you seen him, say hello and he'll say, "Welcome to the Grand!"  I love that he's in his 90's and still enjoying his job so much.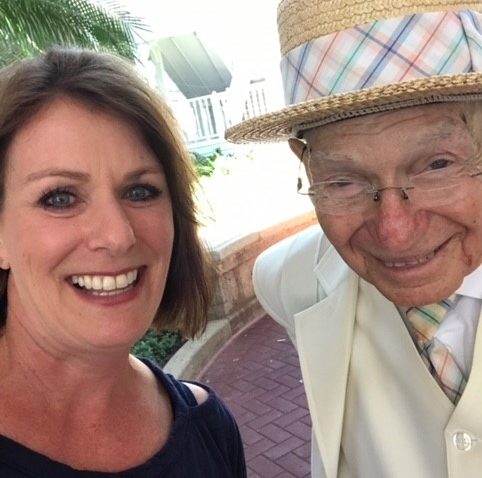 We wanted to spend a few minutes shopping at the Expo if possible and, thanks to the event buses running often, mission accomplished!  I'd booked Magic Kingdom FastPasses starting at 4:30 (or thereabouts) for Seven Dwarfs, Big Thunder, and Space Mountain and we arrived in plenty of time!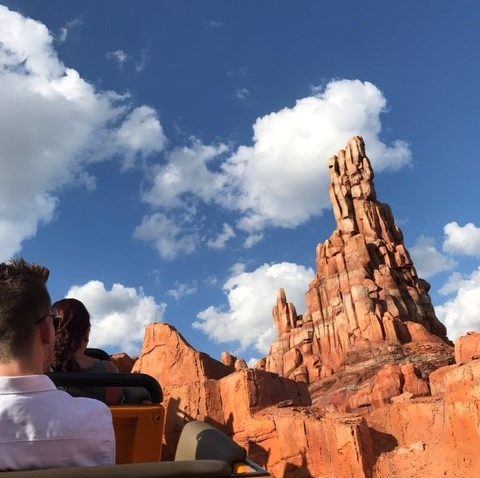 We even managed to squeeze in Pirates and PeopleMover as well.  Dinner was at Narcoossee's and the 8:30 dining time was my first error of this trip.  WAY too late to eat before having to get up at 3:15 a.m. the next day.
Before dinner, we managed a quick glass of wine in Mizner's Lounge.  Joseph had never heard the Lobby Society Orchestra play before and they sounded especially great that evening.  We were wishing we'd had more time to relax and enjoy the music.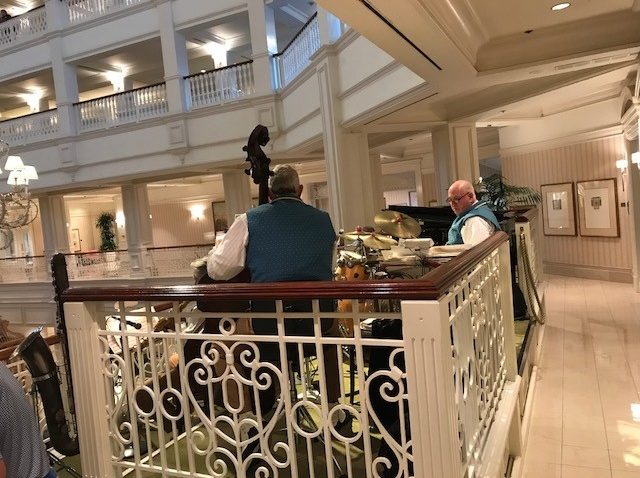 On the way to Narcoossee's, we spotted a rather large dark-colored snake on the sidewalk.  As I've mentioned before (here), Joseph has an affinity for reptiles.  I wanted to take the snake's picture, Joseph wanted to pick it up!  Raymond and I, at the exact same time, realized what was about to happen and quietly said, "Don't do it!" just about the time the snake decided to slither off into the bushes.  I did mention to the hostess that some guests might be alarmed if Mr. Snake decided to move back onto the warmth of the walkway.
Dinner was excellent as was our view of Wishes during our meal.  As we headed to our room to catch what sleep we could, we noticed and Cast Member and a gentleman in a suit holding a flashlight searching for the snake – or at least making sure it stayed off the sidewalk.  Our room (studio #1428) was the biggest disappointment of our stay.  There was no split bathroom, just a plain bathroom with a tub/shower combo.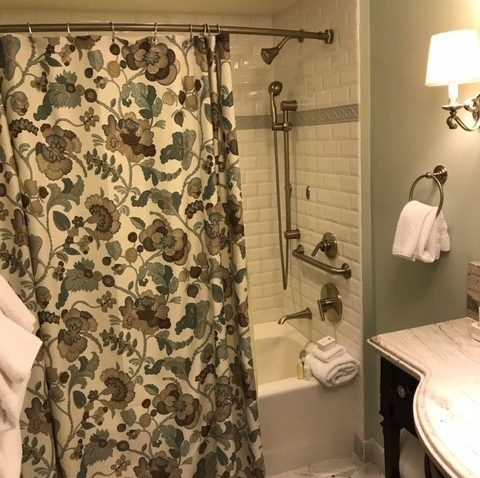 We didn't even know such a room type existed!  Made getting ready take much longer for the three of us as we are a decidedly anti-bathroom-sharing people.  The room overall was lovely, but felt like a plain hotel room.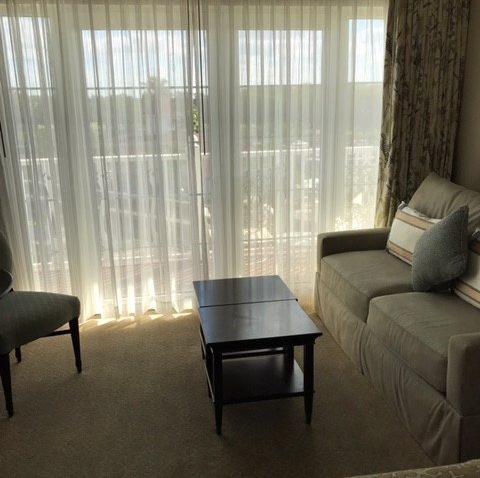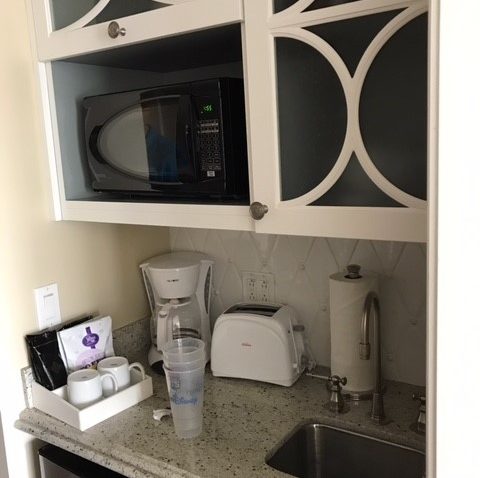 If you've seen DVC studios at Disney's Polynesian Village or Bay Lake Tower, you can appreciate how disappointed we were.  There's a split bathroom at the Poly and Bay Lake Tower's kitchenette is so large, there's extra room (with a counter and mirror) for getting ready.
Watch for a full report on the Star Wars 10K in the next few days.  Let me jump straight to our post-race activities…
At 180-days out, I'd booked a reservation for lunch at Beaches & Cream (Beach Club) and then cancelled it the day before we left home.  I should not have done that.  The recently opened Polite Pig in Disney Springs seemed just our type of place and we all wanted to try it.  Arriving at Disney Springs around 10:00 a.m., we had about an hour to shop before the restaurant opened and we were among the first in the door.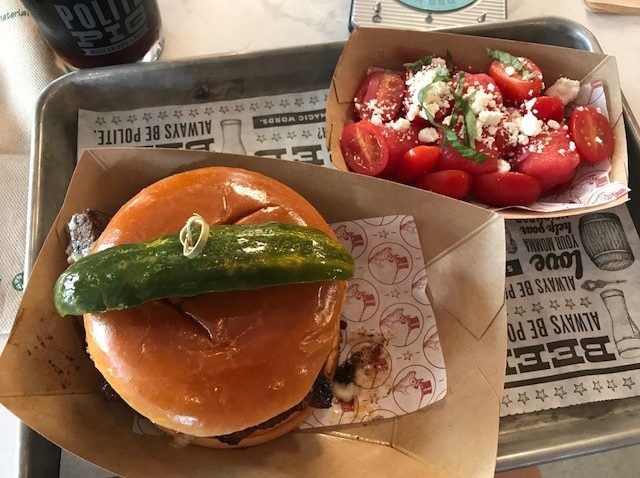 The atmosphere is neat and the employees were perfectly polite.  But, in spite of our love for barbecue and smoked meats, we were (all of us) disappointed in our food.  Such unanimous agreement is practically unheard of!  I ended up feeling sorry we didn't get to try Beaches & Cream.  Next time we visit the Polite Pig, it'll be for the bar instead of the food – our beers were very delicious and their drink menu is vast.
After lunch we were off to Epcot for the Disney Exchange Podcast Meet-up!  Nick, Dave, and I, (and our families) were excited to see friends of the show and spent an hour visiting and laughing a LOT!  We felt very humbled and special to have listeners willing to interrupt their Disney vacation to spend time with us.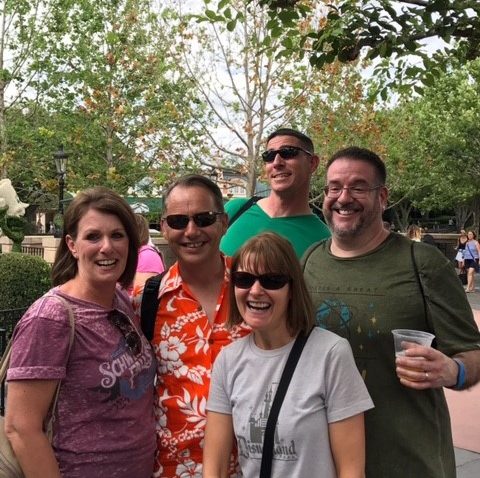 Thanks especially to "Aunt Sandy", Dave J., Victoria, Olivia, Linda, and Phillip (a.k.a. Duke).  After the meet-up, Raymond, Joseph and I headed off to use our FastPasses.
Frozen was down, so we used our first FastPass for Soarin' followed by Spaceship Earth (we got stuck for a couple of minutes by the garlic hat guy and it was great!).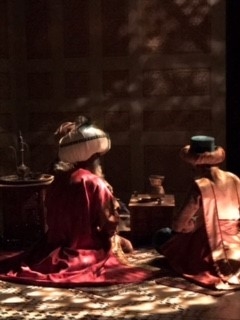 Our last FastPass went unused (Nemo) when we realized how nice it would be to go back to our room for a few minutes before dinner at Il Mulino – our now-traditional-pre-half-marathon-go-to restaurant.  If you are not on the Disney Dining Plan, I urge you to give some of the Swan and Dolphin's restaurants a try!  This was our fourth visit to Il Mulino and our experiences have all been consistently excellent.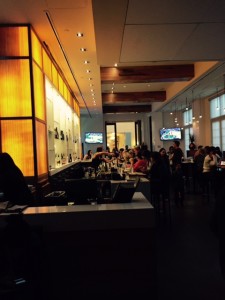 Immediately after dinner, we got back to our room as quickly as possible and were out as soon as our heads hit the pillows!
Sunday morning, there was that little matter of the Star Wars Half Marathon.  (Full review soon.)  Raymond was waiting for Joseph and me when we finished the race and the three of us, along with Dave and his wife, Anne, enjoyed a few minutes of the post-race party before getting on with the rest of our day.  Animal Kingdom was on the agenda and by the time we got there, a bad case of "hangry" had struck so we decided to grab some small plates at the Nomad Lounge.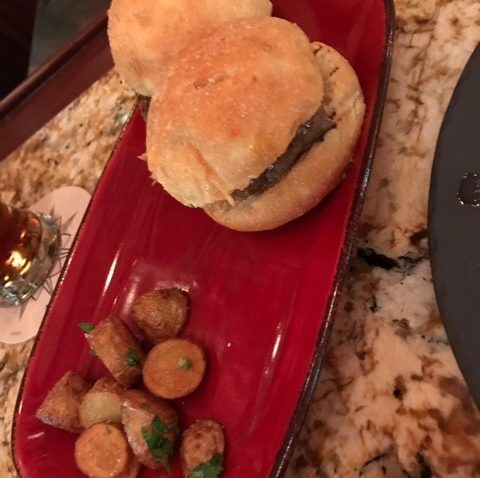 And ended up staying for three hours once Nick and Dave (and their wives and friends) found out where we were and joined us.  If you haven't been to Nomad Lounge, go!  It's about as perfect a place to relax as exists on Disney property.  The beverage selection is great, the food is yummy, and the atmosphere is tranquil.  Unbelievably, we left Nomad Lounge and spent a few more minutes together at the Dawa Bar.
Eventually we needed to excuse ourselves in favor of FastPasses for Kilimanjaro Safaris and Expedition Everest.  We strolled along the Gorilla Falls Trail between attractions and then caught a bus for Animal Kingdom Lodge's Kidani Village section for dinner at Sanaa.  We were early and spent time out on the savannah overlook sitting in rocking chairs and enjoying the lovely weather.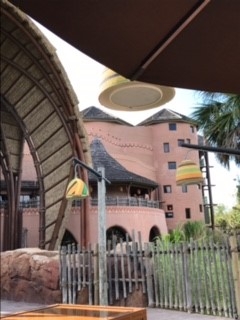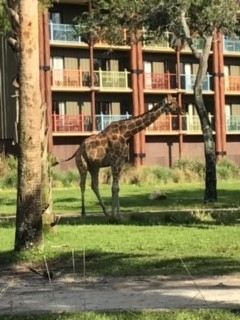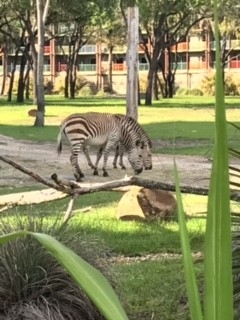 Sanaa's manager was kind enough to find us a table about 30 minutes before our reservation and we were delighted to introduce Joseph to the restaurant's famous bread service.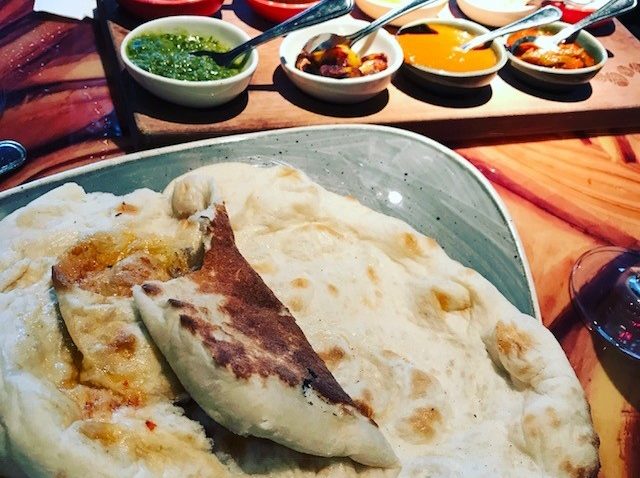 To wrap up the day, we met our Disney Exchange friends back at Animal Kingdom for Rivers of Light.  It was our first time to see it and typically, Raymond, Joseph and I had completely differing opinions about this new show (more on that at a later date).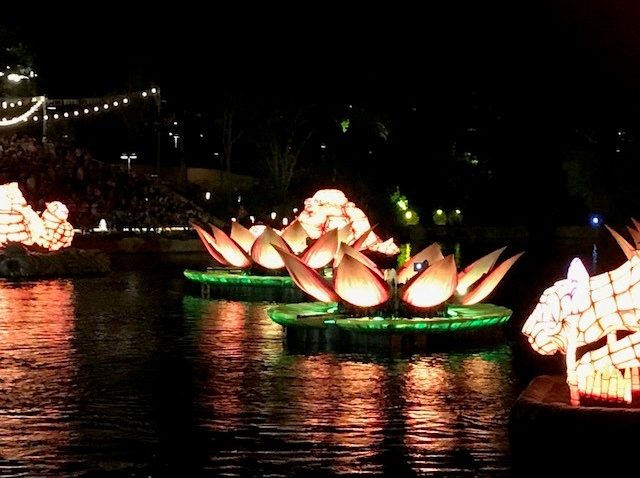 By this time, even with all the rest and relaxation, the trackers on our Fitbits had passed 20 miles for the day.  It was time to turn in so we had enough energy to squeeze in a last little bit of Disney in the morning.
We were awake and busy packing by 6:15 a.m.  We had breakfast scheduled at Kona Café (another tradition) followed by one last FastPass in Magic Kingdom for Space Mountain at 9:20.  Our ride to the airport was scheduled to pick us up at 11:00 a.m.  Dave met us in Magic Kingdom and we had time for a last ride around Tomorrowland on the PeopleMover before blasting off into Space.  It was time to go.  One last bit of pixie dust found us as we went back to our room for our luggage – Cinderella's horses, carriage and footmen were on the path around our building and we got to see them up close as they passed by.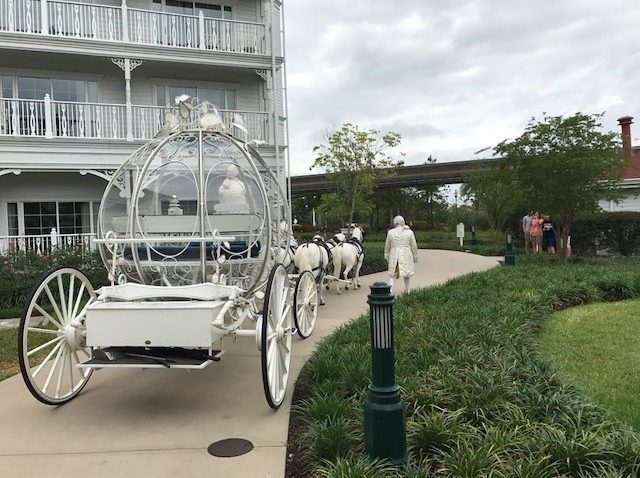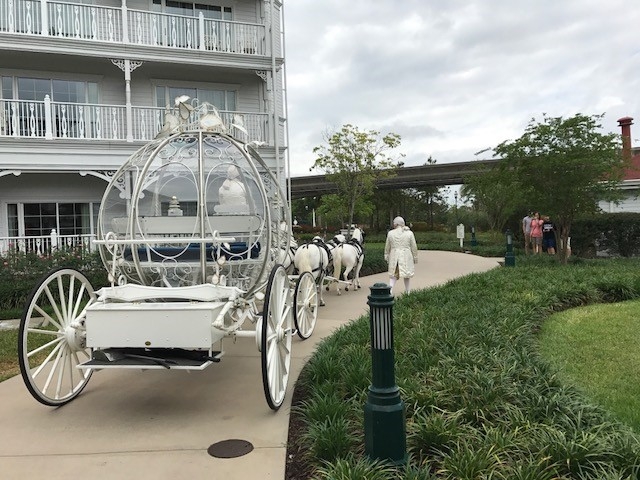 Then we found ourselves leaving Walt Disney World behind to get home for some much needed rest!
For a very short 72 hours, we had an amazing (exhausting) time!  Joseph completed his first runDisney events.  Nick, Dave and I managed (finally!) to have our first podcast meet-up.  Family, friends, and LOTS of Disney magic all around…we could not have asked for a better time.