In just a few weeks, we'll be headed to Walt Disney World for a short, action-packed adventure.  We may be there for only three days, but we've built quite an itinerary!  With so much to look forward to, it feels like my countdown calendar is moving backwards.  Making things worse is fickle Mother Nature and her indecision about which season to embrace.  Feels like winter one day, spring the next, back and forth until everyone's sneezing from either a cold or pollen allergies.  All of it has me staring at my suitcase wondering if it's too soon to pack.
Dark Side Challenge – April Disney Vacation Plans
We chose our travel dates purely for the Dark Side Challenge.  The Star Wars 10K and Half Marathon will be Joseph's first runDisney events and I couldn't be more excited for him.  After he spent fall and winter of 2015 running with me as I trained for the 2016 Glass Slipper Challenge, then stayed home with Junior while I went to Disney World, I promised him I'd take him with me this year.  With just a couple of long training runs remaining, we're ready.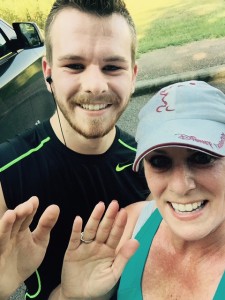 Springtime in Disney World!  It's been years since we've visited during Epcot's International Flower and Garden Festival and we have missed it so much.  Weighing heavily into our plans, Epcot's going to be where we spend most of our non-running time.  Since Nick and Dave from the Disney Exchange (and their wives) will also be at Disney World, we're doing our best to coordinate our schedules for a get-together.  The weekend looks like this:
Friday mid-day – Arrive, grab lunch at the Grand Floridian (staying in the Villas) and head to the ESPN Wide World of Sports Complex to pick up our race packets.  Based on past experience, we'll be there a whole lot less time than it takes to get there.  The race expo is always too crowded to enjoy browsing the booths.  I gave it my best shot last year and still walked away empty-handed.  There's a lot of cool merchandise, but my patience won't last long enough to actually purchase anything except a beer.  Once we've got our packets, we'll head right back to the bus and make our way to Magic Kingdom.
Magic Kingdom – We've got late afternoon / early evening FastPasses for Seven Dwarfs Mine Train, Big Thunder Mountain Railroad, and Space Mountain.  Between FastPasses, we'll squeeze in what we can.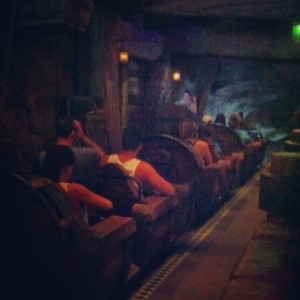 Late Dinner at Narcoossee's – The last time Raymond and I ate here was late December, 2015 and our experience could not have been better.  The food and service were both excellent.  One of the things we liked best was that our server encouraged us to step outside on the deck to watch Wishes while he held our entrees back to keep them warm.  Nice touch! I've scheduled our reservation for 8:30 with Wishes at 9:00 so we can do it again.  After that it's off to sleep.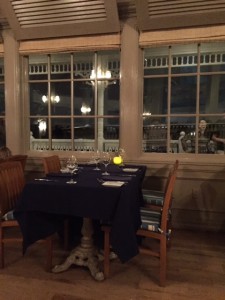 Here's where our plans are a little squishy.  Saturday morning we'll need to be at the 10k's starting line well ahead of the 5:30 am start time.  Unlike the previous runDisney events I've done, this one starts on Floridian Way rather than at Epcot.  I'm sure we'll have to take a bus to the starting line, but don't have a clear idea about how long that will take.  Once the official race course and event guide have been published, hopefully we'll know more.  The race ends at Epcot and we should be making our way back to the Grand Floridian by 7:00 am to clean up and have breakfast.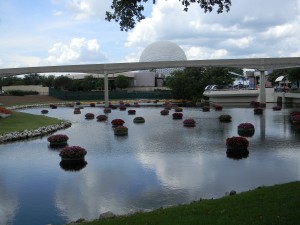 Epcot all Day!  Sure we'll be a little tired, but for not rushing around, sampling plenty of snacks and having our group meet-up, Epcot is perfect!  We do have a little lunch reservation we'll duck out for at Beaches & Cream (our first time there!) and then we'll be right back for more Flower and Garden action.  We have late afternoon FastPasses for Frozen Ever After, Spaceship Earth, and The Seas with Nemo & Friends.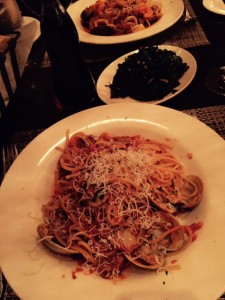 Il Mulino Dinner – As per our pre-Disney-half-marathon tradition, this amazing little Italian eatery at the Swan is where we'll order giant servings of carbs and pretend we don't have to get up super early and run 13.1 miles.  Last year while we were enjoying our Il Mulino dinner before the Princess Half, Joseph (home with Junior) texted us, of all things, a video of him playing Bella Notte (from Lady and the Tramp) on an antique accordion he had purchased earlier that day.  (Sometimes Joe's love for both music and antiques collides.)  It was perfect and one of my happiest Disney vacation memories.  It's a shame he can't pack that thing and bring it along to serenade us in person this time.
Running to the Dark Side!
Sunday morning Joseph and I will put on our epic matching Star Wars shirts (nope, not kidding – had them custom printed just for us) and two great things will happen:  I will not be running 13.1 miles alone (I can't tell you how much this means!) and Joseph will get to experience first hand how incredibly amazing runDisney half marathons are.  I'm excited to hear what he has to say about the course and all the surprises along the way.  Post-race we'll meet up with Raymond and enjoy the after-party for a few minutes before we head back to our room to clean up.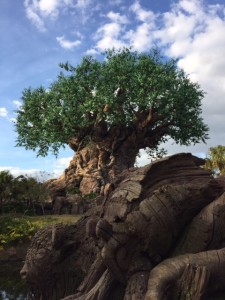 Epcot and Animal Kingdom.  We are absolutely ending the day at Animal Kingdom, but if we have time, we'll make a quick dash to Epcot for lunch around the World.  At Animal Kingdom we have two FastPasses scheduled before dinner – Kilimanjaro Safaris and Expedition Everest.  We're eating Dinner at Sanaa in the Kidani Village section of Animal Kingdom Lodge.  Joseph's going to love the bread service!  Then it's back to Animal Kingdom park for Rivers of Light.
That's it.  Then we go home.  I'm hoping we're not trying to do too much.  At the same time, I'm hoping our scheduled plans will be enough to make our three days feel much longer.
This will be the shortest Disney vacation I've ever taken.  How about you?  Would you (could you?) go for just three days?