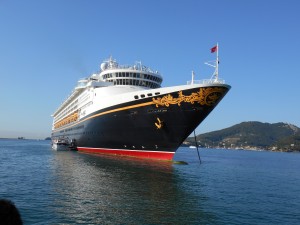 Last August, The Fam and I took an incredible, unbelievably fabulous voyage – seriously, we had a spectacular trip full of all the magic a Disney vacation can hold.  A long time in the making, our Mediterranean Cruise on the Disney Magic was absolutely everything we'd dreamed it would be.  Today is the first installment in a multi-part series of posts on the most fantastic Disney adventure we've ever experienced.
We'd sailed on Disney Cruise Line four times before – and that's actually how this whole trip began – on the Disney Wonder in Alaska in 2011.  While on board that sailing, we booked a place-holder cruise knowing we wanted to take Joseph on a trip to celebrate his high school graduation.  We'd taken Megan on one of Disney's Western Caribbean itineraries to ring in the New Year for 2008 during her senior year – now it would be Joseph's turn.  Re-booking while on board offered a reduced required deposit as well as a 10% discount on the next cruise.  We'd have two years to plan and save, which was certainly a good thing once Joseph decided on a Mediterranean cruise.  It took a lot of planning and, let's face it, money to make this trip a reality.  NOTE:  Disney Cruise Line rules have changed since we made our onboard booking.  You now must sail within 18 months of booking a "placeholder" or "dummy cruise".
I possess mad – okay, slightly obsessive – vacation planning skills.  Once the 2013 Disney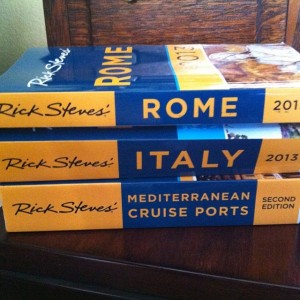 Cruise Line itineraries were announced, I booked our trip immediately (prices tend to go up over time).  Joseph's one request had been that we sail after June 15th (his 18th birthday) so he could finally eat in Palo – the adults-only restaurant on the Magic.  Raymond's schedule eliminated any cruise with a duration longer than 7 nights – the only possible sailing we could make would be departing Barcelona, Spain on August 10th.
Armed with several Rick Steves travel books, Rosetta Stone Italian, several foreign language iPhone apps, as well as the DIS boards app – I started my extensive research and preparation.  Yes, we had been on other cruises that took us outside the U.S., but this would be different.  Traveling the farthest from home we'd ever been – to three of the world's top 10 cities for pick-pockets – I wanted to be more than ready.  I wanted to make the most of every single moment.  This would be like a sampler platter – small tastes of the wonderful, beautiful, amazing things there are to explore in Europe.  My goal was to introduce The Fam to some of what Europe has to offer and leave us all with a desire to go back and see more.  HA!  No pressure.
Joseph's best friend, Jason had gone on vacation with us before and I couldn't imagine taking this trip without him – they'd been friends and classmates since kindergarten.  So I booked an inside cabin – Megan would act as chaperone for Joseph and Jason.  Raymond and I would be right down the hall in a stateroom with a balcony (perk of being the parents!).  At around 4 months from our sail date, Megan's boyfriend of 3 years, Grant, found out he'd be able to make the trip, so we added him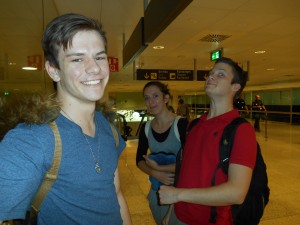 to our reservation.  Now Jason and Joseph would have their own chaperoning to do!
Okay – date selected, cabins booked – that was the easy part.  Airfare!  UGH!  So expensive – the cost of flying to Europe was a HUGE percentage of our overall expense.  I saw several people that had posted on the DIS boards "Cruise Meets" page for our sailing cancel their trips  when they discovered how much the airfare would be.   Raymond took charge and found us a non-stop flight from Atlanta that would get us to Barcelona early in the morning the day before our cruise and was somewhat reasonably priced.
Departing from Barcelona, we would visit the port of Villefranche, France, before stopping at three Italian ports:  La Spezia, Civitavecchia, and Naples.  The Fam cheered me on when I was researching excursion and tour options – "Just book whatever you think we'll like, we trust you!  Again, no pressure, right?  On every previous cruise we had taken only Disney port excursions – they were excellent and there was no way the ship would sail without us if something went awry.  This time would be different – Rick Steves was making me feel brave!  The DIS boards trip reports were making on-your-own excursions sound easy and much less expensive than the Disney choices.  Four previous cruises under my belt, excellent travel resources at hand – I took a deep breath and went for it!  Emailing tour companies in Spain and Italy to make inquiries and book tours.  I decided Villefranche would be on our own.  I had studied French for 7 years growing up, certainly I could recall enough to get us around (and save some money for Italy).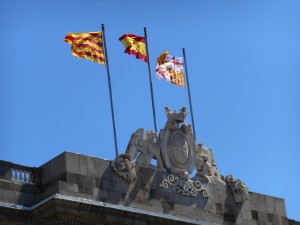 So, on August 8th, our travel party of 6 met at our little regional airport for the first leg of our trip – the flight to Atlanta.  After a short layover, off we'd board on our next flight, straight to Barcelona.  Only Grant had been to Europe before.  All of us were as excited as we could possibly be.  I remember feeling worry start to creep up on me a time or two…what if something goes wrong while I've got not just my own, but two other people's children with me in a foreign country?  What about pickpockets?  What if the tours were no fun?  What if we didn't return to one of the ports on time and missed the ship?  Tamping it all down, I held my favorite Rick Steves book a little closer for comfort and boarded the plane.
I hope you've enjoyed part 1 of our big adventure on the Disney Magic.  Pat 2 will be posted Tuesday, January 28th.  Next up?  The horrors of jetlag and the beautiful and exotic Barcelona, Spain.
Links to other parts of this trip report: