I've managed to enjoy many trips to Disney World without, until recently, ever stepping foot into a teacup.  While Megan once said it might be her favorite attraction, I've never been a huge fan of anything that spins.  So I've always just walked on by Mad Tea Party without the urge to change the fact that it's among the very few attractions I can't add to my list of once-and-done.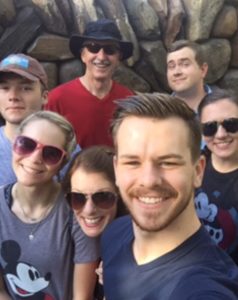 That Time I Rode Mad Tea Party
I wouldn't say I succumbed to peer pressure, but Megan and Lyndsey (Joseph's girlfriend) were irresistibly enthusiastic when they noticed Mad Tea Party had no line and we had plenty of time to spare.  They'd been adorably happy, dressed in cute Disney shirts throughout our trip.  They were always smiling and excited to see and do as much as possible.  I caved and somehow convinced Raymond to go with us.  Our group of seven walked right on and, finding the teacups of our choice, split up and climbed aboard.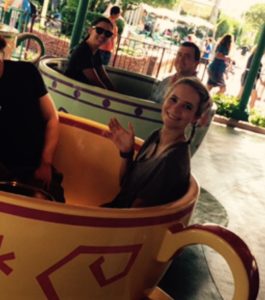 We had plenty of time to look around and take a couple of pictures because our Mad Tea Party experience was delayed…by a guy with a selfie stick!  Yes!  Those Fantasyland Cast Members were vigilant in their duties and just as the ride was about to begin, one of the Cast Members announced to another that there was a selfie stick among the guests!  I was immediately interested!  Captivated, really, to find out the fate of the offending guest and his contraband photographic device.  Poor guy!  He was rapidly approached by a serious, stern Cast Member, intent upon her duty.  His selfie stick was confiscated, his information gathered, and he was summarily informed that he would be able to retrieve his property at the park's exit when he was ready to leave.  Clearly, all he wanted was a picture of himself on Mad Tea Party and instead ended up humiliated and selfie-stick-less.  (A list of all Disney park rules can be found here.)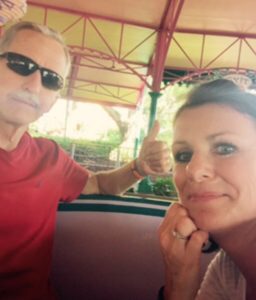 Once the selfie stick was dispatched per Disney regulation, the ride began…and seemed to end within moments.  I was somewhat disappointed.  Here I'd avoided this most iconic of Disney attractions because I was worried about the spinning and it was a, well, a dud.  I didn't feel the joyful thrill reflected on those faces in the Disney commercials.  Raymond and I, in our pink teacup, revolved around the Tea Party a couple of times and the ride was over.  Not as spin-ish as I'd imagined and much shorter than expected.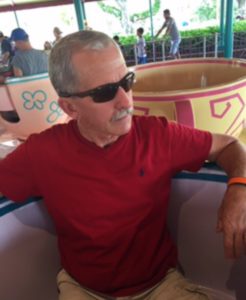 There you have it.  Megan and Lyndsey were happy and that made it all worthwhile.  Raymond and I survived Mad Tea Party and can check it off the list of Disney attractions we've tried.  I also learned a valuable lesson should I ever be tempted to attempt the use of a selfie stick in Magic Kingdom.
Mad Tea Party fans!  What am I missing?  Is this attraction a must-do on your Walt Disney World vacations?  WHY?