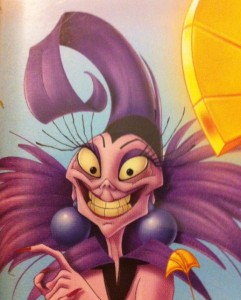 Most of the "Voices of Disney" I feature here are individuals I became acquainted with because of their association with Disney films or attractions.  Eartha Kitt (1927 – 2008) is a different story.  Remember…I've been around a while and Eartha Kitt's contribution to music and 1960's television were well-know to me long before Ms. Kitt voiced one of my all time favorite Disney villains – Yzma in The Emperor's New Groove and it's sequel, Kronk's New Groove.
First – what I knew before I met Yzma:  Eartha Kitt sang two songs that I particularly love:  "Where is My Man" (1983) and "Santa Baby" (1953) – both songs are alike in that they're about a woman desiring the finer things in live and believing a man is the only way to get them!  Very typical of the times they were originally recorded (30 years apart!), the songs are fun and clever, not to mention catchy – if currently a tad politically incorrect.  Okay, do you remember Batman the TV series?  Julie Newmar was Catwoman (13 episodes, 1966/67) first – she totally freaked me out!  Very strange – I suppose in a villain, that's good.  She was sexy and twisted and played well opposite Adam West's Batman.  Then Eartha Kitt stepped in (1967/68) and gave Catwoman a whole new look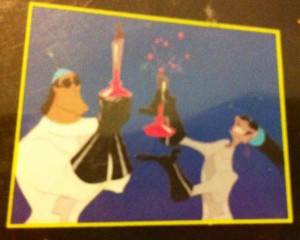 and attitude!  She had this way of moving her hands that was particularly cat-like.  And her voice!  Purrrrrfect!!!  If you're reading this and you remember Eartha's Catwoman, please leave me a comment! (Which Catwoman was your favorite?)
"Tell us where the talking llama is and we'll burn your house to the ground" – Yzma
Now, what do I love about Yzma?  To begin with, I find it hilarious how much she actually resembles Eartha Kitt!  I adore Kronk and love Yzma for teaming up with him.  The two of them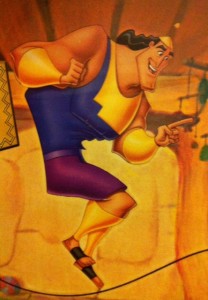 are so hysterical!  She's loaded with the baggage of jealousy and unfulfilled dreams while Kronk is just an extremely dense super-nice guy who's loyal to Yzma while managing to see the silver lining on every cloud.  He's there to tote her baggage (literally and figuratively) while she tries in vain to triumph through a variety of ill-conceived schemes.  I don't know about you, but I think she's a pretty likable villain and I find myself rooting for her at times.  Her hair-brained ideas are kind of endearing to me.
Before I go, I feel the need to add that The Emperor's New Groove is completely underrated and underappreciated.  There.  I feel better now.  To the SECRET LAB!
Your turn – Have you even seen The Emperor's New Groove?  Are you a fan of Yzma and Kronk?