Walt Disney World's Dessert Parties have been around for a while.  We'd been curious about what those up-charged special offerings were all about, so I booked a reservation and paid the price for…
Our First Disney World Dessert Party
Seriously, the name alone made the party sound exciting – "Jingle Bell Jingle BAM Dessert Party".  And even though it was expensive (about $70 per person) to attend, I thought that during the ridiculously crowded Christmas week, it made sense add a special event that included a reserved viewing area for the Jingle Bell Jingle BAM fireworks/projection show.  We were excited about ending our vacation with this extra splurge.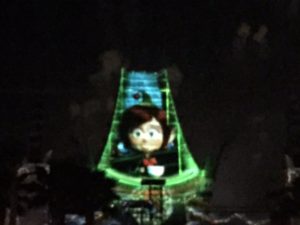 The weather had turned unexpectedly cold and windy on the day of the party.  We bundled up with what we'd packed for cooler weather and spent the day at Animal Kingdom.  I'd moved our Jiko (Animal Kingdom Lodge) dinner reservation to 5:30 so we could enjoy our meal and still get to the party on time and this part of the plan went off without a hitch.  We arrived at the party's check-in area near the Chinese Theater in Disney's Hollywood Studios at around 8:00 pm.  We'd even had time to shop for some extra layers to ward off the freezing cold weather for the evening.  I say 'we", but it was all me.  I bought a hat and scarf and the purchase-with-a-purchase throw that was being offered.  It was probably only in the mid-40's, but it was COLD!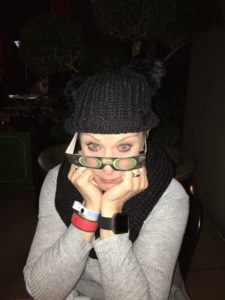 At check-in, we were given special bracelets and some hand-warmers (nice touch!) and shown to our assigned table (#3).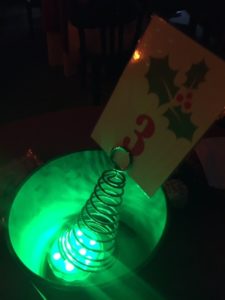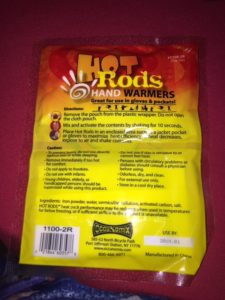 I loved that we had an assigned table and that it had a nice tablecloth and looked festive.  It was nice and warm at our table and we took turns going to the different food and beverage stations.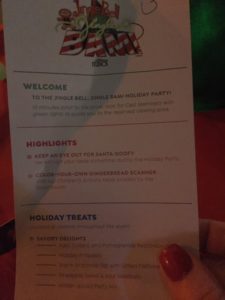 There was a small menu that described the party highlights…those highlights included more than dessert!  We received special glasses to wear for the show that turned all the lights into gingerbread men.  We also got to meet Santa Goofy during the party.  So far, so good!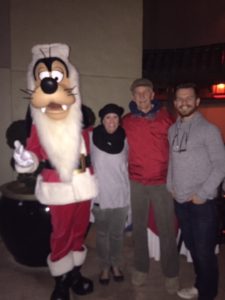 We'd just finished a great dinner at Jiko, so we weren't interested in any of the savory offerings at the food tables.  I opted to fill a small plate with sweet treats to share and I grabbed a glass of white wine on my way back to our table.  
Raymond got a glass of red wine (which I ended up drinking) before he noticed there was coffee (and hot cocoa) available.  Joseph had a beer and then some hot cocoa.  I had everyone sample the desserts I'd chosen and the verdict was unanimous – poor quality and extremely dry.  Even the frosted small cupcake-shaped rice crispy treat was disappointing.  Our opinion was that the food was not good enough for the price of the experience.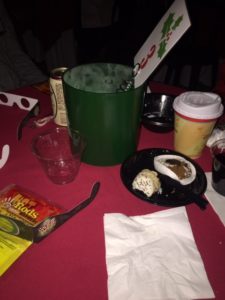 It was time to make our way to the designated viewing area for the show.  A Cast Member handed us a parting gift of plastic-wrapped gingerbread people. (Poor little guy's arm broke off after I carried him around in my bag.)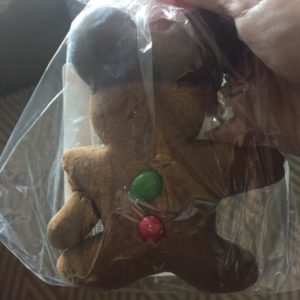 More Cast Members with light sabers guided us to a roped-off area in front of the theater.  The show was just okay.  Best part? We wore our glasses and when the fireworks started and it looked like multicolored gingerbread men were shooting out in every direction, Raymond and Joseph both burst out laughing…that alone made the experience worthwhile for me.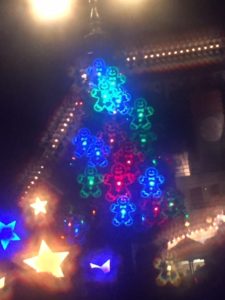 To sum it up…
Dessert party pros:  Great hospitality, reserved seating, festive atmosphere, adult beverages, extras like the special glasses, Santa Goofy and gingerbread cookie.  The special viewing area was good.
Cons:  The food and price.  We could have watched the show for no extra charge…but the show was just meh.
Would I attend another dessert party? Maybe. Especially for the Galactic Spectacular show that returned to the Studios this month.  For sure, I'd have more realistic expectations about the food and might opt to bring a less-full belly in order to give the savory offerings a try.
Have you attended a dessert party at Walt Disney World?  Which one was it and did you feel it was worth the price?