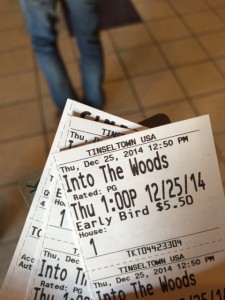 Into the Woods…I got lost. Somehow, after being really excited to see Disney's film adaptation of the Stephen Sondheim/James Lapine musical, I was left wondering, "What happened?" A couple of years ago, Megan had watched a video of the musical in its original form (for a school paper) and I remember her talking about what an impression it had made – she thought it was fantastic! Long before the movie's Christmas Day release, she'd talked it up and made sure our plans included an excursion to see Into the Woods. After the movie was over – before we even left the theater, Megan was kind enough to explain what caused my confusion – there's a disconnect between the first and second acts of the film that does not exist in the stage version.
I didn't dislike the film. There were many terrific parts – some dramatic, some hilarious, a lot dark as the story does not soften the occasionally brutal aspects of the original fairy tales from which the plot is constructed. In particular, the song "Agony", a duet by the story's two princes, is exceptionally well done. The casting is top notch and every character's performance is rock solid. I confess I wasn't expecting some of the darker plot twists…maybe that's what threw me. Having not seen or read anything about the storyline, I was left dismayed a time or two wondering just where we were going and how much longer it was going to take.
I'm a huge fan of musicals.  I actually once saw Yul Brynner himself in The King and I and it stands out as one of the best shows I've ever seen. Having grown up attending St. Louis's Muny Opera as often as possible, I count musical theater as one of my most favorite forms of entertainment. Into the Woods did not disappoint musically.  It was Christmas, I was tired – maybe that made me less accepting of the story's life lessons and stark illustration of what living happily ever after may really mean.  I cannot fault the music or the actors' performances, or even the storyline, so the fault with not enjoying Into the Woods as much as I'd hoped must lie with me alone.  I wanted more lighthearted entertainment for Christmas.
Have you seen Into the Woods?  What did you think about the movie? Would I have enjoyed it more if I'd seen the stage version first?