I've been obsessively watching Hurricane Irma for over a week.  On Saturday, I spent my time doing laundry and watching the Weather Channel, checking NOAA online, and watching for news on my Facebook feed from folks closer to the situation than I was.  On Sunday, I stopped packing for vacation.  On Wednesday evening at 7:30, Disney Cruise Line cancelled our trip.  While we honestly appreciate their caution and concern for guest safety, the disappointment was…well, you can imagine.
From Disney Cruise Line's website:
"The September 9 sailing of the Disney Fantasy is cancelled. Refunds will automatically be processed back to the original form of payment used for the cruise booking. Guests are invited to book a future cruise at a 25 percent discount by calling us at 1-855-347-2784 or 407-566-7054 from September 18, 2017, through October 18, 2017. 
While we always strive to deliver magical cruise vacations, nothing is more important to us than providing a safe experience for our guests and crew. We will continue to closely monitor Hurricane Irma and provide updates as necessary."
Hurricanes, Disney Vacations, and Perspective
As I was wallowing in self-pity over the Disney cruise we won't be taking on Saturday, I realized that mixed in with the sadness and disappointment was also relief.  We will be safe and sound as Irma barrels along on her course of mayhem and destruction.  While riding out Hurricane Matthew at Disney World last year was an adventure, it's not one I'd care to repeat.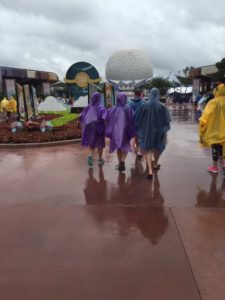 To all my Florida friends – I'm sorry you'll be dealing with the potential havoc brought by a powerful and unpredictable force of nature.  I've been praying steadily for your safety and Irma's demise.  Having lived in Louisiana for almost 30 years, I well know the worry and helplessness that comes with not being able to control or anticipate what might happen when your home is in the path of a hurricane.  I'm sorry you're dealing with that now.
As you are hoping for the best and preparing for the worst, please know that you'll continue to be in my thoughts and prayers.  Through the Living a Disney Life blog and on social media, I've gotten to know so many of you and your friendship means a great deal to me!
Be safe and take care, Disney friends.  Please let me know how you're doing…Lisa