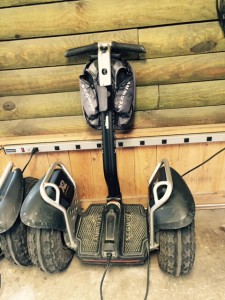 You may have visited here recently when I mentioned that Raymond and I, during our TWO extra days at Walt Disney World (flights cancelled due to winter weather), took the super-awesome Segway tour at Fort Wilderness.  I'm here today to give the deets on that extra-fun-spur-of-the-moment experience.  If you've always wanted to try riding a Segway, this is the very best opportunity…and currently the only Segway tour offered at Walt Disney World.
We were not Segway rookies when we decided to see if we could make last minute reservations for this tour.  We'd taken our first Segway tour in Barcelona, Spain while getting ready to embark on the Disney Magic for a Mediterranean cruise in August, 2013.  Riding a Segway is easy.  I'm being totally honest – remember, I have absolutely zero eye-hand coordination and can barely walk and chew gum at the same time.  If I can ride a Segway without incident, anyone can!
Luckily for us, we were able to find a couple of spots available for a late morning Wilderness Back Trail Adventure at Fort Wilderness.  Safety first, there are forms to complete upon arrival at the Fort Wilderness Bike Barn where the tour begins.  Forms in order, the tour actually begins with a safety class (including video and awesome gigantic helmets), followed by a very thorough practice session during which all necessary maneuvers on the off-road Segway are mastered.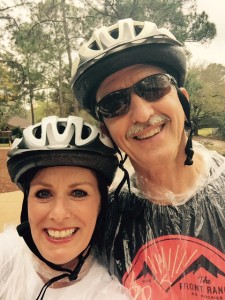 We learned to go forward and back, turn, and get safely on and off the Segway.  It was our understanding that if anyone in the group could not safely perform all Segway riding exercises, they would not be allowed to advance to the actual tour.  No one seemed to struggle in the least – including one lady, I'm guessing she was in her late 50's, who was extremely nervous in the beginning.  The instruction and practice took about 30 minutes all together.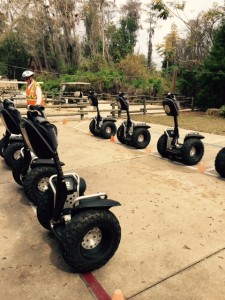 Once we'd all performed the necessary Segway driving requirements, we were off!  It was raining lightly, but no one cared.  The tour includes some Disney World history, some photo ops, and, the highlight for me, a guided tour (off Segway) of the Tri-Circle-D Ranch.  I loved everything about this part of the adventure.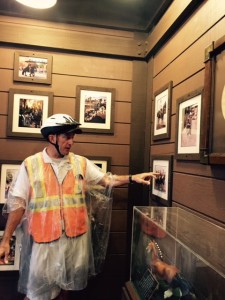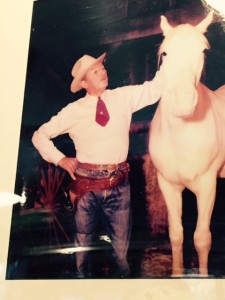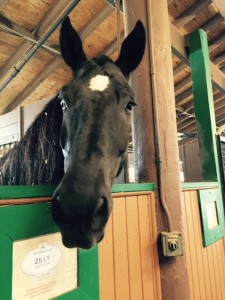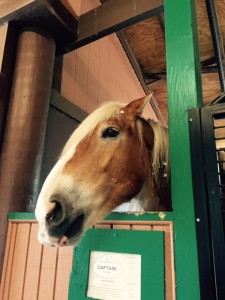 Okay, really, I completely, thoroughly enjoyed the entire experience, but going in the horse barn and seeing photographs of Walt Disney with the horses he clearly loved was a side of him that I hadn't seen before.  The horses (no petting!) were curious, friendly and beautiful.  This is one place I would love to visit again.
The rain stopped while we were in the barn, so we enjoyed the rest of the tour much more comfortably (without the poncho hood!).  We were literally on the back trails as the name of the tour implies and saw the woods and fields surrounding Fort Wilderness and Wilderness Lodge.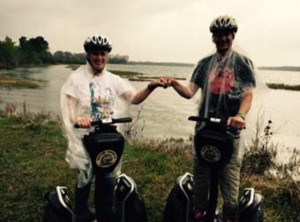 We spotted deer and listened to wonderful facts and stories from our guide.  We also, at a maximum speed of SIX miles per hour, zipped (slowly) off-road around and between trees and over rough-ish terrain, which was actually very fun.  So fun, in fact, that the lady I mentioned earlier that was nervous to begin with could be heard laughing out loud during these off-road expeditions.  All too soon, it was time to return to the Bike Barn and park our Segways.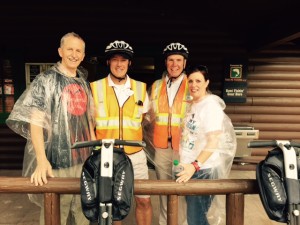 I wish I had more pictures for you of the off-road portion of the adventure, but the rules strictly prohibit the use of a camera while operating a Segway.  As a very cool souvenir, we each received a Back Trail Adventure pin.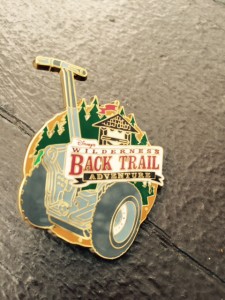 Would we recommend this experience?  With enthusiasm!  It was even better than we'd hoped and, if we get the chance, we will absolutely do it again.
Have you taken (or thought about taking ) the Wilderness Back Trail Adventure?  What do you think about this unique offering at Walt Disney World?