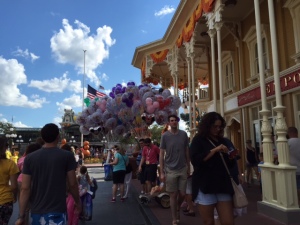 September has arrived!  While I live where it's still incredibly hot and humid, September's arrival means fall weather won't be terribly far away.  Kids head back to school, mornings feel a little bit cooler, and, for those who can make it, one of the very best times to visit Walt Disney World is upon us.  This year, the part of my family that will be enjoying this perfect time of the year at our favorite vacation destination does not include me.  That doesn't keep me from being crazy-excited for our daughter, Megan, who will be honeymooning at Disney World in the very near future.
The newlyweds will be able to make the most of this wonderful chance to experience…
Autumn at Walt Disney World – 5 Great Things
The Weather – Lower humidity, lower temperatures, and less chance of rain.  Sure, it's hurricane season, but the odds are pretty good that the weather will be fantastic.  The skies are bluer and the sunrises and sunsets are more beautiful.  Okay, maybe it just seems that way to me, but I'd swear it's true.
The Crowds – There's more room!  Fewer children!  The queues are shorter, so seeing and doing more on any given day is much easier.  Fewer guests makes Disney World seem more inviting – the extra elbow room is fantastic!
The Events – Mickey's Not So Scary Halloween Party is a must-do event.  You must don an awesome Disney costume and experience this incredibly fun seasonal bash.  Trick-or-Treat (yes, even grown-ups), dance with your favorite characters, enjoy rides and attractions, and, do NOT (seriously, DO NOT) miss the Boo to You Parade.  You won't believe it until you see it.  That alone is worth the price of admission.  Don't even get me started on the joys of Epcot's International Food & Wine Festival.
The Decorations – Magic Kingdom gets all decked out for fall – and it's incredible.  Sure, I love Disney World at Christmastime, but there's a whimsical charm to the colorful leaves, pumpkins, and special touches of autumn that makes everything seem magical.
The Opportunities – Lower crowds plus special events equals opportunity!  One of my favorites is the opportunity to slow down and soak up more magic!  Try new attractions and shows, taste new flavors, make the most of Memory Maker and pose for pictures wherever a photographer can be found.  Stroll, meander, mosey – sit and relax for a while.  You're at Walt Disney World in autumn – and it doesn't get much better than that.
Have you visited Disney World in the fall?  Please share your best tips for enjoying the season and I'll pass them along to the happy couple!