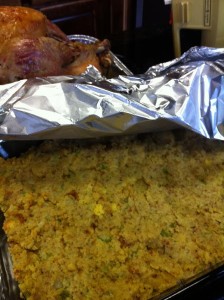 Liberty Tree Tavern is a restaurant located in Liberty Square at Disney World's Magic Kingdom park.  Diners there for lunch or dinner enjoy traditional American fare amid Colonial themed décor.  Offerings include such dishes as "Declaration Salad", "Liberty Lamb Stew", "New England Pot Roast", and "Pilgrim's Feast" (includes cornbread dressing) to name a few.  Reviews (available at many websites) for Liberty Tree Tavern are mixed – If you want to give it a try, I recommend lunch as your best bet for a good experience.  
Leading up to Thanksgiving I saw several of my favorite Disney sites post Liberty Tree Tavern's dressing (aka stuffing, but mine would not be going in the turkey) recipe and I thought, what the heck – looks easy enough – why not give it a try.  So while my little turkey was in the oven, I threw a batch together. 
I made a double batch of cornbread the night before (using Fisher Cornbread Mix).  After it cooled, I crumbled it up and stored it overnight in a gallon bag before toasting the crumbs in the oven per the recipes instructions on Thanksgiving morning.
You can find the recipe I used here at allears.net (excellent resource for all things Disney).  I cut it in half since my 2 batches of cornbread ended up at about 6 cups of crumbs.  It was very easy indeed.  If you're looking for a cornbread dressing recipe, this one would be excellent for beginners – I'm sure store-bought, pre-made cornbread would work just as well as baking your own. I baked my dressing in a 9″x13″ pan for 45 minutes at 325 degrees (slipped it in alongside the turkey as it was finishing up) and it turned out great.  Well seasoned, great texture, not too soggy.  Raymond, always willing to be a taste-tester for me, gave it a two-thumbs-up.
If you try any Disney recipes – I'd love it if you'd share the details with me!