I cannot say enough how much we love Disney's Animal Kingdom.  So much to see and do, no two visits are ever the same.  Recently we were at Animal Kingdom for the second time during our week-long, Christmas week vacation.  The weather that day was cold and windy, but we were determined to make the best of our last day at Disney World!
Who Would Love Animal Kingdom's Wilderness Explorers?
Arriving uncharacteristically late in the morning (Kona breakfast was worth it!), we'd barely made it into the park when I said, "Wait!".  I realized we'd just passed up some Cast Members who were part of the Wilderness Explorers activity.  They appeared to be getting another family started on their quest to earn badges, gain knowledge and explore Animal Kingdom.  I told Joseph (who occasionally still does what his mother tells him) to go back and get us our information for this maybe-not-really-for-grownups activity.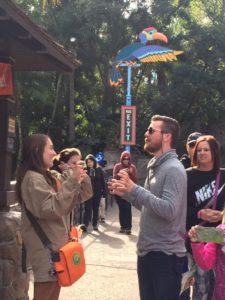 Clearly the Cast Members were enjoying this earnest young man asking how to join the fun.  A kind young lady handed him his Wilderness Explorers Handbook, his "uniform" (a sticker), and helped him earn his first badge by teaching him the Wilderness Explorer call…"The wilderness must be explored!  Caw Caw Roar" with the proper hand gestures, of course.  I moved closer as I took pictures and when the Cast Member realized we were together, offered me my own book (I said we'd share) and insisted on giving me my uniform.  I wore that sticker proudly all day!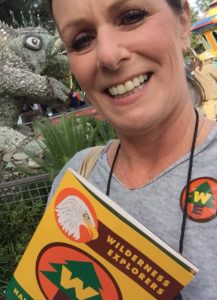 Armed with the map in the handbook, we set off to earn some badges.  Inside the booklet's back cover, I saw the "levels" explorers could reach based on the number of badges earned.  The top level, Fish, required 20 badges to achieve.  Goal set, we were on our way!
There are two types of Cast Members to help you with this activity.  Troop Leaders, who wear a Wilderness Explorers' uniform and Badge Guides, who are identified by the orange badge satchels they carry.  This means that some activities involved a leader teaching or showing you something (insect, fossil, animal information) and other badges were earned simply by obtaining certain information on our own.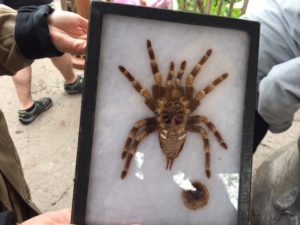 We ran into lots of other families earning badges.  Some awesome Cast Members would spot us first as we were looking for their station and call out, "Hello, Wilderness Explorers!"  This is when wearing our "uniform" was helpful.
The Troop Leaders were passionate about the information they shared.  We were sincerely interested and asked lots of questions – this is what makes this activity suitable for all ages!  The Badge Guides were responsible for checking to make sure we completed the badge requirements, but weren't there to teach us anything.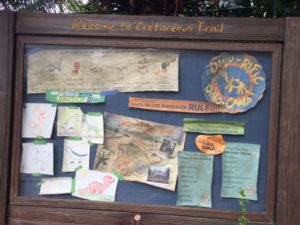 They were all nice and some got a kick out of our enthusiasm.  To earn the "Yeti Badge", explorers are supposed to mark in the book how tall they are compared to the wooden yeti foot print outside Expedition Everest.  Much too tall for this to be accurate, we took a picture instead to show the Badge Guides who got a laugh out of our efforts.  Pay no attention to the beer in Joseph's hand.  Thirsty work, this badge earning.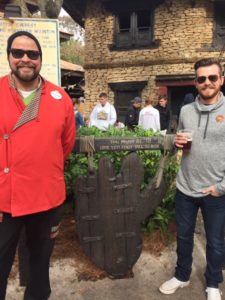 All in all, this is a very fun activity for families of all ages!  We were successful in our quest to earn 20 badges!  Without rushing too much, we managed it in about 4 1/2 hours, working around the three FastPasses we had booked.  The Wilderness Explorers is part scavenger hunt, part problem solving activity, part learning from an expert – all of it interesting and entertaining.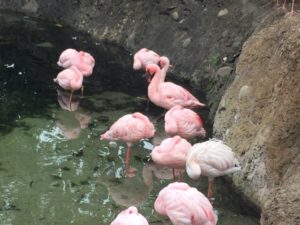 Have you earned any Wilderness Explorer badges in Animal Kingdom?  If you have kids (of any age) or if you're just looking for a new way to explore the park, consider adding this to your plans for your next visit and have a great time!