After booking our Disney cruise on the Wonder and our pre-cruise stay in Vancouver, I needed our add-on Disneyland post-cruise stay to be a bit…let's say…economical.  There was no way I could afford one of the on-property Disneyland hotels, so I researched the Good Neighbor choices and quickly settled on the one I liked best – Courtyard Anaheim Theme Park Entrance.
Upon arrival, we immediately knew I'd made an excellent choice.  This hotel was most obviously committed to three things – Friendliness, Cleanliness, and Halloween Decorations!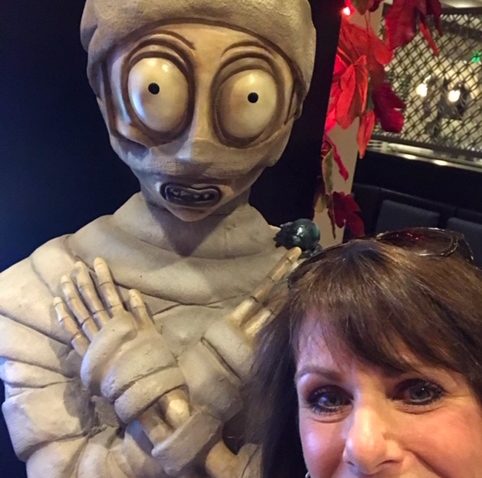 Disneyland Good Neighbor – Courtyard Anaheim Theme Park Entrance
Arriving early in the day, we knew our room would not be ready.  We were warmly greeted by an employee who assured us that he would get us the very best room possible and call us when it was available.  We were handed our Disneyland packet of park tickets, coupons, and freebies before we passed off our luggage to the bellhop for storage and made the very short (9-minute) walk to Disneyland's park entrances.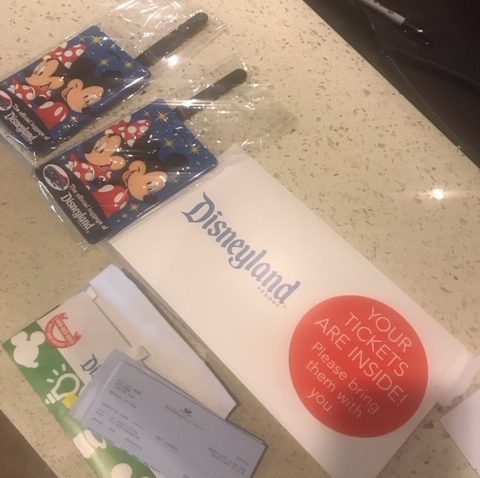 It was obvious during the check-in process that this hotel takes Halloween seriously!  The decorations were extensive and incredible!  This added to our visit since Disneyland was likewise adorned and all that seasonal splendor created extra fun.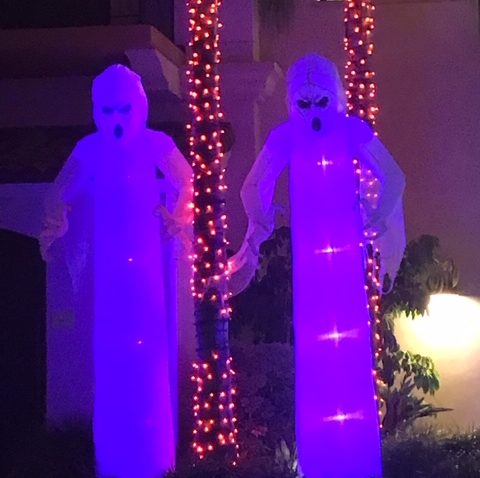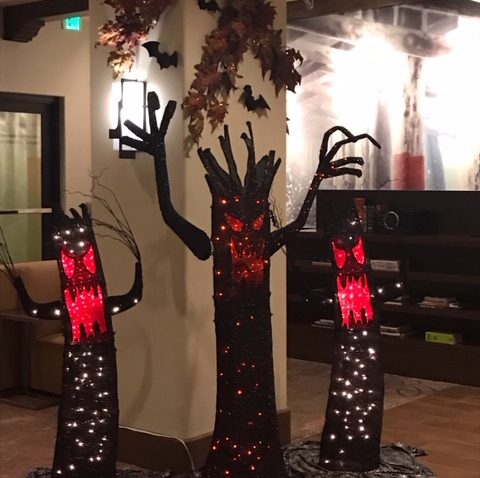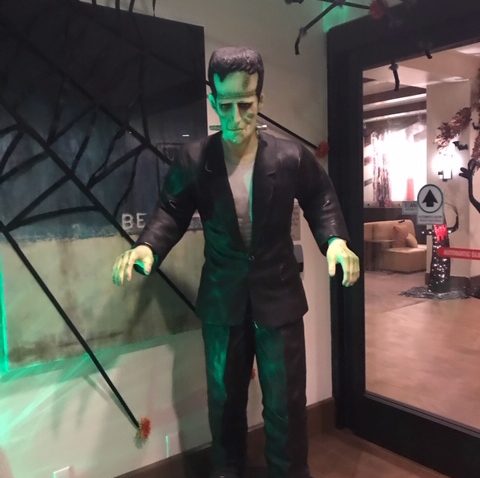 As we were enjoying Disney California Adventure, we got a call from the Courtyard's front desk about our room.  It was ready and on the top floor (6th) with a theme park view!!!  I must say, we were warmly welcomed every single time we entered the hotel and sent off with kind words every time we left.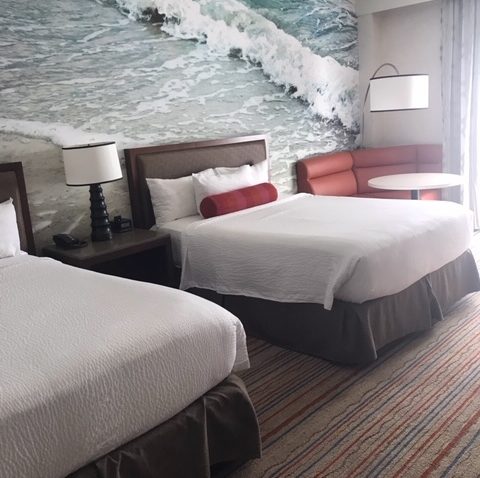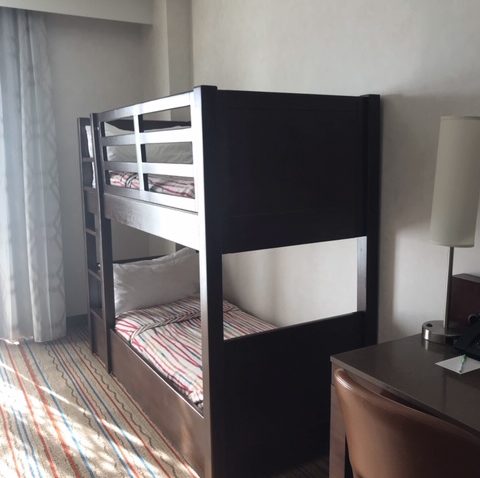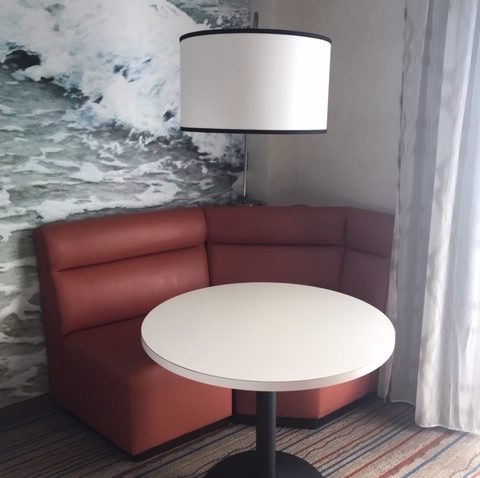 We headed back to our room to change for dinner at Napa Rose and found our room spacious, extremely clean and tidy, and with a balcony that would allow us to enjoy Disneyland's fireworks each evening.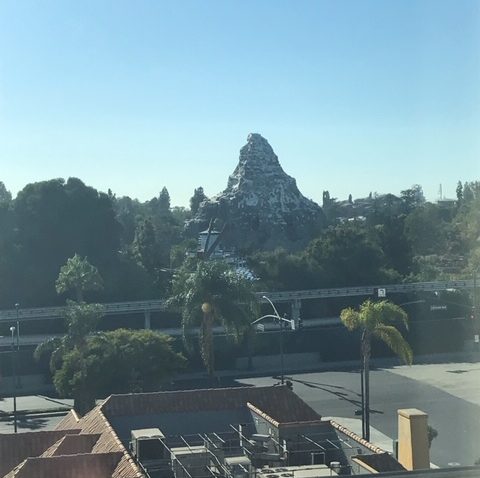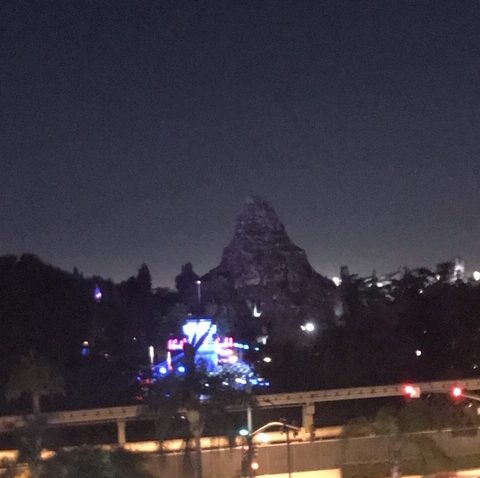 NOTE:  This place was perfect for us, but for folks with small children, the fireworks were loud!  Certainly loud enough to disrupt bedtime and possibly cause some fear in little ones.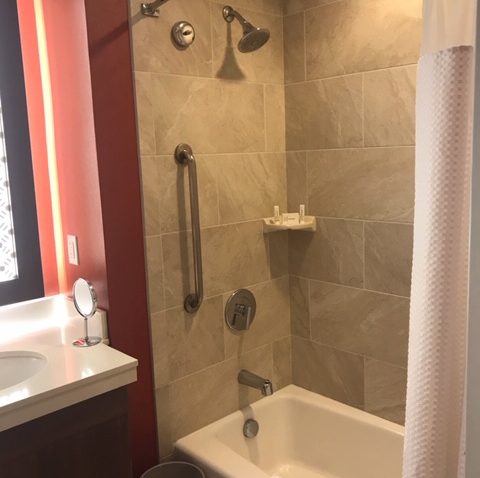 The split bathroom was luxurious.  We had two showers and since Raymond and I like our separate getting-ready-spaces, this was ideal.  The toiletries, hair dryer, comfortable linens, and high ceilings made us feel like we were in a much more upscale hotel.  Our room had two queen beds and a set of bunk beds, so would have easily slept 6 (four adults and two children).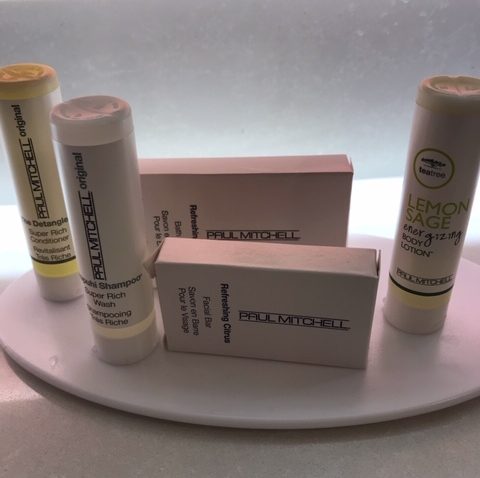 Bottom line:  I was trying to save money when I booked our Courtyard Anaheim Theme Park Entrance room and what I ended up with was a delightful experience that exceeded our expectations and was worth every penny.