It's less than a week until our next Disney World vacation and that means I'm already packed.  I always pack early, which is completely out of character for me as I'm a notorious procrastinator.  Packing makes the trip seem closer.  I'm excited about seeing and doing all the things.  We've got dining reservations, FastPasses and I'm ready to get going!
DisneyBounding My Way
Most of you probably already know what it means to DisneyBound (See here for sample outfits), but in case you're new to the concept, it's the idea of dressing in a way that's been inspired by a Disney character or attraction.  Touring Plans does a great job of explaining DisneyBounding here.  I've always thought this sounded like a lot of fun and am in awe of the creativity and, well, artistic way true DisneyBounders achieve their looks.  The accessories alone are incredible!
I want to give DisneyBounding a try, but in my own way.  For this first attempt I decided to draw my inspiration, not from characters or attractions, but from the lands in Magic Kingdom.  My goal is to dress in a way that's comfortable, age-appropriate, and fun!  Here's what I've packed for my DisneyBounding outfits…
Main Street U.S.A.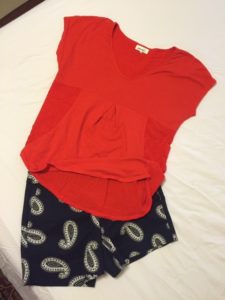 I always feel patriotic and nostalgic on Main Street.  To capture this, I'm going with red, white, and blue.  Navy & white paisley shorts, red mixed media top, and well-loved Reef slip-ons.  I've got quite a few Disney pins I can incorporate into this ensemble.
Tomorrowland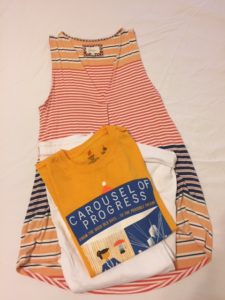 I've got the perfect shirt!  It reflects the colors of the Carrousel of Progress t-shirt I bought for the attraction's 50th Anniversary.  I'll pair this long top with some white denim capris (it IS okay to wear white after Labor Day in Florida, right?) and some comfortable sandals.
Fantasyland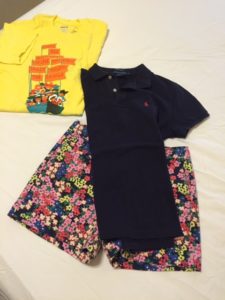 I love the colors of Fantasyland.  I'm also a fan of it's a small world.  I know, I'm among the minority, but, like Carrousel of Progress, it's a small world and I are the same age.  For Fantasyland's outfit, I'm drawing from the colors and have two outfits to choose from.  The first one pairs floral shorts and a navy polo.  The second option combines a colorful, geo-printed maxi and a light-weight navy top.
Liberty Square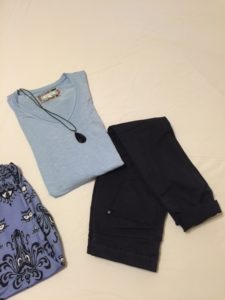 This past February, I ran the Princess Half Marathon in a Haunted Mansion-inspired outfit.  Drawing on that same idea, I'm combining a pale blue tunic and black jeans as a nod to the Mansion's famous wallpaper.  Adding a pendant necklace and black sandals to complete the look.
Frontierland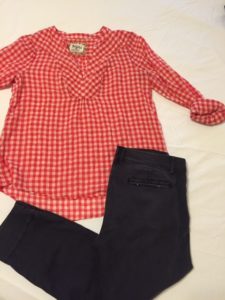 This one might be my favorite.  This red gingham shirt and navy pants automatically make me think Frontierland.  Yes, I will be stopping in Grizzly Hall for a visit with the Country Bears.
Adventureland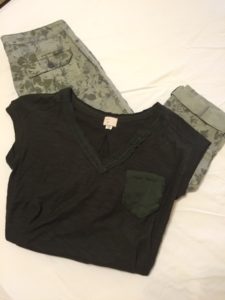 While it would have been easy to embrace Adventureland's bright tropical colors, I decided on a Jungle Cruise-inspired outfit instead.  I'll fit right in among the foliage along the riverbanks in an olive t-shirt and floral cammo cargo capris.
What do you think?  Too subtle?  If you've giving DisneyBounding a try, what characters or attractions did you use for inspiration?